Overview
Koppefjellet is an easy summit to reach. It serves as a short trip,
but also has a rewarding view and is a great mountain for skiing or
snowboarding.
Getting There
For directions to Ålesund see the
Sunnmøre
page.
From Ålesund follow E39 in the direction of Bergen/Volda
to the ferry from Solevåg to Festøy. Take the ferry to Festøy.
After the ferry, continue to drive in the direction Bergen/Volda.
From Volda follow road 651 towards Austefjord.
Turn left towards Vatne. Follow this road about 1 km,
where you'll find a parkingspot near a small lake (Aldalsætra)
Normal Route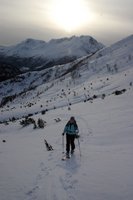 The normal route starts just across the road from the parkingspot.
Find your way through the trees and up towards the glen. Early or
late in the skiseason and when there is little snow you might have
to cross some small rivers or streams, but nothing big.
After the short bit of forrest it's either just straight up until
you reach the glen on top, or you can choose to go left and follow
the ridge. I would choose based on snowconditions. The ridge is a bit
longer, but might be easier to walk.
From the glen it is just to turn right and follow the ridge to the
summit. As the summit is on a flat area, it might be hard to see
before from the lower parts of the ridge, but you can't really go wrong.
I guessing the trip would take 1,5 - 2 hours.
Once you have reached the top there are many possibilities to choose
from one the way down. There should be something for every taste.
More information
External links:
(in Norwegian)
Trip tip Volda
(in English)
Westcoastpeaks.com
is a private webpage with a huge amount of information and pictures from trips in Norway.
Map:
Sunnmørsalpene Vest 1:50000