Overview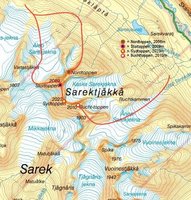 Sarektjåkkå
with its 2089 meters above sea level is Swedens second highest mountain. It is located in the heart of
Sarek National Park
in Swedish Lappland. The mountain have four peaks that reach above 2000 meters and has one of Swedens most famous traverse,
Sarektraversern
, which includes a summit of all four peaks.
During the second half of 19:th century not much was known about the Swedish mountains up north. In 1878 the mapmaker G.W Bucht was exploring the area to create a map for mililtary purpose when he discovered this mountain. The 8:th of July 1879 he and a couple of local Samis climbed the main summit. At this time
Kebnekaise
was totally unknown to Swedes and therfor Sarektjåkkå recieved the title as
Swedens Highest Mountain
. Sarektjåkkå was the first 2000 meter mountain ever to be climbed in Sweden. The first winter ascent took place in spring 1916.
The four main peaks of Sarektjåkkå
* 2089m, Stortoppen (Main Summit)
* 2056m, Nordtoppen (North Peak)
* 2023m, Sydtoppen (South Peak)
* 2010m, Buchttoppen (Buchts Peak)
Alternative Spelling
Due written Sami language was non-existent during this time, Mt. Sarektjåkkå has been spelled in many ways over the years. The most used names are these; Sarektjåkkå, Sarektjåkka, Sarektjokko, Sarektjhåkko and sometimes Mt. Sarek.
Routes
Standard Routes
There are three common routes used to reach
Stortoppen
(Main Summit) of Sarektjåkkå.
* From north via
Nordtoppen
(North Peak), PD+ = Sections of II-III rock, very exposed.
* From South via
Sydtoppen
(South Peak), F = Ridge walk + Glacier.
* Route via west ridge, F = Scrambling + Glacier.
Traverese Routes
Two of the most famous traverses in Sweden are
Lilla Sarektraversen
and
Stora Sarektraversen
.
*
Stora Sarektraversen
(The Big), goes from west to east. A twentytwo kilometer long traverse and about 6000 meter of altitude meters across the whole Sarek massif. The traverse starts at
Nijak
and ends at Bierikjåhkå.
*
Lilla Sarektraversen
(The Little), From North to South/East. Includes a summit of all four 2000 meter peaks of Sarektjåkkå.
Getting There
Sarektjåkkå is located 55 km NW of the village
Kvikkjokk
and 47 km SE from the little outpost
Ritsem
in
Stora Sjöfallet NP
. There are no marked paths or huts on the way to the mountain, so you need to be fully self suppliant and bring food for atleast 5 days before setting off from any of the two locations.
From Kvikkjokk
Head north-west towards the river delta called
Rapadeltat
in rapa valley. Although the way to Sarektjåkkå goes on unmarked trails there are two other marked walking trails passing by Kvikkjokk. In the north you have
Kungsleden (Kings Trail)
and in the west
Padjelanta
trail to Ritsem starts/ends. The best way is to follow
Kungsleden
a while before heading into rapa valley. Except by foot via
Kungsleden
you can reach Kvikkjokk with either bus or car from the town Gällivare.
From Ritsem
Take the regular boat which operates during tourist season or hire a boat from a local fisherman in Ritsem. Get off at the STF hut/refuge
Akkastugorna
. Then start following the
Padjelanta
trail towards Kvikkjokk. You can follow this trail a while before heading deeper into Sarek and to the foot of Sarektjåkkå. Study your map to find the most suitable path. There are daily buses to Ritsem departing from the train station in Gällivare.
Gällivare
This is the nearest larger town. Gällivare is a good place to fill your food supplies since netiher Kivikkjokk nor Ritsem has any larger food stores. Gällivare has a domestic airport with daily flights to Stockholm and the european highway E45 passes through.
Maps over the area
There are two maps covering this area:
1. Fjällkarta BD6, Lantmäteriet
2. Fjällkarta BD8, Lantmäteriet
Red Tape
As Sarektjåkkå is located in a National Park, special rules are applied. There are no fees but you need to follow the rules according to Swedish law of National Parks.
Example of what is
NOT
allowed:
- Perform scientific reasearches without permission.
- Pick any geological material.
- Pick plants or vegetation, even dead ones.
- Disturb animals, catch insects & birds, hunt or fish.
- Use motor vehicles.
- Bring a dog or horse.
Camping
Camping is allowed in the National Park. Bring a 4/5 season tent as the area is known for horrible bad weather.
External Links
*
Kvikkjokk STF Hut
*
Boat Schedule (Ritsem - Akkastugorna)
* A
trip report
from Stora Sarektraversen (In Swedish only)