Overview
Here is yet another get Teanaway Region Treasure. Located in the Rain Shadow of the Eastern Cascades this summit contain terrific 360 degree view which on a moderate day has a view of Mount Stuart and the Icicle range as well as most of the Enchantments. In spring this summit is one of the first Teanaway peaks to melt out. Typically this trail completely melts out by mid June which is very early by Cascade Mountain standards. It can get very hot on this mountain in summer so save this mountain either for fall or when it is cloudy on the western side. . most people hike this peak from the 8 miles standard route from the southwest. However this peak has been done from the east and combined with Jester and Iron Bear or Iron Mountain and Serpentine to make a multiple peak outing.
The views on this peak are very good and especially focus on the Blewett Pass, the Enchantments and the eastern Teanaway Region. On the cloudy day I was up there I could make out at least 40 summits from the top of Miller Peak. On a clear day you can see both Mount Adams and Mount Rainier to south along with many other mountains in the region. But best of all, when most summits over on the west side have bad weather, the weather here is far better and the payoff is much greater. A good saying is that if it is raining on the western side of the Cascades then keep on driving.
Route
Miller Peak
Elevation 6400 feet
Elevation Gain 3200 feet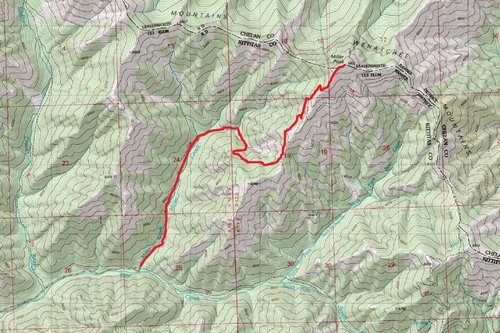 Miller Peak can be reached most easily by the YDS Class 1, complete walk up, Miller Peak Trail. At 8 miles and 3200 feet of elevation it gives just enough elevation to give a good workout, but for this region, it is makes for a very attainable summit. There are no scrambles on this trail and hardly any exposure on this mountain, making the trail up completely hike. The hike starts off barely gaining 800 feet in the first 1.8 miles and crossing a number of streams before steepening up. The rest of the trail is the bulk of the climb, ascending a number of switchback and traverse across the edge of the mountain. It is critical to note that dirt bikes also come up this route though as of May 2015 there were a lot of down trees on the route to prevent them from coming up. It ends going up a steeper section to the summit rocks. Views on this mountain start around 5200 and get better the higher you go.
This is the normal summer and fall route. However in spring just before snow-melt this side traverse can cause issues, requiring an ice axe. Winter will be much harder to reach this mountain because many times this road is not plow and often requires a 5 mile walk just to the trailhead. Though this mountain as great views I would not do this mountain when the weather is unusually hot in Seattle. Temperatures here can be extremely hot on those days so check the weather before trying this mountain in the middle of summer. I would recommend saving this peak for when weather is cloudy or lightly rainy on the other side.
Getting There
VIA MILLER PEAK TRAIL 1379: Take exit 85 off of I-90 and head east onto State Route 970 for about 7 miles. Make a left onto Teanaway River Road and head about 12 1/2 miles on the road past 29 Pines Campground. Just past the campground you will hit a fork in the road. Merge right onto forest road 9737 and stay on the road for about 1.25 miles. Make a right on road 9703. Take the road all the way down to the end (roughly 4 miles) where the Miller Peak Trail 1379 will be on the left side of the turnaround. There is also a very well built toilet located at this trailhead.
Recently the road has become much more rough so high clearance vehicles are advised.
Red Tape
Northwest Forest Pass Required. Right now it is $30 for the year and sell at most ranger stations as well as most REI stores. Another note is that this trail is also used by dirt bikes and mountain bikes.
Camping
There is camping all up on road 9703 which may be filled on the weekends however on the weekday these sites are usually are open. On the trail there are very few spots open to set up camping except for area the summit area.
Weather Conditions
Here are what the weather conditions would be from nearby Cle Elum.
alt="Click for Cle Elum, Washington Forecast" height=60 width=468>
External Links
Here is a
trip report
from this mountain.