Overview
With the name of Alpi Orobie (or Orobiche), is known the big ridge placed on the northest section of prealpi Bergamasche.
The name Orobie probably comes after Galli Orobii, the original people that founded the ancient village of Bergamo (Berg Heim) long time ago.
The Orobian area is placed parallely to Valtellina valley,and runs from Monte Legnone (west) to Passo del Vivione (east).
Overviewing the area, the mountain chain looks like a three teeths comb to south,hosting the two mains valleys: Val Brembana and Val Seriana.
This kind of comb is full of more or less high summits very well known by locals but not by foreigners.
This part of the Alps as the rest of the Prealpi aren't well known and turistly atractive, clearly cause nearless to the fantastic neighbours Adamello-Presanella group and the huge Bernina group.
Its south part is a nice green environment full of well marked paths,huts and bivouacs;on the contrary, the northern one (that I like better)is very wild,uncomfortable and not so easy yo reach,(especially behind the Diavolo di Tenda and Diavolo della Malgina),somewhere dangerous for the bad quality of rocks.
Some small glaciers still stay alive despite the global warming.
Subgroups
As previous explained, Alpi Orobie is a chain of summits without interruption; but we can share out it
in seven major groups:
they are, starting from west:
MONTE LEGNONE group
Huge mountain growing direclty from the lake of Como with a difference in
elevation of 2400 meters.
Natural corner and edge among the lake, Valsassina and Valtellina.
Main summits:
MONTE LEGNONCINO 1714m

MONTE LEGNONE 2609m

MONTE COLOMBANO 2095m

CIMA DI MONCALE 2306m

PIZZO ALTO 2512m

MONTE ROTONDO 2496M

Main valleys:
VALSASSINA
VAL VARRONE
VALTELLINA
VALLE LESINA

---

Pizzo dei TRE SIGNORI group
Group placed between the provinces of Sondrio (north) Lecco (southwest)
and Bergamo(southeast).
Pizzo tre Signori means "peak of three lords".


Main summits:

PIZZO VARRONE 2325m

PIZZO DEI TRE SIGNORI 2554m

TORRIONE DI TRONELLA 2311m

MONTE PONTERANICA 2378m

Main valleys:
VALGEROLA
VALBIANDINO
VAL D'INFERNO

---

CORNO STELLA groups
Atractive area hosting the ski resort villages of Foppolo, Carona and
San Simone.

Main summits:

CIMA CADELLE 2484m

MONTE TORO 2524m

CORNO STELLA 2621m

MONTE MASONI 2663m

CIME DELLO SCOLTADOR 2562m

Main valleys:
VALLE BREMBANA
VAL CERVIA
VAL DEL LIVRIO

---

MONTE PRADELLA group
Also famous for the moltitude of natural and artificial lakes : the most
famous are the Laghi Gemelli.





Main summits:

PIZZO DI FARNO 2506m

PIZZO DEL BECCO 2502m

MONTE PRADELLA 2626m

MONTE CABIANCA 2601m

MONTE MADONNINO 2502m

Main valleys:
VAL SANGUIGNO
VAL BREMBANA
VAL SERIANA

---

PIZZO DEL DIAVOLO DI TENDA group
Beautiful pyramid, lonely in the area, standing out among the other summits.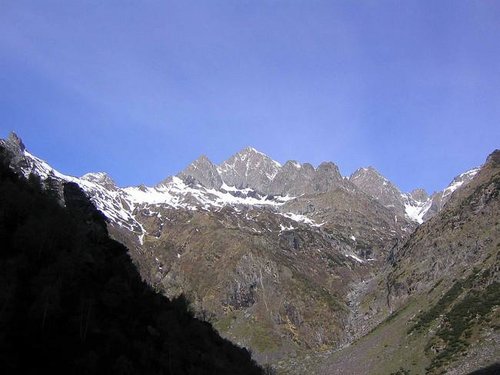 Main summits:

PIZZO DELL'OMO 2773m

PIZZO PORIS 2712m

Main valleys:
VALLE VENINA
VALLE DI CARONNO
VALLE DELL'ASER

---

PIZZO DI COCA group
The biggest part of the area with impressive rocky spurs on the north.






Main summits:

PIZZO REDORTA 3038m

PUNTA SCAIS 3038m

PIZZO DI COCA 3054m

PIZZO DEL DIAVOLO DI MALGINA 2926m

Main valleys:
VAL CARONELLA
VALLE D'ARIGNA
VALLE MALGINA

---

The eastern part of Orobie hasn't a major mountain for a classification.
The most famous, for its fantastic ski-mountaneering route, is the GLENO
Anyway the higher summits are:



MONTE TORENA 2911m

PIZZO RECASTELLO 2886m

MONTE GLENO 2882m

PIZZO STRINATO 2836m

MONTE DEMIGNONE 2587m

MONTE TRE CONFINI 2590m

MONTE SELLERO 2774m

MONTE TORSOLETO 2708m


ALTA VIA DELLE OROBIE
Alta via delle Orobie is the haute route that allows to discover and
explore this specific area af the alps.
It's a hiking trip of 6-7 days and it is mostly developed at about 2000
meters passing through lots of passes.
I suggest to run it counter clockwise, to keep the sunshine in the back
and go along the stronger stages in the first days.
Easy route, doesn't require specific skill, the only difficult passage is
between ref. Curo' to ref. Baroni where some ropes and chains help to go
through.Different "secondary" paths are available based on the singular
person training level. You can join the path from lots of different
routes developing from the valley. Every stop place has its alpine refuge
(mostly official "CAI" Italian refuges) managed between the period of
May-October.
This is basicly the route:

1st day
Passo della Presolana(1287m) - path n°401 - ref. Albani (3-5 hours)

2nd day
ref. Albani - path n°401 - ref. Curo' (5-7 hours)

3rd day
ref. Curo' - path n°302 - ref. Coca (2-4 hours)

4th day
ref. Coca - path n°302 - ref. Baroni/Brunone (3-5 hours)

5th day
ref. Baroni/Brunone - path n°225 - ref. Calvi (3-5 hours)

6th day
ref. Calvi - path n°213 - ref. Laghi Gemelli (3-4 hours)

7th day
ref. Laghi Gemelli - path n°220 - Valcanale(987m) (2-3-Hours)

Refuges and Huts
[img:74893:alignleft:small:The ref. Coca]
Ref. Benigni
2222m - 50 places - 3h from Ornica/2h from Cusio
Ref. Fratelli Longo
2026m - 40 places - 3h from Carona
Ref. Calvi
2015m - 85 places - 3h from Carona/4h from Gromo
Ref. Laghi Gemelli
1961m - 70 places - 3h from Carona/3h from Roncobello
Ref. Baroni Brunone
2295m - 80 places - 4h from Fiumenero
Ref. Coca
1892m - 60 places - 3h from Valbondione
ref. Curo'
1895m - 100 places - 3h from Valbondione
Ref. Albani
1939m - 60 places - 3h from Colere/15 min by cablecar
Ref. Tagliaferri
2328m - 20 places - 3.45h from Schilpario

Biv. Citta' di Clusone
2065m - 9 places - 1.30h from Passo della Presolana
Biv. Frattini
2125m - 9 places - 4h from Fiumenero/2h from ref.Calvi
Biv. Corti
2509 - 12 places - 5h from Arigna
Biv. Resnati
1926 - 6 places - 3h from Arigna
Biv. Salvadori
2578m - 9 places - 3h from Loveno