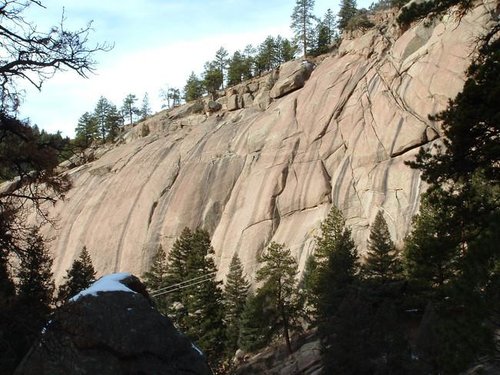 Overview
The Bucksnort Slab
This is a very popular climbing area year round. This huge slab is full of awesome routes ranging from the "Classic Dihedral" 5.9(YDS) to 5.12(YDS) and 1 to multi pitch climbs, located just a short drive from Denver people from all around make way to climb this slab.

Traditional climbing is the law here and bolting is strongly frowned upon, frankly forbidden. Most new to Trad climbing will make the Classic Dihedral their initiation to the game, a 2 pitch route with a classic left angle dihedral with some friction moves. Certainly a 4 star route no doubt.

This area gets used heavily during Spring and Summer months mostly due to the Bucksnort Saloon (just a few hundred feet up the road). A Biker Bar for sure all are welcome still, and the food (since under new ownership) is pretty darn good IMO.


As with most all South Platte climbing this is a friction paradise, thin crack's, small nubs, micro edges. wicked fun. slabbing at it's best.

Wonderful for winter climbing the pink rock warms the soul and the hands for year round climbing, seclusion will be non existant but hey? your still in the mountains!
Getting There
From Denver you have a few options to get here most will take Highway 285 west (South on the sign) until you reach County Rd 83 (S. Elk Creek Rd), and travel south (I think) about 8 miles on a very windy but scenic road shortly past the Bucksnort Saloon to small parking areas on the right side of the road.

Also Highway 285 to Rd 126 (S. Pine Valley Rd), Travel south to the town of Pine, turn into town on 6'th street going one block, Turn right on Grove St and follow into the canyon less than one mile. Bucksnort will be on your left hand side (you can not miss it)
Red Tape
Bolting is forbidden
Clean climbing should always be used
Park
AS FAR OFF OF THE ROAD AS POSSIBLE!
this area is driven heavily and being such a narrow canyon many large trucks insist on driving it
Respect those who live and vacation here and do not disturb their space or park in their spots
There are no fee's to climb here, just respect that this is heavily used and any damage you cause is only intensified 10 fold
Camping
Camping is allowed in designated areas only
Osprey Campground
($7 off season $13 high season)
Wigwam Campground
($7 off season $13 high season)
Top Of The World Campground
(CLOSED)
Buffalo Creek Campground
($ Unknown)
Rampart Range Rd
(Primitive)
Wellington Lake
($ Unknown 13$??)
Primitive campgrounds can be found on some of the side roads in the area as well
Gear
Bring a standard rack
Long slings
2 50m Ropes for some climbs
Other Interests
there are many other dome formations in the area.
South Platte River offers a great way to cool off and excellent fishing year round
Buffalo Creek has some great kayaking and fishing
Many places for a leasure stroll up or through one of the many gullys and washouts through the canyon
Great place for the family to take an afternoon drive or a daytime picnic
Useful Information
Google Topo Overview
Daily Forecast