Cicarija/Cicceria
Page Type
Area/Range
Location:
Istra/Istria, Croatia/Slovenia, Europe
Lat/Lon:
Activities:
Hiking, Sport Climbing
Season:
Spring, Summer, Fall, Winter
Elevation:
4173 ft / 1272 m
Page By:
toc
Last Edited On:
Jun 2, 2009
Who are the Cicis?
Cicis are small ethnical community, derived from the Morlacs or - by their fullname - Moros Vlachos/ The Black Vlachs.
Vlachs were named so by Greeks, because of the black sheppard jackets they were wearing.
Today,
Cicis are the only native speakers of the Istro-Romanian language. When they fade, Istro-Romanian will fade as well.
General survey
Cicarija

(land of the Cicis) is a 30km/19miles long undulated plateau, spanning in the northeast-southwest direction between the bays of Kvarner & Trieste.
This far northwest part of Dinaric Alps does not offer either dramatic or dynamic landscape features. Layered mild ridges,
covered with coniferous trees, seldom limestone crags and/or grassy rounded summits emerging here and there above the tree line.
Cicarija has always been quiet background of the Istrian peninsula.




Activities

hiking. All main summits of Cicarija are connected with marked hiking trail named Istrian mountain path (see next chapter).
also good place for cycling. Low traffic, numerous carriage roads. Only climbing area is called

Raspadalica.

30 or so routes, length range
from 7m/23f to 35m/115f, difficulty range 2 - 8c,sharp and firm gray limestone, routes are mostly vertical or slightly overhanging slabs. Further climbing areas are all located toward Istrian coast.
Below on this page, chapters will deal with separate hills, as they are successively posted.
Panorama view
Fact Sheet
Cicarija and Ucka trails are connected with and combined into marked
IPP
(Istrian mountain path). Original trail was opened in 1974., connecting summits of mt Slavnik and mt Ucka accros the Istrian peninsula. However, after the crumble of ex Yugoslav federation, new path has been shrinked to trailpoints inside Croatian part of Istra, which makes about four fifths of the original length. Contemporary IPP now combines old IPP + BBB (Buje - Buzet - Brest) path + Labin hiking path and is divided in four stages:
stage one
: Umag-Mirna river valley-Buzet-Brest-Zbevnica hut - time required, round 17-18 hours
stage two
: Zbevnica hut-Cicarija main ridge-Vojak peak, time required round 13-14 hours
stage three
: Vojak-Sisol, time required 6-7 hours
final stage
: Sisol-Crna Punta, time required 13-14 hours
Total IPP length is 200km/124miles. Complete pocket size IPP guide (72pages, 100 color photos) can be obtained from the Istrian Alpine Association,
Istarski planinarski savez
Jurja Dobrile
52000 Pazin
Croatia
they'll charge you about 5 Euros(35 kuna) for it.
Main IPP trail can be approached by various smaller connecting trails, like Buzet-Raspadalica, 5km walk to Cicarija's only climbing site.
Main peaks of the Cicarija/Cicceria range with elevation and GPS data
| | | |
| --- | --- | --- |
| Peak name | Elevation meters/feet | Latitude/Longitude |
| Veliki Planik | 1272m/4172f | 45.361694/14.190667 |
| Brajkov vrh | 1092m/3582f | 45.379306/14.159167 |
| Zupanj vrh | 1138m/3734f | 45.387806/14.167167 |
| Orljak | 1106m/3628f | 45.419417/14.126806 |
| Zbevnica | 1014m/3326f | 45.45875/14.013833 |
...and more of the same for most popular summits of Mt. Ucka, at the SE end of Cicarija.

| | | |
| --- | --- | --- |
| Peak name | Elevation meters/feet | Latitude/Longitude |
| Vojak | 1396m/4579f | 45.284917/14.201972 |
| Sisol | 835m/2739f | 45.171139/ 14.201056 |
| Knezgrad | 612m/2007f | 45.283722/14.249389 |
Cicarija's main climbing site is

Raspadalica

, limestone wall at the very edge of Cicarija plateau. Total number of climbing routes is 30, height vary from 7m/23f up to 30m/115f

| | | | | | | |
| --- | --- | --- | --- | --- | --- | --- |
| Routes by difficulty | 4a,4b,4b+,4c | 5a,5b,5c,5c+ | 6a,6a+,6b | 6b+,6c,6c+ | 7a,7a+,7b | 7b+,7c,7c+ |
| Number of routes | 1 | 6 | 13 | 7 | 1 | 2 |
Best climbing seasons are autumn/spring/winter. Summers are very hot. Next climbing sites inside reasonable driving distance from Raspadalica are Istarske toplice/Istrian spa and Vranjska draga.

Jacemica
This hill is actually a rocky edge of the plateau above Buzet. It is all shrouded in mystery and fairy-tales, and only when you reach its top, you get one possible explanation. So, its southern walls are rising above Crnica village. Below them, there's also a cave. From the other side it is easilly ascended, but the border between Slovenia and Croatia, the current outside border of European Union poses some problems. Jacemica is deeply in the Croatian territory, so coming on top from the north, means a border violation.
A path, marked with a sign, seen on the right, comes on top from Črnica village, continues by the E edge of the summit plateau, then crosses the plateau towards the N and NE and on the Slovenian border strangely disappears (April, 2008).
So, the SW ascent comes from Črnica village. At the upper houses the marked path branches. The left branch goes by a broad path, wich once clearly supplied a big settlement on the upper slopes. When it reaches picturesque cliffs, the old path turns left below them (and reaches the upper slope a bit later), while the marked path climbs over the cliffs by a comfortable ledge. Then you turn right and follow the marks till the summit.
When you reach the top of Jacemica, you have of course a nice view over Istria - lower regions towards the south and Čičarija hills towards the north. And you notice another important feature. From the rock abyss on the east to the similar one on the west an arc of rocks encircles the summit. It might mean only, that those are the remains of an ancient wall, which was protecting the settlement. This feature is also clearly seen on Google map. It is no wonder that old stories are still in the air around Jačemica - it was perhaps once a prosperous castello.
Lipnik
Among villages Podgorje, Zazid, Rakitovec and Jelovice there's a wonderful world of grassy summits, which can be treated as a kind of a true Istrian prairie. They are especially beautiful in May and June. You can nowhere find so densely blossoming meadows. Lipnik is a ridge mountain just north of Rakitovec. It stretches towards the SE, where the summit of Kavčič stands. North of these two, there's a similar, but a bit higher ridge of Golič. Between these two ridges there's a dreamy nice Zalipnik valley. On the lower part of Lipnik ridge there's a bump, where it also seems that in the distant past it hosted a castello.
Žbevnica, 1014m
While the grassy ridge of Lipnik on the Slovenian side still does not exceed the altitude of 1000m, Žbevnica, which is its continuation on the Croatian side already exceeds it. The summit offers a nice panorama on all sides and is a valuable hiking goal. It is also great for mountain biking. The cart-road which comes to below the radio installations can be used also for biking. The last 15 minutes to the top are then done by a good path. Otherwise the road from Brest to Jelovice is itself nice for biking.
Gomila, 1027m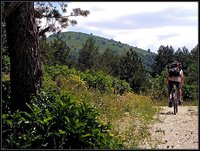 In Cicarija, there's more than one summit with the name Gomila. With this one I mean a grassy hill north of Raspor village. It can be a nice goal of a hike or bike & hike tour. For the latter we take the mountain road, which goes north from the main road, just NW of Trstenik village. It crosses a mountain shoulder, proceeds by a lonely valley behind it and then steeply ascends on the saddle below Gomila summit. From there we walk on top for another 10 minutes.
Istarske toplice
Where Mirna river breaks through the limestone hills of Istria, there are the last towers, which are also very appropriate for climbing. Below them there's a spa resort (Istarske toplice).
The towers are rising just above the hotel. On one of them there are also picturesque ruins of Sv. Stjepan's church.
Besides climbing, from Istarske toplice we can do a few interesting hikes and also (mountain) biking tours. An ancient path ascends in many turns up towards the old town of Zrenj. It is a nice hike and in combination with the roads towards the east and west also a possible biking tour. It is perhaps best to ascend by bikes by this steep path (only partially riding) and then comfortably descend aroun by one of asphalt roads.
Along the path, soon above the spa, you can visit picturesque caves - the abandoned quaries.
Zrenj, its ancient name is Stridone, is claimed to be the birthplace of St. Hieronim, who translated the Bible from Greek to Latin. He left Istria 371 AD., studied in Rome and later on worked and lived in Aquileia.
Accommodate yourself
Campinggrounds: Raspadalica camping site. Base for Raspadalica climbing site. Contact: ground owner Nevio Ladavac, mobile +385 99 51 50 25
Huts:
Korita hut
, 1010m/3313f, starting point for summiting Cicarija highest summit, Veliki Planik (3-4 hours).
Open and shielded on weekends, hut phone +385 98 39 03 46
Zbevnica hut
, 851m/2791f, shielded on weekends, phone +385 52 74 30 03
Getting there
Nearest intl airport is
Pula
Website in English
By train: nearest railway stops are Buzet and Lupoglav.
By far the best train connection query service in Europe is
German railways server
.
By car: from W A4 autostrada direction Trieste, cross into Slovenia and drive Kubed-Socerga-Buzet (around 20km)
from N, Ilirska Bistrica(Slovenia)-Rupa bordercross-Mali Brgud-Zejane-Mune-Vodice-Brest. Scenic drive contouring north of Cicarija. You can stop and start hiking almost anywhere alongside the road.
from NE, Zagreb-Rijeka motorway- Rijeka-Matulji-Ucka tunnel-Gorenja vas-Racja vas-Trstenik-Brest. Easy couple of hours hikes from here: Racja Vas-Orljak peak, Trstenik-Gomila, Brest-Zbevnica
Weather
Up to date weather conditions from the nearest weather station in Pula/Pola
Miscellaneous info
Alternate names:

Cicceria

(Italian)

Cicenboden

(German).
Most popular flower: Peony. Peony is considered a trademark flower of Cicarija.
Range is located between two large Adriatic bays (Trieste and Kvarner). They both generate lots of moisture.
No warranty for the great views-you may end peeping into low and very humid clouds...or enjoy turbo panoramic view, especially if the katabatic

bora

wind hits the bay of Trieste