Overview
So, do you like really remote peaks and territory? This is a really nice surprise. This area of Colorado and Utah, without question, has the most remote peaks in Colorado, and a few of the more remote ones in Utah. They are incredibly spectacular and almost completely ignored, despite the fact that it offers some of the best scenery in the lower 48 states. Over a dozen very inaccessible peaks invite exploration. Only a few of the more accessible peaks are on Summitpost, but there is enough exploring here to keep one busy for years.
There are all kinds of spectacular canyons here as well. From big and scenic to tight slot canyons, this area has enough exploring left for years. There are literally dozens of seemingly completely unexplored slot canyons in the area. Here's a little secret: There are actually better and much more remote slot canyons than the ones on Summitpost. Buckwater and South Buckwater are the easiest to get to and explore of the slot canyons in the area.
Dinosaur National Monument and Vicinity is a very rugged region full of upturned beds of rock, dinosaur bones, rivers, canyons, and mountains. The area is rich in wildlife and scenic beauty.
Hiking
Hiking in Dinosaur National Monument and vicinity takes navigation skills since trails are not usually available. Make sure to have a good map, compass, and maybe a GPS.
Water can be a serious concern on some routes, so be prepared.
A few favorite hiking trails or (non summit) routes include:
1.
Jones Hole
2.
Harpers Corner
3.
Sand Canyon
4.
Ruple Point
5.
Ely Creek
6.
Gates of Ladore
7.
Hog Canyon
Mountaineering, Rock Climbing, and Peak Scrambles
This area seems to be completely ignored by mountaineers/rock climbers. Desert Rock IV mentions climbs of Penis Point, Steamboat Rock, and Elephant Toes Butte. That seems to be the extent of information available, and it seems many towers and some peaks remain to be climbed.
At least some of the major peaks, namely Split Mountain, Zenobia Peak, Cross Mountain, and Blue Mountain luckily have some non-technical routes up, which makes them obtainable for the adventurous, but for those whom are not skilled in big wall climbing. There are many peaks available, and I can only recommend those I have climbed at this time.
A few of my favorite climbs include:
1.
"Outlaw Peak"
2.
South Split Mountain (east summit)
3.
Split Mountain
4.
North Cross Mountain
5.
South Cross Mountain
6.
Blue Mountain (south face)
7.
Diamond Mountain
There are many peaks in the area to climb, and I haven't seen them all.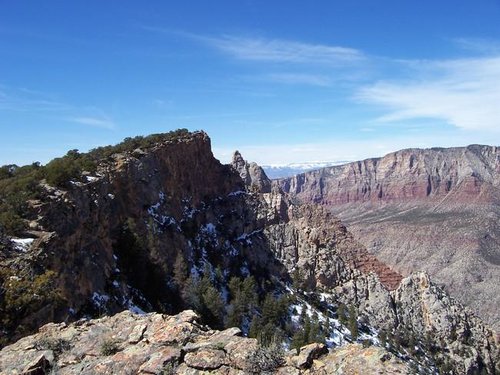 Technical Canyons
Like the mountaineers, technical canyoneers have completely ignored this area as well. The area offers hundreds of technical slot canyons of all levels of difficulty, and almost all are untouched. Summitpost is the only site I know of where you can find any information at all.
A few of the technical canyons I have completed include:
1.
Box Canyon
2.
Buckwater Draw
3.
South Fork Buckwater Draw
4.
Pool Creek
5.
Squeeze Canyon
6.
Carcass Canyon
7.
Scoggins Draw/Outlaw Arch Canyon
8.
Outlaw Canyon
Scoggins Draw/Outlaw Arch Canyon is by far the best technical canyon in the Monument that I have visited.
There are actually dozens more to explore, and it will take a while before I explore them all. This an area for exploring!
Pictographs and Petroglyphs
Dinosaur National Monument has several pictograph and petroglyph panels on teh cliffs. Pictographs are painted on the rocks and petroglyphs are chipped into the rock. The Fremont Culture chipped the petroglyphs 1500 to 2500 years ago. It used to be theorized that the Fremonts also left the pictographs, but more recent studies and with advancement in chemical dating, these are know known to be much older. The pictographs on South Split Mountain are actually 3000-8000 years old.
On the lower slopes of the South Split Mountain, there is one panel of pictographs on the road not far and before the trailhead (sorry, I didn't take photos). There is also a good panel of petroglyphs not far east of the trailhead. On the South Slpit Mountain route (see the mountain page), there is one panel on a boulder between the two drainages mentioned in the Bighorn Route description. This panel may be hard to find unless you stuble on it, and is somewhat unique because it is horizontally on the rock, rather than vertical.
Several other panels are located around Whispering Cave and Echo Park.
All pictograph and petroglyph panels must not be touched, under penalty of law.
Camping
Inside the National Monument, you can find information on all the campgrounds below.
DINOSAUR NATIONAL MONUMENT CAMPGROUNDS
Outside the monument, you can basically camp anywhere you want, except for short tracks of private land near isolated ranches. Most of the area outside the monument boundaries is BLM land.
Seasons
This is a dry area, and the best times to visit are usually April, May, early June, September, October, and early November. Summer is very hot, winter very cold. Keep in mind that some roads, such as Echo Park and Harpers Corner don't typically open until late April, which makes access difficult to some areas before then. September and October can have pleasant temperatures, but in the area, it is a very popular hunting destination, at least outside the monument boundaries. If you go then, wear blaze orange just to be safe.
WEATHER FORECAST FOR DINOSAUR NATIONAL MONUMENT
See the weather charts below for a general idea on the climate. These are just averages however, as in Spring or Fall you can either roast or freeze, often on the same day!
This is a land of extremes and it is not uncommon to have the afternoon be sixty degrees warmer than in the morning. At the quarry, an average night in January is 4 degrees, and an average day in July is 95 degrees, but temperatures have been as low as -40 or as high as 110. At Maybell, the average night in January is 2 degrees, and an average day in July is 87, but temperatures have been as low as -61 and as high as 102!
Weather and climate data for the Dinosaur Quarry at 4770 feet elevation is below. *National Weather Service Data 1958-2004.


MONTH
AVE HIGH
AVE LOW
REC HIGH
REC LOW
AVE PRECIP (in)
JAN
30
4
60
-39
.51
FEB
39
11
66
-40
.62
MAR
54
24
85
-13
.65
APR
65
33
89
10
.78
MAY
77
41
103
20
.86
JUN
88
49
105
30
.61
JUL
95
55
110
38
.62
AUG
92
53
106
35
.64
SEP
82
44
103
20
.98
OCT
67
32
93
2
1.06
NOV
49
22
74
-10
.60
DEC
35
10
61
-33
.56
Weather and climate data for Maybell at 5920 feet elevation is below. *National Weather Service Data 1958-2008.


MONTH
AVE HIGH
AVE LOW
REC HIGH
REC LOW
AVE PRECIP (in)
JAN
33
2
56
-60
.79
FEB
38
7
66
-61
.84
MAR
48
18
75
-21
1.03
APR
59
26
82
-11
1.35
MAY
70
33
91
10
1.13
JUN
80
40
96
22
.93
JUL
87
47
102
26
.85
AUG
85
45
98
28
.89
SEP
75
36
94
8
1.10
OCT
63
25
87
-10
1.20
NOV
46
15
70
-25
1.15
DEC
35
4
61
-50
.89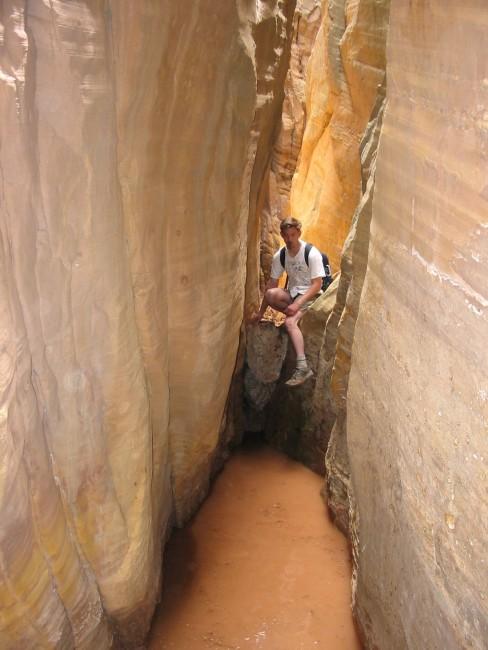 More Information
Contact the rangers at the Dinosaur National Monument Headquarters at 801-789-2115 for updated conditions.
Here is a
LINK
to the monument web page.
Summitpost seems to be one of the few places to actually find information on this place, so check here first.