Overview
Appalachian Mountains > White Mountains > Presidential Range > Mt Eisenhower
Almost overshadowed by the mass of neighboring
Mt Washington
, Mt Eisenhower (called Mt Pleasant until the death of President Eisenhower) is sometimes dismissed as a mere bump between Mts
Pierce
and
Monroe
. But at something more than 4760 ft (see below), Eisenhower is a respectable mountain in its own right. It ranks about 11th in height among "listed" New Hampshire 4000-footers (ie, those peaks rising at least 200 ft above their highest connecting ridge). Thousands of hikers summit it each year because it lies on the Appalachian Trail. The great attraction of Mt Eisenhower, however, is the view. A hike to its summit will bring you well above treeline, offering 360-degree views of all the Southern Presidentials as well as the summit of Washington. A very satisfying experience for not a lot of effort.
A trip over Mt Eisenhower can also be part of a full or partial
Presidential traverse
.
The exact height of Mt Eisenhower is something of a mystery.
All sources I'm aware of rely on the same survey map, in which the summit is clearly above the contour line marking 4760 feet. Since the contour lines are 40 feet apart, 4780 feet (last contour plus half the contour size) is a good estimate. Some sources instead list the height as 4760 or 4761 feet.
The 11th-place ranking is according to the
AMC 4000-Footer List
, which uses the 4780 foot estimate.
Special thanks to Mohamed Ellozy (aka NHFours), who in addition to maintaining his own
very informative website
, helped clarify this elevation stuff via email.
The Views
The wide, bare summit of Mt Eisenhower offers great views in all directions, including close-ups of Mt Washington and Mt Jefferson.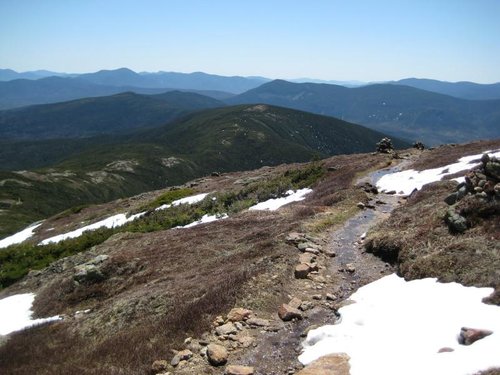 More views from Eisenhower
Getting There
Most trailheads (see below) are on or near rte 302. From points south (eg, Boston), take Interstate 93 north. Take exit 35 (just after Franconia Notch) onto rte 3 north (which heads mostly east here) ten miles to route 302 east (which heads mostly southeast). After about eleven miles you will see signs for the AMC Crawford Hostel and then Crawford Notch State Park.
Note that smaller roads will be closed in winter.
current road status
Red Tape
parking fees $3/day
advance purchase (discounts for multi-day and annual passes):
USFS WMNF parking permit
Regulations limit camping, fires, etc.
See backcountry camping section below. Rules there were distilled from several official sources including:
this Forest Service page
Trails
Eisenhower is one of the Southern Presidentials, which form a ridge extending southwest from Mt Washington. There are four basic directions of approach: from either southwest or northeast along the ridge via the Crawford Path, from the west via Edmands Path, or from the south via the Mt. Eisenhower Trail and the Dry River Wilderness.
The summit itself can only be reached by the
Eisenhower Loop
, a short (less than one mile, under 400 vertical feet) side trip off the official Crawford Path.
The
Crawford Path
begins at the Crawford Hostel, making a leisurely climb of Mt Pierce then following the ridge over Eisenhower and on to Franklin, Monroe, and, passing the Lakes of the Clouds Hut, straight up the southwest face of Mt. Washington. The whole Crawford Path could be done as a day trip, but at 8.5 miles (13.7km) one way and 4750 feet elevation gain, you'll need a lot of daylight. Just to Eisenhower and back makes an nice day excursion at ten miles round trip.
Edmands Path
provides a direct approach to Eisenhower from the west, beginning on Mt. Clinton Road and arriving at the northern end of the Eisenhower Loop. At 3.3 miles each way and 2750 ft elevation gain, this makes an easy day trip, easily extended if desired by wandering further along the ridge.
The Appalachian Trail
, which traces the ridge of the Southern Presidentials beginning with Mt Webster, joins Crawford Path at Mt. Pierce. From rte 302, the A.T. follows the
Webster Cliff Trail
over mts Webster, Jackson, and Pierce before joining up with the Crawford Path.
The Ammonoosuc Ravine Trail
arrives at the Lake of the Clouds Hut (where Mt Monroe meets Mt Washington, ie, the northeast end of the Southern Presidential ridgeline) from the west. This route is well described on this
route page for Mt Monroe
.
The Mount Eisenhower Trail
comes north 2.7 miles from a confluence of trails within the Dry River Wilderness, ending at an intersection with Crawford Path about half a mile north of Eisenhower's summit. True to its name, the Dry River Wilderness is not very easily accessible by road. Perhaps the simplest approach that does not go directly over the Presidential Range is the Dry River Trail, at least a five-mile hike (though basically flat) from the Dry River Campground on rte 302 to the downhill end of the Mt Eisenhower Trail.
Other trails rise from various points within the Dry River Wilderness to points along the Southern Presidential ridgeline. The Mt Clinton Trail and the Dry River Cutoff arrive at the Mizpah Hut located south of the summit of Mt. Pierce, and the Dry River Trail arrives at the Lake of the Clouds Hut located on the col joining Mt Monroe to Mt Washington. These can be used to make a large loop if desired (and if you don't mind descending and then re-ascending).
Several other trails in the general area are not discussed here - many loop variations are possible for longer or overnight hikes. Consult a map, such as the one included with the White Mountain Guide.
Trailheads
Crawford Path:
Adjacent to the Crawford Hostel & Visitor Center on Rte 302. You can't miss it. The AMC requests that Crawford Path hikers park in the lot on Mt. Clinton Rd and use the short connecting trail. Parking is three dollars.
Edmands Path:
On Mt Clinton Road about two and a quarter miles from rte 302 (ie, a bit more than a mile south of Base Road). Parking is three dollars. In winter, check the
current status
to see whether Mt Clinton Rd is open.
Appalachian Trail (Webster Cliff Trail):
The A.T. crosses rte 302 about a mile south of Willey House and a bit more than a mile north of Dry River Campground. There is space for a car or two but it does not appear to be a sanctioned parking area.
Ammonoosuc Ravine Trail:
There's designated trailhead parking near the east end of Base Road and the cog railway terminal. I'm not sure whether the usual $3 fee applies. In winter, check the
current status
of the Ammonoosuc Ravine parking lot and of Mt Clinton Rd.
Campgrounds, Huts, Shelters
There are several campgrounds within driving distance - for example Dry River Campground within Crawford Notch State Park. There are also several AMC huts, shelters, etc, the nearest of which are discussed below.
This area is extremely popular - reservations are a good idea though not always accepted. Call ahead anyway to get a sense of how crowded it will be. Note that AMC facilities generally give preference to Appalachian Trail through-hikers.
Crawford Hostel
Located at the Crawford Path trailhead.
open year-round, capacity 24, reservations encouraged, free parking
603 466 2727
rate: $18/night ($14/night for AMC members)
Mizpah Hut
Located on the ridgeline south of the Mt. Pierce summit, adjacent to the Nauman Tentsite.
open may 14 to oct 10
Capacity 60.
AMC Mizpah Hut Details
AMC Hut Rates
AMC Hut Availability
Lake of the Clouds Hut
Located on the col joining Mt. Monroe to Mt. Washington.
open june 2 to sept 18
Capacity 90.
AMC Lakes Hut Details
AMC Hut Rates
AMC Hut Availability
Dry River Shelter
Located on the Dry River Trail about a mile north of the intersection with the Mt. Eisenhower Trail, this lean-to, built of logs with a wooden floor, has room for at least eight sleeping bags. Beware of wind, and bring a pad to sleep on and a friendly attitude. No fee.
Nauman Campsite
Located adjacent to the Mizpah Hut, this is a Leave No Trace campsite.
Open year-round, no reservations taken but "group notification" encouraged:
AMC group notification
Capacity: 36 people (seven wooden platforms: five single platforms + 2 double platforms. A "single" platform should hold two two-man tents).
Rate: $8.
More info:
AMC Nauman Campsite
Backcountry Camping
Allowed (subject to restrictions below), though it can be difficult to find a suitable campsite.
Unless otherwise posted, you may camp:
Below treeline (where trees are 8 feet or taller).
exception: you may camp above treeline on top of at least two feet of snow (but not on the eastern half of Mt Washington, and not over frozen water)
At least 200 feet from the trail and water sources.
At least a quarter of a mile from any road or facility (ie, campsite, platform, shelter, hut).
No camping within Crawford Notch State Park (except at Dry River Campground).
The USFS supposedly publishes an annual "Backcountry Camping Rules" brochure, you might try asking a ranger where to get a copy.
When To Climb
May be climbed year-round. Note that the summit is completely exposed to wind, and this region can have some severe weather.
Mt Clinton Rd and Base Road may be closed in winter, though lately the NHDOT has kept them open.
Current status
Mountain Conditions
See the Mount Washington page for many other useful links.
More Info
Call the Pinkham Notch Visitor Center (603-466-2721, ext. 116) or the Ammonoosuc/Pemigewasset District office (603-869-2626).
External Links