Overview
Off the beaten path, or at least the Bondcliff path, West Bond usually doesn't garner a lot of attention. However, to overlook this summit would ensure you would miss some of the best unobstructed views of the Pemi Wilderness from New Hampshire's 17th highest peak.
In addition to being #17 in New Hampshire; West Bond is the 19th highest peak in New England, #35 on Northeast 115 4000'ers and is part of the AMC 4000' list as well. So for all you peak-baggers this mountain is a must.
West Bond lies to the North North West of
Bondcliff
and
Mount Bond
and is part of the Twin Mountain range.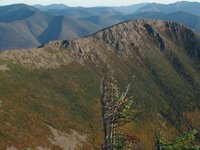 West Bond also provides phenominal views of
South Twin
,
Owls Head
,
Galehead
, and the entire eastern flank of the Franconia Ridge's major peaks.
Getting There
Since West Bond is reached only by a spur trail off of the Bondcliff Trail getting to the summit requires a minimum of 7 miles of hiking from the nearest trail head, not to mention the multiple summits you'll need to gain along the way.
There are 4 trailheads that you may start from that should allow you to reach West Bond in a day. They are:
Lincoln Woods Visitor Center, which can be reached by taking exit 32 (Rte 112) off of Interstate 93. Travel approximately 4.5 miles east on 112, the vistor center will be on your left.
Hale Brook or Zealand Trail heads; these can be reached by taking exit 35 (Rte 3) off of Interstate 93. Travel approximately 11 miles east on 3 turning right onto Zealand Road (this road is closed in the winter). Once on Zealand Road Hale Brook Trail will be on your right in about 3 miles. If you'd prefer to start at Zealand Trail continue down Zealand Road approximately 2 more miles until the road ends. The trail will be off the left.
You can also begin your hike on the North Twin trail. From Interstate 93 take exit 35 (Rte 3), heading east. For further directions see the route page for the
North Twin Trail
.
Red Tape
If you start from Lincoln Woods there is a use fee. If you obtain the pass from the vistor center it will cost $3 a day. You may also use the
White Mountain Forest Parking Pass
.
Camping
There are multiple campsites that available depending on the path chosen to reach the summit. However the closest campsite is the
Guyot Campsite
. There is an $8 per camper use fee.
Also the Zealand Falls and Galehead Huts provide overnight accomodations that would allow you to reach West Bond. For more information on the huts click
here
.
Weather
Lincoln, NH
The open summit will expose hikers to high winds, which many times may be severe. Weather in Lincoln may not be reflective of what is on the peaks.