Overview
Skala
, 2133m is the last 2000 meters high mountain in the ridge that comes from the
Mangart
, 2678m and goes over long ridge with many small peaks all the way to the
Predil Pass (border, 1156 m)
. Directly above
Mangartsko sedlo (saddle)
, 2055m is the agitated ridge of many towers called
Male Spice / Cime Verdi
, 2167m. On the ridge goes the border between Italia and Slovenia. Here a lot of small peaks, many of them are airy towers which are hardly approacahble. Between the both peaks, Skala and Male Spice is the notch called
Sedelce / Forcella Valromana
, 2031m.
Skala is the western summit. It has double summit. The eastern is easily approachable but western is approachable only with climbing. The ridge goes from Skala over many saddles and small peaks as
Mala Rusa (Punta dei camosci)
, 1922m,
Veliki Grintavec
, 1943m,
Vrsic (Ursic di Raibl)
, 1919m,
Skutnik / Monte Guarda
, 1865m to the Predel pass.
Male Spice / Cime Verdi are the ridge of I think around 12 towers and only the most eastern is not so hardly approachable over steep grassy slopes. Between
Skala
and
Male Spice / Cime Verdi
there is also another double peak (tower) called
Visoka Spica
, 2165m which is also very hardly approachable.
Although the road on Mangartsko sedlo (pass)is one of the most popular part in Julian Alps because of starting-point for Mangart are the Skala and Male Spice very rarely visited. I suggest you to reach both summits after the ascent on Mangart and you will enjoy in amazing view to
Julian Alps
(on Mangart, the ridge of Loska Stena, the Kanin group and Vis and Montaz group).
Getting There
From Slovenia
You follow the
Soca Valley
to
Bovec
, where you branch towards north into
Koritnica Valley
. You continue to
Log pod Mangartom
, a tourist village, which was recently totally destroyed by a huge landslip. It is renewed now, but you will see results of the demolition everywhere. After the village the road turns west towards
Predil Pass (border, 1156 m)
, but before you reach the border, you will notice a narrow road turning towards north-east. It will bring you from 1100 meters to 2000 meters, where the mountain hut can offer you a nice shelter.
From Italia
Predil Pass
can also be accessed from Italian side. From
Tarvisio
you follow the valley towards south (Jezerska dolina, Valle Rio di Lago), at
Rabelj Lake
you turn east and drive up to the saddle.
Maps:
- Tabacco, No. 19. Alpi Giulie Occidentali Tarvisiano. 1:25000.
- Julijske Alpe - Zahodni del (Western part). Planinska zveza Slovenije. 1:50000. (old map)
- Jalovec and Mangart. Geodetski institut Slovenije. 1:25000.
Routes list
Hikes
1.
From
Mangart saddl
e to the most eastern summit of
Male Spice
.
Steep grass and unmarked route.
2.
From
Mangart saddle
to
Skala
.
Steep grass and unmarked route.
3.
From before the last tunnel of Mangart road over the marked route to
Male Spice
or
Skala
.
First over the marked route, then you reach the summits as in number 1. and number 2..
The description
Winter asscents
There are some ravines in
Skala
and
Male Spice
but more popular ravines are more to the west in the mountains like
Mala Rusa (Punta dei camosci)
, 1922m,
Veliki Grintavec
, 1943m and
Vrsic (Ursic di Raibl)
, 1919m.
The starting point for this ascents is the Mangartska planina (meadow), 1294m.
Red Tape
No limitations. The road to Mangart Saddle is open for public traffic, in last years it was a few times closed because of landslips. You must pay the road from the 7 hour in the morning to 18 hour in the evening. It consts 5 euros.
When To Climb
The best time is in snowless season. This is in Summer and Autumn. But also in Winter there are some nice couloirs for climbing. But be careful because of avalanches.
Mountain huts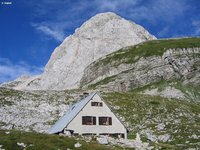 On Mangart Saddle there is a mountain hut - Kocha na Mangartskem sedlu, 1906 m. Hut is open in period May-October, depends on weather (snow conditions). In this hut you can buy cooking meal for the price about 4 Euro. Here you can sleep for about 5,5 Euro per day if you have your Mountain Card, in another case you'll not use the discount and pay 11 Euro per day.
Beneath the north wall there is a Bivouac Nogara on the altitude of 1850 m.
There are also camping places by Rabelj Lake, by Mangart Lakes and also in Bovec and in Trenta valley.
Mountain conditions
Mountain conditions in Julian Alps are well known, thanks to
Kredarica (2515m)
hut and meteo station, which is below the Triglav.
You can observe current conditions and forecast for Kredarica on the Wunderground meteo site. Here is direct link to
Wunderground - Kredarica
page.
Some weather informatin can also be found
here
.
style="display:block"
data-ad-format="autorelaxed"
data-ad-client="ca-pub-6523272176520096"
data-ad-slot="7132222476">