Overview
Solstein is a double peaked summit. Grosser Solstein (2541m/8337ft) has a big summit plateau and a gentle but steep west slope, which is used for the ascent from Solsteinhaus (1805m/5922ft) - one of the huts on the mountain. On the other hand Kleiner Solstein (2637m/8652ft) is a rocky pyramid and reached from Grosser Solstein in about one hour. From Solsteinhaus (1805m/5922ft) the summit is reached within three hours and the ascent to the hut lasts about another three hours.
It is quite unexpected for german speakers to see that Kleiner Solstein is higher than Grosser Solstein, because the german words "Klein" (small) and "Gross" (huge/tall) don' t make a difference between areas and heights. In english neither a area is tall nor is a height huger than another. In german an area may be "grösser" (huger) than some other as well as a mountain can be "grösser" (taller) compared to another. Now talking about mountains everyone thinks about the height first. Therefore most people are quite surprised to see that Kleiner Solstein is the higher summit.
Located at the south-west end of the Karwendel it offers great views to the Zillertal Alps, Stubai Alps, Wetterstein, Mieming Range, Hohe Tauern and of course the Karwendel itself. Because of being such an excellent viewpoint, Solstein is very popular and summited very often. On sunny summer days this is not the place to enjoy the mountain alone. In winter, Solstein can only be summited if the avalanche danger is low, because of its steep slopes.
Summit panorama
360° panorama from Grosser Solstein (6/Sep/2006).
Hide
/
Show
mountain names.
Getting There
By car:
To reach the trailhead Hochzirl, you have to get to the city of Zirl in the valley of the river Inn. Zirl has a connection to the highway to/from Innsbruck and from there you have highway connections to Germany and Italy. Another way to get to Zirl from Germany is by driving along road 177 and B2 from Garmisch-Partenkirchen via Seefeld. From Garmisch-Partenkirchen you have a highway connection to Munich.
By train:
If you go to Solstein by train your trailhead is the train station Hochzirl. About every hour the train from Garmisch-Partenkirchen (Germany) to Innsburck (Austria) stops there. From Garmisch-Partenkirchen you have access to the trains to Munich and Ehrwald (Austria) and Rheutte (Austria). Innsbruck is the gateway to Italy (Bozen/Bolzano, Verona).



For more information visit the homepage of Deutsche Bahn for german and ÖBB for austrian train connections.To get to the trails you have to get on the hillside and walk along the train station towards Innsbruck. At the end of the trail station a path leads into the forrest. From there on signs show the way to Solsteinhaus (1805m/5922ft) and Solstein.
Red Tape
There are no permits, fees or seasonal closures.
I don' t know if there is a parking fee or something like that in Hochzirl, but I think parking near the train station is free.

Solstein is located within the nature reservation area Karwendel and therefore it is forbidden to camp on the mountain. Additionally you shouldn' t pick up flowers and don' t leave anything but footprints. Well because of the popularity of the mountain, there is a lot of litter on the way. Please help that this doesn' t become worse...
Camping
Seefeld is a touristic area with tons of hotels and places to stay. For more information visit the multilangual homepage of the area. Innsbruck isn' t far away as well.
Because of the nature reservation area Karwendel, camping on the mountain is forbidden. Additionally you should carry everything back down with you and leave only footprints. If you like to stay on the mountain Solsteinhaus (1805m/5922ft) or Neue Magdeburger hut (1637m/5371ft) are the only two options.
When to climb
Solstein is mostly climbed in summer and autumn. On hot summer days don' t forget a hat and bring plenty of water, because from the hut the trail becomes very steep and there is nearly no shadow.
During the winter months, Solstein can be climbed with skies, but this requires save avalanche conditions, because there is nearly no vegetation on the upper slopes. Unfortunately the avalanche report of Tyrol is available in german only.
Mountain conditions
Weather:

Webcams:


Webcam at the airport of Innsbruck.
View direction is towards Martinswand/Hechenberg (approximately towards Hochzirl).
Maps and routes overview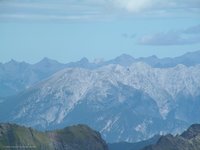 Maps:

Routes:



From Hochzirl via Solsteinhaus
Starting at the trail station Hochzirl trail #213 leads up to Solsteinhaus (1805m/5922ft, about 2-3h). From there a path leads on to the summit via the huge west slope of Grosser Solstein (about 2-3h). Now, Kleiner Solstein can be reached within 1h.


Via Neue Magdeburger hut
Start at Hochzirl or Kranebitten and follow Schleichwandsteig up to "Neue Magdeburger Hütte" (Neue Magdeburger hut). From there, follow the marked trail up to Grosser Solstein.


Höttinger Schützensteig
Starting at Neue Magdeburger hut (1637m/5371ft) follow the trail to the east to Höttinger Schützensteig (via ferratta !) and up to the saddle between Grosser Solstein and Kleiner Solstein.


Page history