Overview
!!!! Please note !!!

The ascent of Steinkarlspitze is no longer possible!!

Actually Steinkarlspitze undergoes heavy changes, the summit is a rock slide area with freshly opened rock crevasses.

Don´t use the routes coming either from Rotwandlspitze or from Hochnisslspitze!!!

The beautiful traverse from Brudertunnel via ferrata to Hochnisslspitze, too, is no longer possible!!!
Steinkarlspitze and Rotwandlspitze are neighbouring secondary summits located on the northwest ridge of
Hochnisslspitze
,
Karwendel range
. They are both a sort of obstacle on your way to Hochnisslspitze via the northwest ridge which have to be overcome on the ascent and descent.
The peaks, I presume, are rarely summited on their own. You will normally climb them to and from on your way to Hochnisslspitze. As that ascent to Hochnisslspitze– as you can see on the
SP page of that mountain
– is rather strenuous some people just give up at Steinkarlspitze – as I nearly did when I first summited Hochnisslspitze many years ago.
Nevertheless Steinkarlspitze and Rotwandlspitze are worth a short summit break. The views to the nearby Karwendel ranges and Karwendel valleys are just beautiful – nothing more to say. The huge northeast faces, a near perpendicular rock face, is impressive and a bit threatening when viewed from the top.
Both mountains are Janus - faced: the northwest approach is easy on a good trail which requires only a bit of scrambling. The southeast face above the continuation of the Hochnissl northwest ridge, however, is for both peaks a 70 to 100 meters high and towering rock face with several chutes and ledges. These parts of the route are each secured with steel ropes and require some scrambling abilities and no fear of vertigo. Self belying and a helmet may be useful.
Steinkarlspitze and Rotwandlspitze are thus an interesting interlude on the long way to and fro Hochnisslspitze.
Getting There
The trailheads for Steinkarlspitze and / or Rotwandlspitze are the same as for Hochnisslspitze:
Please refer to the
Hochnissl SP page
for further information
Routes Overview
Steinkarlspitze and Rotwandlspitze are secondary summits of the Hochnissl northwest ridge. All routes which use this ridge lead automatically to summitting these two peaks.
The main routes are as follows:
See the
Hochnissl SP page
for full information on these routes
Red Tape & Accommodation
Red Tape
Hochnisslspitze is part of the
Alpenpark Karwendel, an important National Park of Tirol / Austria.
The entrance is free.
Please respect the following rules in the National Park:
Accommodation
You find accomodation at:
Pertisau / Achensee region
Eng
and
Eng
Schwaz / Inntal valley
Vomp / Inntal valley
Mountain huts
Lamsenjochhütte
Gear & Mountain Condition
Steinkarlspitze and Rotwandlspitze are mainly summer and autumn summits.
Normally the routes are open by end of june. Drift snow can block the Brudertunnel exit completely early in the year. The north ridge and the Brudertunnel Via ferrata require helmet and self belay.
Remember that all routes are long and have about 1.600 meters of altitude difference. Don´t underestimate these mountains, especially when adding Hochnisslspitze. In summer I do not recommend the southern routes as ascent routes. There is not much water and the south slopes of Karwendel are hot and barren.
Current Weather for Achenkirch Tal
Current weather for Achenkirch Berg
Maps & Guide Book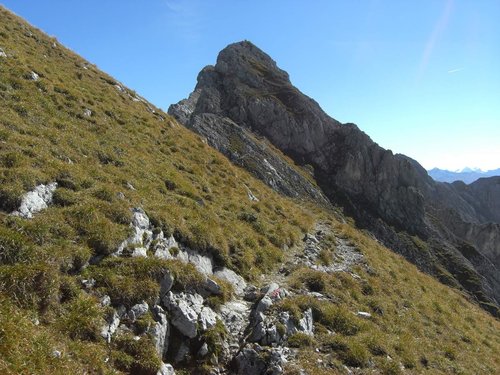 Maps
Alpenvereinskarte
, scale 1 : 25.000, number
5/3
,
Karwendelgebirge Ost
, trails, with UTM grid, München 2005
Bayerische Topographische Karte
, scale 1 : 50.000, map number
UK50-51
,
Karwendel
, Landesamt für Vermessung und Geoinformation Bayern, 2008, with UTM-grid for GPS
Guide Book
Heinrich Klier, Fritz März, und Walter Klier:
Alpenvereinsführer Karwendelgebirge alpin
, Bergverlag Rother, 2005