Overview
One of the most impressive aspect of
Karwendel mountains
is the easternmost range above the little town of
Mittenwald
. It is a huge and steep to near perpendicular limestone wall, rising about 1.400 meters of altitude difference from the valley floor up to the summits. Only few cirques which are deeply cut into that wall give easier access to the summit region.
The northeastern pillar of this rock wall is
Wörner
. The view is dramatic when you drive from Garmisch-Partenkirchen up to Mittenwald: 600 meter of steep limestone are looming large over some wood and meadow hills; this is the west face of that mountain which - incredibly enough - hosts the normal route to the summit.
This normal route is not an easy hike but not a too difficult rock climb. As many summits of the Northern Limestone Alps and especially of the Karwendel mountains, Wörner requires at least UIAA grade II climbing (in parts) and a good handling with exposure.
Being the northwestern edge of Karwendel Wörner is connected to the south with
Großkarspitzen
,
Schönbergspitze
and
Tiefkarspitze
and to the east with
Hochkarspitze
. To the southeast there is the huge Großkar cirque which drops down to Karwendel valley. To the north is Seinsgraben valley and the
Soiernspitze subgroup
of Karwendel. To the west is located Mittenwald.
In former times Wörner was a lonely and exclusive mountain. The normal route was marked with some cairns and - as the aspect is rather frightening - only few knew about the normal route. Nowadays red dots and stripes are leading you up to the summit. This causes, despite of a clear warning at the beginning of the rock part of the ascent, a lot more people and trouble on this mountain (rock fall among them). But still Wörner is one of my favourites within Karwendel mountains.
The first assumed ascent was in 1853 during a land survey campaign (unsecure). The first secured ascent was done by
Hermann von Barth
in 1870.
Getting There
Main trailheads are at the town of Mittenwald. You can start your ascent to Wörner from Krinner-Kofler Hütte / Fereinalm (sometimes: Vereinalm or Vereinsalm), too. Trailhead for Krinner-Kofler-Hütte is Mittenwald or Vorderriß.
You reach
Mittenwald
The Mittenwald trailheads can be reached with railway, too.
See the
railway schedule here
.
You reach
Vorderriß
Valley ground trailheads
are:
Ascents to Krinner-Kofler-Hütte
are:
Route Overview
The normal route uses the steep western rockface of the mountain. It starts at
Wörnersattel
, a green col northwest of the huge 600 meter high summit block. Wörnersattel is called Steinkarlgrat, Niederer Wörner or Steinkarlkopf, too (the latter is a summit north of Wörnersattel).
You reach Wörnersattel via
Hochland Hütte trail
Best trailhead is at the
Mittenwald barracks
. Follow the forest road starting at the parking area to the south. Go left on a trail junction and follow that trail up to another forest road. Follow that forest road to the east and follow the signposts "Hochlandhütte". Cross a creek on a footbridge and follow the steep forest road up to its end. Turn left and ascend on a good trail until you reach beautiful Hochlandhütte pasing by
Obere Kälberalm
hut.
Traverse Wörnerboden to the northeast. At a trail junction follow the right trail up to Wörnersattel. Stay on the trail because of erosion.
From
Mittenwald / cablecar
follow the road to the north and pass under road number B 2. Follow the forest road to the right until you reach its end at the valley station of the
Dammkar hut cableway
. Shortly above that cableway station a trail branches off to the left. Follow that partly steep trail up to
Mitterkar
and traverse on a nearly level trail to Hochlandhütte.
Go on as described above.
Rehberg trail
Best trailhead again is
Mittenwald barracks
. Follow the forest road starting at the parking area to the south. Go left on a trail junction and follow that trail up to another forest road. Turn left there and follow that forest road shortly in northern direction. After some 100 m a trail branches off to the right. Follow that trail up to
Rehbergalm
, Niederer Wörner and Wörnersattel.
At Rehbergalm the Rehberg trail turns east and descend to
Krinner-Kofler-Hütte
. Thus Krinner-Kofler-Hütte can be used as a trailhead for the Rehberg ascend, too.
Wörnerkar trail
From
Krinner-Kofler-Hütte
use the trail which branches off the forest road about 300 m west of the hut to the left and ascends in many zigzags steeply through
Wörnerkar
cirque to Wörnersattel.
Summit normal route
Wörnersattel is a nearly level ridge. Follow that ridge until it ends at the first rocks of Wörner summit block. Follow the red marks over easy rocks (UIAA grade I) to a zigzag trail which ascends steeply the west slope near the northwest arete with spectacular, nearly perpendicular views down into Wörnerkar. The trail ends at steep rocks. Follow the red marks through a complicated sequence of little rock faces, chutes and rock chimneys (UIAA grade I, in parts exposed) until you reach the "
traverse
". A narrow trail traverses Wörner west slope high above Hochlandhütte to the southwest with some steep ups and downs (easy rock scramble but exposed) until you reach a huge
chute
.
Enter that chute and immediately leave it climbing up its right (southern) limitation. Follow that limitation on steep but good rock (UIAA grade I to II, exposed) until the red marks lead you again into that chute, now at its upper beginning. Cross the chute and follow some easy rocks and dihedrals up to the summit (UIAA grade I).
More difficult or unusual routes are:
South arete
to Großkarspitzen and Tiefkarspitze: UIAA grade III in parts, a long and very interesting ridge traverse
Northwest arete
- starting from the beginning of the "traverse": UIAA grade III, interesting alternative to combine with the normal route
South ascend via Großkar
(trailhead: Larchetalm in the Karwendel valley), UIAA grade II, bad rock, unusual route.
Red Tape & Accommodation
Red Tape
Wörner is part of the
"Alpenpark Karwendel"
, an important and strictly protected national park.
There is no entrance fee for the park but many regulations to follow.
Camping is forbidden within the parks boundaries.
Accommodation
Accommodation of all kind can be found at:
Leutasch
Seefeld
Scharnitz
Mittenwald
Garmisch-Partenkirchen
The following
mountain huts
offer food and lodging:
Hochlandhütte
Krinner-Kofler-Hütte
Dammkarhütte
(private hut)
Larchetalm
(private hut)
Gear & Mountain Condition
Wörner is normally accessible from early summer to autumn until the first heavy snowfalls. Wörner normal route requires climbing skills up to UIAA grade II in exposed terrain. There are some fixed bolts along the route in order to secure less experienced persons. A
helmet
is advisable as there is a lot of loose scree along the normal route.
In early summer snow can linger in the upper parts of the normal route, thus making the approach more difficult. Crampons and an ice axe can be advisable in this time of the year.
Current Weather:
Map & Guide Books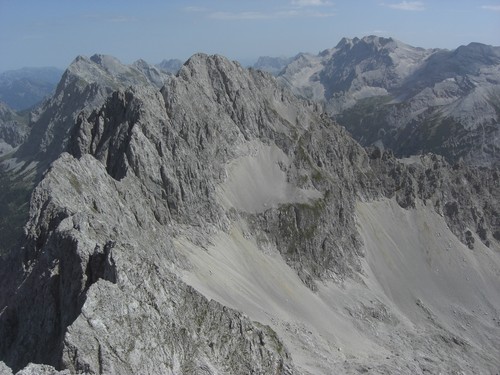 Guide Books
Heinrich Klier, Fritz März, und Walter Klier
Karwendelgebirge. Alpenvereinsführer alpin
: Ein Führer für Täler, Hütten und Berge. Verfaßt nach den Richtlinien der UIAA
Bergverlag Rother
2005
Bernd Eberle, Peter Mair, Mike Rutter, und Ralf Sussmann
Kletterführer Karwendel
: Alpine Ziele & Klettergärten incl. Martinswand
Panico Alpinverlag
1. june 2004
Map
Alpenvereinskarte
Karwendelgebirge, West
Scale 1 : 25.000
Deutscher Alpenverein, 2005