Overview
Destination Peak - Zion National Park
Tanya and I decided to meet Courtney and DB and do an unknown peak on the east side of Zion. The starting time of 7am seemed early, but then we had never experienced an adventure with Courtney. We assumed that by his "resume" we should be prepared for a true adventure. He and DB had traveled to Zion the day before and explored Right Fork, Trail Canyon and Cougar Mountain. I arrived at 6:50 at the meeting point on the east side of the Zion-Mt. Carmel Tunnel. Just 3 minutes later, up rolled the blue Explorer. I knew this must be Courtney and his friend. It was and the first words out of his mouth were, "Dang! I'm sorry...I was thinking Las Vegas time!" Oh well, we introduced ourselves, and his better half being smarter than he and I, absorbed the warmth and comfort inside the vehicle in the wee morning darkness. Courtney has bagged 36 peaks in Zion and this one he had in mind was an uncertainty just as they have been in the past. We evaluated our chances of making it to the plateau separating Gifford Canyon from Hepworth Wash in light of the recent snows and the steep slickrock approach. "I have a rope and two sets of crampons", "Okay " said Courtney, " And I'll bring my crampons and two tools". A land rover appeared and Tanya rolled up, we all exchanged greetings and started a very fun adventure.
Getting There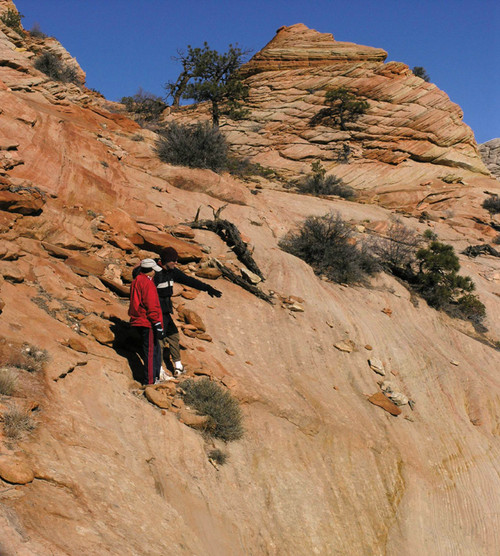 Gifford Canyon
- The four of us set off and made our way up the frozen creek bed of Gifford Canyon looking for the best area to ascend the mountainside. We followed the standard Bridge Mountain Arch route, heading west and up the 1500' of slickrock. It was void of snow for the most part and presented no real obstacles. A couple of slippery slickrock scrambles, a touch or two of snow patches and we were on the plateau.
Plateau
-Heading a hundred yards north on the plateau, then a short scramble down into the East-West Canyon and our disturbance of a few inquisitive sheep put us onto the ramp bearing north and toward Courtney's objective; a 6600' elevation rock peak.
Ramp
- The ramp yielded allowing fairly easy travel with the exception of one short 15' corner that demanded some footwork.
A Diversion
- Soon we arrived at a shoulder with an enticing "pimple" that just beckoned. Courtney and I scrambled quickly up the snow covered ledges to get some outstanding views into and above Hepworth Wash. We returned to where the girls where waiting and taking photos.
Destination Peak
- We headed north-east up the ridge and within minutes stood atop the unknown peak now dubbed "Destination Peak". After just 1.75 Miles and 2000' elevation we had arrived quite easily at some very beautiful vistas rarely seen by visitors to Zion National Park. A very wonderful day with new made friends and hopes to spend more time together.
Gear
- Good sticky rubber shoes, a short 25' piece of rope or webbing to belay those less surefooted and a camera of course!
Red Tape
There is no red tape other than the park entrance fee.
Entrance Fees
America the Beautiful Pass and Fees
$80 (annual) Pass to "all" public lands (Does not really seem to be all though, but it's a good pass to most things.)
Private Vehicle $25 (7 days)
Zion Park Pass $50 (annual)
Pedestrian/Bike $12 (7days)
Oversized Vehicle Fee (2 times /7days)
Backcountry Permit: $10
If you are bringing a camper or bigger into the park you need to know that there is a $15 (good for 2 trips in 7 days) escort fee for anything 7'10" wide and/or 11'4" tall or larger.
Camping
Campgrounds Inside the Park
The Watchman Campground is near the south entrance of the park and is open year-round. Sites are given on a first come, first use basis November through March. Reservations can be made during the rest of the year. $16 per site without electric hookups, $18 per site with electric hookups, and $20 per site for river sites. Reservations: 877-444-6777
The South Campground is also located near the south entrance and is open March through October. All sites in the South Campground are first-come, first serve. $16 per site, per night.
Both of these campgrounds provide restrooms, picnic tables, RV dump, drinking water and utility sinks. There are no showers.
Free Camping near Zion
Mosquito Cove, located between mile markers 23 and 24 on the south side of Highway 9, south of Springdale. Also you can probably camp on the BLM land around Eagle Crags.
Zion-area showers
Tsunami Java & Juice - Springdale
Zion Rock & Mountain Guides -Springdale
External Links
Informative Links about Zion National Park
Zion Food and Lodging
Food and Lodging - NPS Site
National Park Service
Springdale Chamber Commerce
East Zion Tourism Council