Overview
Few climb it. Judging from the register I found on the summit, I estimate that on average, only three or four parties per year reach the top, with April, May, and October being the prime target months. More may actually climb it, of course, and not sign the register, but South Guardian Angel is the kind of peak whose register most will feel compelled to sign; it is hardly a Whitney or a walk-up CO 14er that sees thousands of hikers each summer.
Rumor has it that many experienced climbers fail to make it on their first try (living more than 2000 miles from the peak, I am very glad my first attempt, a solo outing in the summer, was a success). Many people pursuing the Sierra Club's
Desert Peaks Section Peaks List
save this peak for last.
It's not that the peak is unworthy. Far from it. Visually stunning, especially when seen from Kolob Terrace Road and from peaks such as North Guardian Angel, Cave Knoll, and Tabernacle Dome, it is probably the most prized non-technical summit in Zion National Park.
Nor is the peak itself that difficult to climb. The summit ridge is mostly Class 2 with some Class 3 at the very top, making it easier to climb than its higher and more popular (though still not exactly what one would call popular) sibling the North Guardian Angel.
Why relatively few bother to try it and why even fewer succeed:
For a Zion peak, the route is long, over six miles (one-way) by its shortest route. Most of the route is off-trail, and the off-trail portions can be difficult to find and follow. There is a significant amount of brushy terrain that can make progress slow and frustrating and, in warmer weather, makes one choose between bloody legs and being hot in long pants. Depending on the route, there can be wading and even swimming and Class 5 obstacles during the approach. The second half of the route this page will describe (and the majority of the most direct route, which I used but will not describe in much detail for reasons that will be explained) is in remote, seldom-visited terrain where a serious accident could easily result in death or at least an epic. Finally, there is the heat. Even in late spring and early fall, temperatures can turn very hot in Zion, raising the risks of dehydration, heat exhaustion, and heatstroke.
Still interested? Then read on.
When to Climb-- Important!
The best months to climb SGA are probably May and October, when the weather tends to be warm and dry, though one must remember that abnormally warm or cold temperatures are always possible.
If you are going to use what I will refer to as the Russell Gulch/Left Fork route, you should not use the route in winter unless you are equipped for travel through cold water. I recommend late spring, summer, and early fall. It is with some reservation that I recommend the summer because even though the heat will make the cold wades and potential swims more pleasant, that heat can be very dangerous come late morning. So if you go in the summer, start early, as in an hour or even two hours before dawn.
If you are going to use what I call the "cairned route," the one I used but am not describing much, then I recommend spring or fall.
Routes
Whichever of the first two routes described below you try, you are in for 6-7 miles (one-way distance) from the Wildcat Trailhead. You will drop about 1600' to the bottom of the Left Fork and then have to climb about the same amount out of the canyon and up to the summit, with dips along both portions, so you are looking at around 3400' of elevation gain in all on the day. Yes, this means you will end the day with a steep climb!
Also, expect a long day. I have read that the average party completes the trip in about 10 hours, with some taking 12-14. It took me a little over 7 hours going solo on my first try, and I know of fast parties that already know the way doing it in 6, but most parties should probably plan for at least 10 hours, remembering the heat and the fact that the slowest member will set the pace.
Russell Gulch/Left Fork
This route and the cairned route both meet in the bottom of the Left Fork and then go the same way to the summit of SGA.
Although I did not use this route from the TH to the climb out of the Left Fork, I am comfortable describing it and recommending it because the details I have on it are from a highly reliable source and because it is almost impossible to get lost between the TH and the exit from the canyon.
From Wildcat TH, hike, following signs for the Northgate Peaks. Not long after turning onto the dead-end trail (well, dead-end in the sense of a maintained trail) to Northgate Peaks, notice on the left a trail that splits off and soon descends steeply. There is no trail sign here, but there is a sign about permits being required for the Subway, for this is the way down for Subway through-hikers.
Even though the USGS Guardian Angels quad and the Trails Illustrated topo map for Zion do not show this trail (or even the Northgate Peaks trail on the former), it is there and easy to find.
Follow this trail down into a canyon bottom, which is the bottom of Russell Gulch. In addition to the fact that it is a trail, there should be plenty of cairns and signs of human use to let you know you are on the right track.
When you soon reach a confluence with another canyon/wash, bear right (downstream). Now you are in the Left Fork, the location of the famous Subway, though that section is farther downstream and not along this route.
From this point on, there will be water in the canyon. Levels will vary. Sometimes you will be able to go around the water, other times you will be able to splash through, and yet other times you may have to wade or swim. Along the way, there is a large boulder that requires a rappel or a downclimb of about 15 feet. In the past, that spot has been rated Class 4, but many now talk of it as 5.4. Remember that if you return this way, you have to climb it on the return, so make sure you can climb up it or take your chances on leaving your anchored rappel rope behind (keep in mind that through-hikers will likely be going by). Also, there is what the highly reliable person who has described this route refers to as "a mandatory swim through a couple of ice cold potholes."
Approximately half a mile from the confluence, you will pass through a feature that resembles a subway tunnel, with a flat shelf on its left (south) side. About 10 yards past it, stop. At this point, you are a bit more than halfway done with the route and at the key point for completing it. Missing it is likely to turn your day into a real mess. The first photo below shows the tunnel, but please note that it is an upstream-facing view from its other end, so when you look back and see that view, it's time to stop. The second photo below shows the downstream view from where you need to stop, so don't head into that.
Look about 10-15' above you for a small arch that is called the Jug Handle because...well, do you really need me to say why?
The arch is blocked from easy view by trees and brush but is not hard to spot if you know to look for it (especially if you have seen a picture of it). Please note that the photo of the arch below is not from the canyon bottom but from next to the arch instead. Still, I hope the arch photo can be helpful.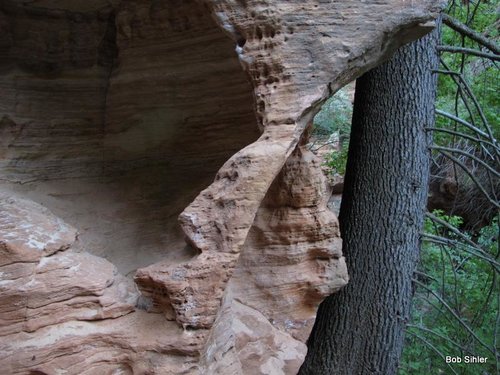 Once you locate the arch, route-finding difficulties are basically over. Climb the steep gully beside the arch (in the vicinity of the arch, you will perform some short Class 4 moves). After getting around and up a boulder that resembles a chockstone, look a little up and left for a use trail. That use trail will take you up and out of the canyon. Several cairns help you keep on course.
After that, either follow some cairns around and into the wash below or drop straight into that sandy wash. The cairns help you avoid some brush, but there is still plenty of unavoidable brush to come.
As of July 2012, there were no more cairns after this point, or if there were, I missed them.
At first, the wash heads almost due east, and you might begin to wonder if you have gone off-route since SGA is more or less due south. Don't fret. Quickly, the wash swings to the south.
Sadly, this wash is not akin to what one's mind conjures when one thinks of desert washes in Utah. Instead, it is narrow and usually crowded by trees and other plant growth.
Generally, you can follow the wash with no trouble, but it sometimes gets so brushy that it is easier to exit the wash and work your way parallel to it. Eventually, the wash begins to peter out in an area of red hoodoos. Keep working your way up, sometimes on Class 3 terrain, into the vicinity of Guardian Angel Pass until you reach a broad slickrock bowl from which SGA is visible.
Scramble up the bowl to the ridge above. If you take care, it will never be harder than Class 3 and will mostly be Class 2.
Atop the ridge, pause and take the obligatory shot of SGA and its NE ridge that almost everyone who makes it this far stops to take. Go ahead; you've earned it. Then head up the ridge, gaining over 800' in less than a mile until you reach the summit.
Before the summit is an exposed scramble, or so I have read in more than one account. Some put it at borderline Class 4. I honestly did not feel that the exposure was ever too bad and that the scrambling was harder than an easy Class 3 (I was actually pretty disappointed with the finish). The most exposure I ever felt along the NE ridge was in bypassing the false summit that in the obligatory pictures looks like the real one.
Please remember that perception of exposure is highly subjective. If you have any issues whatsoever with exposure when on Class 3/4 terrain, bring a rope and gear lest you get almost all the way up and at the very end decide you don't like what you see.
Cairned Route
Since this is the way I went both coming and going, why am I not giving many details on it?
* Since it is a cairned route, and a heavily cairned one at that, do you really need a lot of details? (Actually, you need
some
, for you need to do some off-trail travel before reaching the cairns.)
* The cairns definitely take a lot of the adventure away. Although I was happy to find and follow them since it was summer and I did not want to waste precious time on route-finding and thus raise the risks from exposure to sun and heat, I now feel that I would rather have used the other route. The cairns make it nearly impossible to get lost on the first half of the route, but they take away the route-finding challenge that used to be a hallmark of climbing SGA.
* Although the cairned route has existed for several years, I worry that describing it in detail here, as well as providing a picture of a key landmark necessary to find it, might contribute to heavier usage of the mountain to the point that its status as a prized peak is diminished. Yes, I see the irony. No, I do not care. Just because I did it doesn't mean I should encourage everyone else to do the same. If I ever climb the peak again, I will use a different route.
It will not take too much effort to find maps, photos, and detailed descriptions of the cairned route elsewhere on the Internet, but here is what I will share on this site:
Instead of descending into Russell Gulch, hike to the end of the Northgate Peaks Trail instead. Descend to the base of East Northgate Peak and follow use trails as long as you can before beginning to bushwhack through thick brush. The cairned route begins in the vicinity of the North Guardian Angel, but, and I share this in hopes of keeping people out of trouble, it does
not
go down the steep drainage just east of NGA; the route mostly follows ridges and ribs instead to reach the canyon bottom.
The route bottoms out in the Left Fork directly across from the Jug Handle and the ascent out of the canyon. Unless water levels are abnormally high, your feet will get wet little or not at all as you cross the stream.
From the Jug Handle, follow the route as described above.
The Subway
Strong climbers can make SGA part of a long day if they are doing a through-hike of the Subway. It's also possible to hike up the Subway and then climb SGA.
The trick, though, is getting a permit. Anyone going through the Subway has to have a permit, Subway permits are not easy to obtain, and the word is that rangers patrol the area and check for permits. For more information about the Subway and obtaining permits, see
here
.
Getting There
From UT 9 in Virgin, turn onto the Kolob Terrace Road. The road is marked with a regular street sign, and there are no big signs (as of July 2012) indicating access to Zion National Park, though there is a sign indicating access for Kolob Reservoir. Drive north about 15 miles to the signed Wildcat Canyon Trailhead. Late fall through early spring, there is a good chance that snow will block access to the trailhead, making the approach longer, perhaps even so long that it is not worth doing.
The trailhead can also be approached from the north via dirt roads departing UT 14, but is a much longer drive though not a difficult one.
Red Tape
You do not need a permit as long as you are not going through or into the Subway.
There are no entrance stations for Kolob Terrace Road, so don't worry about the park entrance fee.
Read the wilderness regulations posted at the trailhead.
The only reliable water along this route is in the Left Fork.
Camping
There are no public campgrounds near the TH. I have slept in my car at some of these trailheads and have not been disturbed, but if you pitch a tent at a TH, you are asking for unwanted ranger attention. If you want to do SGA as an overnighter, you technically need a backcountry camping permit, but as long as you don't camp along the Subway route, it's highly unlikely that anyone will notice you.