Overview
Many of
Zion National Park's highpoints/mountains were given biblical names by the early Utah pioneers, Great White Throne not the exception obviously. However, it was not named by a Mormon, but rather a Methodist minister, Frederick Fisher. Rising 2500'+/- from the Zion Canyon floor makes the Great White Throne's north facing cliff wall one of the tallest in the canyon. My introduction to the Great White Throne besides climbing directly across from it on
Iron Messiah
, was its base crack routes.
However, the infamous routes on the Great White Throne are the north face routes, one of which is 25 pitches long on some incredibly suspect rock!
First ascentor of this tall sandstone wall? You guessed it, Fred Beckey (who I have actually met in Zion, but has also put up his share of Canadian Rcokies routes) along with Galen Rowell and Pat Callis in 1967. The upper section of the Great White Throne, which one could guess from the color, is one of the worse quality rock faces in Zion, thus the longer routes are not so popular. The lower base routes on the other hand are fairly bomber in comparison.
However, in 2007, we were still cleaning them.
Most of these "free" single or double pitch base routes actually face west which provides for quite the shade during the morning hours. These are free climbs, mostly put up by Jim Beyer and Bob Sullivan in the late 70's or Dave Jones in the mid 90's. All of these routes require layback or jamming up long sustained cracks. The Falcon Guide references that the descents can be tricky due to a lack of fixed anchors,
but in 2007, we found bomber fixed anchors on the routes we did versus the tree rappels referenced in the book.
This area is often closed during periods in the spring due to raptors' nests.
Route Description(s)
Routes are Listed Right to Left (SW-NE)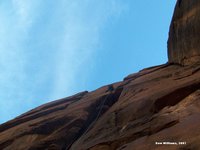 The first four routes can be accessed from the Grotto Picnic parking area, 3.3 miles from the bridge. A huge boulder centers the four routes, all of which are published in the Falcon Guide, "Rock Climbing Utah".
Edge of Delight- 5.10/2 Pitches/
Scotch on the Rocks- 5.8/
Fourplay- 5.11/2 Pitches-
One for the Road- 5.10a/
Further north of the Grotto Picnic area just before the northwest corner of the Great White Throne (on both sides of a huge roof) are the next five routes to the northeast. If you are on the shuttle, ask the driver to drop you off at the "steps" going to the base of the Great White Throne. Follow some stone steps up from the road and follow a faint trail that angles left to below the roof.
Rookie Crack- 5.9/
Grasshopper- 5.9+/
Psychbolt- 5.10/
Illusion- 5.10a/
Originally rated an old school 5.9, Illusion will work you even by 5.10 standards. This is a beautiful sustained line just to the left of the corner that forms the left side of the roof. Illusion consists of a single crack with a tough start past a loose chockstone. The
crack starts to eat you up as it opens below a small roof move.
Once you ascend this section, you move into a single fist sized crack that splits above. Take the left fork as it finally eases up towards the top. Move out left around loose blocks to a bolted station (2007). This pitch requires a double rope rappel which allows you to get a good look at the next route to the left, Twin Crack. (photos)
Twin Crack- 5.11a/
Ignore anyone who tells you this was ever a 5.9! even by old school standards. The roof move required to get up and into the sustained crack above is as tough a move as any required on the free single pitch crack routes in Zion.
The wide right crack offers no assistance through this crux.
Once you complete the crux move, you will continue on a sustained finger crack above. It is easy for your cams to become flared in this crack at the start. Another bolted station awaits you above and again, double ropes are needed for the rappel.
From Twin Crack, slip around the NW corner (left) of the Great White Throne for the next two routes.
Nemesis- 5.11a/
Crack of REM- 5.10/
The final three routes published in the 1998 Utah Falcon Guide are actually on the immense north wall of the Great White Throne. If beyond shuttle season, you can park at a climbers pull out on the right 3.9 miles from the bridge and hike straight up to the base of the climbs.
Box Elder Jam- 5.8+/
Free Bird- 5.9/
Rain, along with Box Elder Jam, Free Bird, Crack of REM and Nemesis (first recorded 5.11 in the park) were established by Jim Beyer and company in 1979. The two pitches on Rain, in my opinion, are every bit as good as the pitches on the Headache, just less clean obviously. Its close proximity to the road should lend to more moderate climbers getting on it if they knew about it. The first pitch is up an obvious cool corner with a fun roof squeeze/mantel, all well protected. A box elder tree splits the route. The second pitch reminds me of the upper two pitches on the Headache. It takes all the gear you have to place, with the most consistent pro at C4#3. On approach, the pitches look shorter than they really are. They are both right at a 100' in length. The route stays shaded in the summer until mid-afternoon.
Dow
Getting There
From the bridge in Zion National Park, where you either continue to the east entrance or turn left down the canyon, either drive or park and take the shuttle (during restricted months) 3.3 miles to the Grotto parking area on the right hand side. Follow the before mentioned approaches depending on which routes you are after.
Red Tape
You do not need a climbing permit but you will have to pay a
National Park fee
to access the park. During tourist season, you will only be able to access the road by shuttle. I always purchase an annual pass to US and Canadian National Parks. If you are going to make more than four visits per year, I advise this option.
Zion National Park
will have manned kiosks on Highway 9 and you will be required to pay a US National Park fee ($25 per vehicle for a day/week pass, $80 for an annual pass-2007) if you drive by them. Backcountry permits are required for all overnight trips in Zion National Park, including climbing bivouacs. Climbing bivouac reservations are available for Moonlight Buttress, Lunar Ecstasy, Prodigal Son, Spaceshot and Touchstone climbing areas. The permit fees are based on group size: 1-2 people: $10, 3-7 people: $15 and 8-12 people: $20. Reservations are available for many backcountry trips in the park. A reservation does not guarantee that you will receive a permit. Reasons that a permit will be denied include high water, flash flood warnings, and wildland fires. Depending upon the backcountry zone, 40%-60% of the total number of backcountry permits are available through reservations. The remainder of permits are available as walk-in permits.
Some rock formations and routes are closed to climbing from March 1 to mid-July each year to protect nesting peregrine falcons. Some areas that are routinely closed include the Great White Throne, Cable Mountain, Court of the Patriarchs and the Streaked Wall.
My favorite place for dinner in Springdale is the outdoor patio at Oscars. It also appears to be the local's favorite. Most of the staff is into climbing as well, so it is a great place to plan your next climbing day and maybe even pick up a partner. Ask for Zach. The Mean Bean across from Oscars is one of my favorite independent coffee houses period. Ask for Joe.
When to Climb
Summer days are hot (95-110°F), but overnight lows are usually comfortable (65-70°F). Climbing in the middle of the day during the summer in southern Utah is not recommended. Carry plenty of water regardless. Afternoon thunderstorms are common from mid-July through mid-September. Storms may produce waterfalls as well as flash floods.
Sandstone is weak when wet, so avoid climbing in damp areas or right after a rain.
Winter in Zion Canyon is fairly mild. Winter storms can bring rain or light snow to Zion Canyon and much heavier snow in the higher elevations. Clear days may become quite warm, reaching 60°F; nights are often in the 20s and 30s. Zion roads are plowed, except the Kolob Terrace road, which is closed in winter.
Camping/Lodging
There are two great campsites inside Zion's south entrance. I have stayed at the South Campground just inside the gates.
The scenic spots are on the North Fork of the Virgin River.
This is a first come, first serve campground via self registration of $16 per night in 2005. This is a popular park however and I advise booking a site ahead of time at
Watchman Campground
if you think you are going during a popular period. Facilities include restrooms, drinking water, picnic tables, fire grates, RV dump stations. No showers are available at these park campsites but are available at an in town private facility for a fee. There is also a 6-site primitive campground called Lava Point, no water, no fee, and it is not open all year.
Springdale has tons of lodging options as well including a privately owned campground right before the entrance to
Zion National Park
. If you demand the luxuries of town, I recommend
Majestic View Lodge
. I have stayed here on several occasions and the rooms are first class with great views. There is also the privately run
Zion Lodge
which is in the heart of the park
(and right across from Spearhead)
.
It is actually "illegal" in Zion to camp at the base of a climbing wall or in your vehicle.
Mountain/Route Conditions
The
Zion National Park
website has most everything you need including trail conditions or closures, wildlife notices, weather conditions, camping permits, canyon water levels, etc.
DowClimbing.Com- Great White Throne