Overview
The high point in South Dakota's 8,000-acre Battle Mountain-Friendshuh Game Production Area (GPA) is located at the head of Dudley Canyon, on the east side. If there was an official name for this mountain long ago, it seems to have been forgotten by area residents. According to
Lists of John
, with 600 feet of rise, this mountain is tied for #18 on the Black Hills prominence list.
Friendshuh Mountain acts as a watershed between Dudley Canyon to the west and Spring Canyon to the east-northeast. The canyon, which drains on a north to south axis, was named for Judge E.G. Dudley, who moved to Hot Springs in 1883 from Deadwood, and lived there until his death in 1906. Though all the upper canyon is on public lands, the mouth of the canyon is on private land.
Elk, deer, pronghorns, bighorns, coyotes, fox, wild turkeys, hawks, eagles, vultures, and mountain lions inhabit the GPA. Almost half the area is heavily forested, dominated by Ponderosa pine with pockets of aspen. Along the various streams in the canyons, are a small variety of other trees, including cottonwood, ash, birch, cedar, and others. The rest of the GPA is large open meadows, which provide excellent grazing habitat for elk and deer. There is a rattlesnake population in the area, so hikers need to be watching for them, as well as the resident mountain lions.
Battle Mountain - Friendshuh Game Preserve
The Battle Mountain Game Production Area has been around for many years, originally occupying roughly 3,500 acres northeast of Hot Springs. These acres are actually federal property leased to the state of South Dakota.
Much of the Friendshuh GPA area had been part of the Friendshuh Ranch for many years, before rancher Gary Friendshuh generously made a gift to the people of South Dakota of over $8,000,000 by selling 4,400 acres to the Game Fish and Parks for that much under appraised value, to help expand the game preserve. So it seems very appropriate to designate as Friendshuh Mountain, the summit otherwise known as "4455". This GPA is also adjacent to some BLM land, with all areas combined providing public access of over 8,000 acres. One major purpose for this GPA is to provide elk habitat. The GPA is open year around and is managed by South Dakota Game Fish & Parks.
Since overnight camping is not allowed in the GPA, hikers are limited to day hikes. But, there is an extensive area of canyons, forest, prairies and unnamed peaks, with numerous old roads and game trails opening up a variety of exploration routes for many interesting sites. Over 100 years ago, there was a quarry in Spring Canyon that included a narrow gauge rail line, now long-forgotten. The old ghost town of Odell is located on nearby private land about 2 miles southeast near the mouth of Spring Canyon. A visiting geologist found what he believes is a dinosaur footprint in some sedimentary rock on the lower northern slope of Friendshuh Mountain. If you like uncrowded and unspoiled access for exploration, great photo ops and wildlife viewing, this is an excellent area to visit.
Getting There
To get to Friendshuh Mountain from Hot Springs, turn east from Highway 385 on Thompson Road (on the north part of Hot Springs). Go two blocks to Battle Mountain Road (also called Skyline Drive on some maps). Follow Battle Mountain Road up for 1.2 miles, then turn north on the Battle Mountain Production Area Road (no sign up at the time this was written). Be forewarned that the Battle Mountain Road is often very rough.
If you travel in right after a major washout on the road, you may have to hike the whole 3.7 miles to the bottom of Dudley Canyon. Plans are to eventually improve this and the GPA road for better public access. Follow the road 2.5 miles to the bottom of Dudley Canyon. There is a sign there, where you can turn north and go a few hundred yards to a place you can park by a locked gate.
Route
There is a small gate next to the large gate for the purpose of foot travel (usually hunters). Follow the old road up the hill, to the north of the fence line. At the top of the hill, there is another gate on the right. There is an old two track road that goes in a mostly south-southeast direction. It will go by a stock tank, where there is a branch in the road (very hard to see the western branch).
Each branch will go around Friendshuh Mountain, one to the east and one to the west. It will be up to you where you to bushwhack to the summit from whichever road you choose. The east road passes through more forest than the west road. You can bushwhack from either road to the summit, which is only several hundred yards, making your total hike from the parking area about one mile with a little under 300 feet of gain in altitude.
Red Tape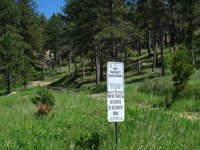 No permits are needed to be anywhere in the Battle Mountain/Friendshuh GPA. Please remember, this area is used quite a bit during
South Dakota Hunting Seasons
. So, if you really must hike here during those seasons, please wear plenty of orange. There is a curfew for the entire area, and camping is not allowed here. The local game conservation officer said that he sometimes has to issue citations to people that he is sure are just unaware of state regulations, but have nevertheless violated regulations. So, if you are going to spend time in the area, it is worth your efforts to check for the latest state lands regulations, plus observe all posted regulations. The local warden is D.J. Schroeder, who can be reached at
(605) 745-6100
South Dakota Game Fish & Parks Regulations
When to Climb
Weather and hunting seasons are the two greatest factors that affect most hikers' choices of when to visit the GPA. Winter snows can make the access road impassable for extensive periods of time. Lightning and hail from summer storms are also risks to avoid. You can find out more about the area weather conditions and forecast by clicking on either link:
Friendshuh Mountain – Hot Springs Area Weather
National Weather Service Forecast for Friendshuh Mountain Area
Camping
Since this GPA borders the city of Hot Springs, camping and lodging information for the Hot Springs area is listed here:
Hot Springs Chamber of Commerce Camping & Lodging
Cold Brook Lake Camping - (605) 745-5476
Angostura Lake Camping
Wind Cave National Park Camping
Maps
Friendshuh Mountain lies in the Hot Springs USGS Quad. The Black Hills South map, published by National Geographic, is an excellent map for the area, as is the Black Hills National Forest Map, sold at forest service offices in the area. If you are exploring any of the national forest lands in the area, the national forest service office in Hot Springs offers a free Motor Vehicle Use Map for the Black Hills National Forest.
Fall River Ranger District
1801 Highway 18
Hot Springs, SD 57747
(605) 745-4107