Overview
Though it does not look imposing, Bear Mountain is the third highest mountain in the Black Hills of South Dakota. Despite not being as readily accessible as Black Hills summits closer to highways, Bear Mountain sees more traffic than one might think it would. Located 12 miles northwest of Custer, Bear Mountain is considered to be the center of the Black hills. At the summit of Bear Mountain is one of the few remaining active fire towers in the Black Hills. Though Bear Mountain is a few feet lower in altitude than Odakota Mountain, just to the north, the views are much better. Visitors to the summit get clear views of Harney Peak, Sylvan Peak, Odakota Mountain, Mount Coolidge, Little Devils Tower, Cathedral Spires, Buckhorn Mountain, and others.
Lists of John
records Bear Mountain's prominence as 456 feet.
The most common hiking route up Bear Mountain parallels a small spring-fed stream for about half the distance to the summit. Because of all the aspen groves along the lower half of the trail, it becomes an extraordinarily beautiful hike when all the leaves are changing. Wildlife are attracted to the stream, so it is common to see deer and wild turkeys, plus occasional sightings of marmots, elk, pronghorns, foxes, coyotes, porcupines, and even mountain lions. In many areas along the creek, wildflowers are in abundance.
Some maps for Bear Mountain show a loop of trails in the area. Unfortunately, trail markers appear and disappear on Bear Mountain, and the forest service does not seem too interested in marking or developing these trails to be more user-friendly. Currently there are some ski trail markers between the summit area and the nearby Boy Scout Camp located on Medicine Mountain Road.
GORP
lists these as hiking trails, but the signs along the way list them as ski trails. Be assured that hiking is permitted on these trails.
Bear Mountain Fire Tower
Some records suggest there has been a fire lookout here at least as early as 1919. The current fire tower has been improved to become an all-steel tower. There are men's and ladies vault toilets next to the fire tower, accessible to the public. There is also a picnic table at the summit and ample open space to view the surrounding hills and forests. Sometimes visitors to the summit have an opportunity to talk to the ranger in the tower. But do not count on this, because they often have other duties that preclude visiting with casual guests. This fire lookout coordinates with other lookouts, and the 22-man fire crew of the Hell Canyon Ranger District. This crew averages 66 fire calls per fire season.
For those not able to hike to the summit, Bear Mountain Lookout Road (forest service road 293) provides a means for vehicle traffic to the fire tower. The Black Hills National Forest Vehicle Use Map, free at all forest service offices in the Black Hills, gives detailed information on road options from either Highway 385 or Highway 16.
Getting There & Route Options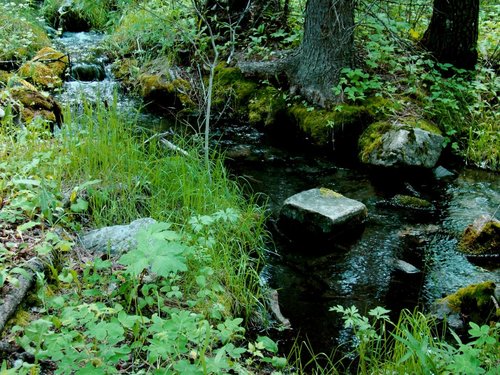 Bear Mountain's trail routes are normally accessed from Highway 385, by way of Medicine Mountain Road and County Road 299 (Bobcat Road). Medicine Mountain Road is 3.3 miles north of Custer, and about 11 miles south of Hill City.
Route #1:
From Highway 385, go northwest 7.3 miles on County Road 297, which is also named Medicine Mountain Road. When you come to County Road 299 (Bobcat Road), take a left and go approximately one mile to the Bear Mountain Trailhead. There is no longer a "Bear Mountain Trail" sign there. Now, it is simply labeled (forest service) road 299.1C. The marker for this is a little way off Road 299. This route is the most commonly used hiking route to the summit and is approximately 2.5 miles one-way. People argue about this distance, so that's why this is an approximation. Someday, if they ever get the logs cleared off 299.1C, I will drive my Jeep up and get a closer measurement. For now, this will have to do. The altitude gain from the trailhead is about 1,000 feet. This route is not closed to 4-wheel drive vehicles, but judging from the lack of tire tracks, coupled with fallen trees, you will probably never see a vehicle while hiking this route. There are a few junctions along the road, but they all obviously branch off and are of lesser quality. The Black Hills National Forest Motor Vehicle Use map shows these branches and will help you avoid an unnecessary detour. The lower portion of this trail is marked "299.1C", but morphs into "299.1K" higher on the mountain. And please understand that this could change on future maps. I have some older maps that do not totally agree with the newer versions. To get another hiker's perspective on this approach, please check out the route page attached to this Bear Mountain page. The map below will give you a general idea of how the two trails are laid out. Route #1 is marked in red. Route #2 uses most of the trail marked in red, plus almost everything marked in yellow. The spur to Grand Vista is the "extra" part.
Route #2:
This route begins at the Boy Scout Camp, .8 mile further up road 297, Bobcat Road. This loop is part of the ski trail routes, and is not well- marked. Most of the signs you will see will be markers for ski trail 23 or ski trail 25. However, since the southern portion of this loop uses some of the same trail as Route #1, you will also see some forest service road markers. Estimates for the loop range from 9 to 9.5 miles. Good maps are very hard to find, and you will find that some conflict with one another. The area visitor centers are almost useless for finding Bear Mountain trail information. So if you desire more information and are fortunate, you will find someone more experienced with this route at the camp. According to their staff members, the best place to discuss route information is at their camp Trading Post. Their phone number is
(605) 673-2790.
The Boy Scouts use northern portions of this loop trail, usually ending their route at the Grand Vista overlook just off ski trail 25 a couple miles north of the Bear Mountain summit. Cross country skiing seems to have fallen out of favor in this area, and Black Hills ski maps usually do not include these ski trails anymore. Snowmobilers use some portions of these ski trails in the winter, but again these trails usually fail to show up on most snowmobile maps for the Black Hills, except for a section on snowmobile trail #2. It's a shame this mountain suffers from neglect of trail development, given the great natural beauty of the area. Long ago, there were trail markers here, along with a big sign at the trailhead. Why some agency would choose to remove such helpful signs is a mystery to me.
The altitude gain from the Boy Scout Camp to the summit is about 1,100 feet. In times past, this route has been normally used in a clockwise manner, starting at the scout camp on a narrow trail heading in a southerly direction. Eventually, the trail becomes part of the forest service road system and then merges with 299.1C. (Some hikers that choose to do the loop have bypassed this very first section, opting instead to walk the .8 mile south on Bobcat Road and hiking up road 299.1C from the start). From here to ski trail 25 near the summit, this trail shares the same path as the other route. Less than .2 mile from the summit, you will encounter a gate with a sign next to it that says "Bear Mountain Ski Trail 25". That trail heads in a mostly northerly direction near the ridgeline for about a mile, then turns about 90 degrees toward a west-southwest direction as it joins with forest service road 291.3G. This will take you to forest service road 291.3A, where you turn right and follow the road down Green Vista Draw until you come to Spring Creek and Ski Trail 23. Follow the trail and Spring Creek downstream to the Boy Scout Camp. The trail gets rather faint in places, as it is mostly just a very old 2-track road. Please note that there are a couple branch trails that head in an east-northeasterly direction just below the upper ridgeline of the mountain before you descend in earnest down Grand Vista Draw. But these trails will dead end, one to the Grand Vista scenic overlook (marked on the map). So if you decide to go exploring on the high parts of the mountain, be aware of this. The neglect by the forest service to mark these roads and trails in a more user-friendly manner, puts more map study work on the shoulders of hikers who do not care to get lost. This will become more and more true as time passes, since one long-time forest service official told me they have pretty well abandoned maintenance on some parts of the loop trail.
Red Tape
Currently, there is no red tape to hike the mountain. The only privately-owned property for you considerations is the Boy Scout Camp. They do not mind visitors, so long as they treat the property with respect and pack out everything they bring in, plus observe fire safety. If you are planning some back country camping, please be aware of any fires restriction in place:
Black Hills Fire Restrictions
Camping
Camping is permitted in the Black Hills National Forest. Camping regulations can be accessed at this link:
Black Hills National Forest Camping Regulations
Camping facilities are abundant in the region, with campgrounds in nearby Custer and Hill City. It is in your best interest to contact the chamber of commerce offices in each town for the latest updated lists of campgrounds, since information on these seems to change frequently. These offices should also be able to answer any other questions you may have concerning your stay there
Custer Chamber of Commerce (605) 673-2244
Hill City Chamber of Commerce (605) 574-2368
When To Climb
This area of the Black Hills is a little more remote and weather can change rapidly. Summer storms can bring dangerous lightning. Winter storms can reduce visibility to near zero, plus drop wind chills to well below zero. For the latest Bear Mountain area weather forecast, click here:
Custer – Bear Mountain Area Weather
There is no drinking water available on the mountain, so be sure to bring adequate water for the conditions you are hiking in.
Resource Information
The national forest on Bear Mountain is managed by the Hell Canyon Ranger District. Their office contact information is:
Hell Canyon Ranger District, 330 Mt. Rushmore Road, Custer, SD 57730
(605) 673-4853
The Black Hills National Forest Supervisor's office information is:
Black Hills National Forest Supervisor, 1019 N. Fifth St., Custer, SD 57730
(605) 673-9200
Hunting is allowed on Bear Mountain, in season. For more information on issues with the South Dakota Hunting Seasons, check this link out:
South Dakota Hunting Season Dates
Maps
National Geographic's Black Hills South map is a good resource for this area. The National Forest Service offers free Motor Vehicle Use Maps for the Black Hills, which will help with your explorations, especially if you also wish to pursue a trip to Bear Mountain's side roads.
style="display:block"
data-ad-format="autorelaxed"
data-ad-client="ca-pub-6523272176520096"
data-ad-slot="7132222476">