Overview
Inyan Kara is one of the most interesting and least visited sites in the Black Hills. Like Devil's Tower 40 miles north, Inyan Kara is a pluton, an igneous intrusion that was forced upward into surrounding sedimentary rock as volcanic magma. Besides interesting geology, there is some fantastic history associated with this mountain. Should you ascend the mountain you will find one (possibly two) summit registers in a bush at the summit.
History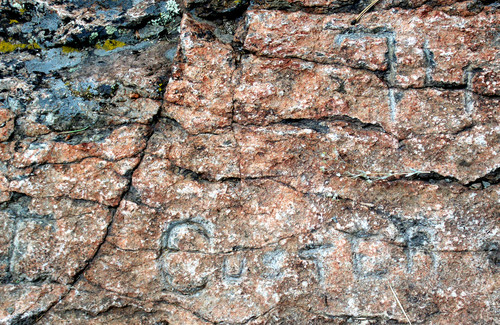 The name Inyan Kara is a white corruption of the Lakota "Heeng-ya ka-ga" which can be roughly translated to mean "Rock Gatherer." This name probably refers to the fact that the mountain has long been a place where native peoples have gathered quartzite for knapping into projectile points and other tools. There is a site near the base of Inyan Kara that shows evidence of flint-knapping for 10,000 to 11,000 years. In addition, there are many Lakota stories associated with Inyan Kara. Perhaps the most famous of these stories is that of the Great Race. In this story Inyan Kara is the site of the start and finish of a race between the two-legged and four-legged creatures of the earth.
Perhaps the most interesting aspect of Inyan Kara Mountain is the evidence that has been left on its summit of the 1874 Custer Black Hills Expedition. On a flat rock close to the highest point can be found the inscription "G CUSTER 74". While there is no doubt that the inscription was not carved by George Armstrong Custer himself, there is some debate as to whether it was carved by Colonel William Ludlow or by General George A. "Sandy" Forsyth.
The Bismark Tribune credits Colonel Ludlow with "leading his horse (up Inyan Kara) and high on its flinty side cutting the following name and character, vez. "CUSTER" "74." However, Aris B. Donaldson a writer for the St. Paul Daily Pioneer and Lt. Colonel Fred Dent Grant (President U.S. Grant's son)credit General Forsyth. In any case the carving is still visible to those who know where to look and regardless of personal feelings for Custer, the inscription is a highlight of many ascents of Inyan Kara.
Getting There
While Inyan Kara is located on public US Forest Service lands, access is limited due to the Black Hills National Forest boundary being surrounded by private property. For information on accessing Inyan Kara please see the Red Tape section below.
Once you have obtained information and permission to access the mountain there is no trail to the summit. There are many possible routes to the summit of Inyan Kara and climbers can ascend wherever they find the easiest or most interesting.
Red Tape
Because private property must be crossed to reach Inyan Kara a visit or phone call to the Bearlodge District Ranger Office is required. here is the contact information:
121 South 21st Street, Box 680
Sundance, WY 82729
307/283-1361
Fax: 307/283-3727
8:00 a.m. to 4:30 p.m.
Monday through Friday
External Links
August 7, 2009 Trip Report
Black Hills Travel Blog Trip Report