Overview
Ouray is an inconspicuous peak that sits in the Sawatch Mountains of central Colorado south of Route 82. It rises on the crest of a ridgeline that connects
Grizzly Peak
to
Star Mountain
. Except for a few spots east of Independence Pass, Ouray Peak is otherwise not visible from Route 82.
The summit of Ouray Peak consists of two high points with roughly the same elevations. The USGS Map designates the eastern point as the summit of Ouray.
Ouray Peak can be accessed from Mc Nasser Gulch to the south. The USGS Map shows a trail that goes from the Mc Nasser Gulch Trail to the top of the mentioned ridgeline (
see map
). This trail is also referenced in some of the guidebooks. In August of 2009, however, I was not able to see any sign of this trail. If such a trail ever existed, it has now most likely faded away. Reaching the summit of Ouray, therefore, requires hiking up steep grassy and/or rocky slopes (See "Route" section).
Ouray can be climbed along with the nearby
Star Mountain
in a single day. The beautiful ridge-top hike from Ouray to Star Mountain will take you past several unnamed high points with elevations in the 12000 ft range.
Views From the Summit of Ouray Peak:
Getting There
From Independence Pass on Route 82, drive 9.3 miles east (or 14.5 miles west from junction of Routes 82 and 24) to the "South Fork of Lake Creek Road" (FR 391) (the parking area for La Plata Peak Trail is in the same area). This is a dirt road that is rough with many pot holes but is technically a 2WD road.

Turn south onto the South Fork of Lake Creek Road. At 2.8 miles go straight (right). After 3.3 miles you will reach the junction of "Mc Nasser Gulch Road" (FR 394). This is your trailhead (10760 ft)

4WD can continue another 1.1 miles to road closure at 11360 ft.

Red Tape
No fees or permits for day hiking.

For other regulations, see the site for San Isabel National Forest.

Weather
See the forecast for the nearby town of Leadville, CO.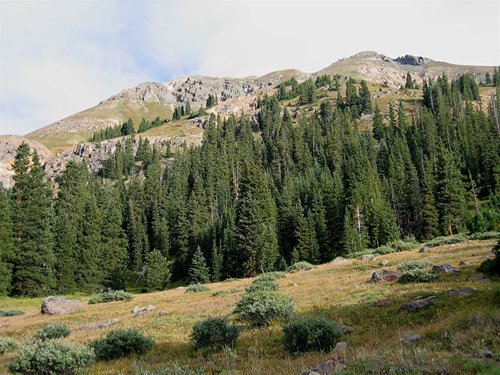 External Links
Read about the Native American Chief Ouray. I am not aware of any direct connections between Chief Ouray and this mountain.