Overview
Should you look for another 14er to add to your selection or a well established trail network - read no further - you are at the wrong Coloradan mountain range.
The Gore Range offers ardous bushwhacks, thrilling scrambles and climbs on rugged ridges of 12/13.000 ers and deep solitude - and many summits do not come easy, you really have to want them.
Peak J is one of the more obscure member of the (anyways pretty obscure) Gore Range Alphabet. Its location high above the isolated South Black Creek, North Slate Creek and Upper Piney Drainages guarantees absolute solitude.
Following Kane's example I did not provide a map and kept my route description comparably short.
I trust that if you venture that deep into the Gore Range you will do your proper preparation anyways.
Getting There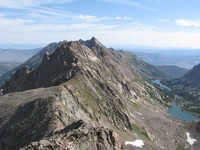 Peak J can be accessed from the following drainages
Piney Valley - via long grassy slopes and scree filled gullies
North Slate Creek - via long bushwhacks from the East
Pitkin Lake/South Slate Creek via "The Saw" and the "Rocking Horse"
none of these approaches are short or straightforward - they all will lead you deep into the wilderness of the Gores
Red Tape/Camping/Mountain Condition
You will hike most the time in the Eagle's Nest Wilderness - please abide to all
Wilderness Regulations
Plenty of camping spots along in the whole area the moment you leave the tree line behind you.
Bring plenty of DEET or the mosquitos in all Gore Drainages will eat you alive.
Heavy thunderstorms hit the Gore Range on a regular basis - make sure to be off the ridges at midday- you do not want to be the highest point on as ridge with an ice pick in your hands and crampons on your feet during a thunderstorm.