Overview
Sheep Mountain is the second highest peak in the Flat Tops. It is a mountain of contrast since it is rounded and dome-like from some directions, while other faces are guarded by loose and angry cliffs.
Sheep Mountain is an easy climb from the west ridge, but the road to the trailhead is extremely rough and slow and few vehicles other than ATV's make it that far. To climb Sheep Mountain you either need a tough vehicle or a few days available at your disposal.
Because Sheep Mountain is "only" the second highest in the range and because of the rough access roads, it sees relatively few ascents, at least by Colorado standards. We were the first ones to sign the summit log is over two years. The climb itself is easy, so if access was easier it would undoubtedly be a more popular peak.
The area is rich in wildlife. We saw many grouse along the climb as well as elk and deer.
The Flat Tops are more of a huge elevated plateau rather than a typical mountain range, but the plateau has been eroded into many individual peaks and summits, and most of them are flat-topped, or dome-like as is this one. The mountain area composing the Flat Tops contains over 110 lakes full of fish, and also has some of the most extensive areas above timberline in Colorado.
Flat Tops: 11,000+ Foot Peaks with 300+ feet of Prominence
Getting There
South Derby Creek Trailhead
The access road is very rough. This road is for high clearance 4wds with a low range, and not for Subarus, Rav4s, or Explorers, et al. I made it to above Still Water (not to be confused with Stillwater Reservoir which is farther north and on a good road) in our old Pathfinder, but we wearied of the punishing ride. If you can make it to Stillwater, you can probably make it to Crescent Lake, but the road is very slow and is used more by ATV's than 4wds.
To get to the access road, you first want to make your way to the community of Burns, which is one of the few communities in Colorado with no paved roads leading to it. Burns is along the Colorado River Road between McCoy on Highway 131 and Dotsero on I-70. If coming from the east or north, driving in by way of Highway 131 and McCoy is more expedient, but if driving in from the south or west, then coming in from Dotsero and I-70 is faster.
It is recommended that you have a map, such as the White River National Forest Map or a Colorado Atlas to find the trailhead. From Burns, you want to take the Derby Mesa Loop Road. You can catch the north end of this right at Burns, but it is faster to catch the south end of the loop road just southwest of Burns and at Burns Junction.
From Burns Junction, take the Derby Mesa Loop road to the west and follow this good road for 6.3 miles to FR 613. Passenger cars can make it here with no problem. Turn left (west) on FR 613 and follow the increasingly rough road to another junction at mile 10.05 (from Burns Junction). Turn right, still following FR 613. Signs say that it is 7 miles to the trailhead.
The road gets increasingly rough and gets even rougher at the stream crossing of South Derby Creek. The road from here on is rough and punishing on your vehicle and there are big rocks and usually big mudholes as well. Drive as far as you dare and don't get stuck. This area is out in the middle of nowhere and towing a vehicle would be a costly affair.
Stillwater Reservoir Trailhead
The trailhead is at the Stillwater Reservoir. From Yampa, look for the sign on the west side of Highway 131 that points the way to "National Forest Access". Turn west on to County Road 7. Follow County Road 7 for seven miles, to where the road becomes FR 900. Stay on the main road for nine miles and drive to the parking area at Stillwater Reservoir. The road is good for all vehicles in day conditions. A 4wd may be needed early or late season.
Trappers Lake Trailhead
There are four main ways to reach the trailhead. I have only driven to two of them. The trailhead is near Trappers Lake.
There is a road from the west and Meeker, one from the east and Yampa or Phippsburg, one from the northeast and Oak Creek, one from the north and Hayden, and one from the northeast and Pagoda (village) and Hamilton. I know only the roads from Hamilton and Pagoda, but very few Coloradoans will be coming from that direction (Craig), so it seems rather pointless to describe the drive in detail. Most people will be driving in from the Meeker or Yampa areas. After Pagoda or not far past Buford, all roads are gravel and in good condition in summer.
From Meeker:
From just north of Meeker and along Highway 13, turn east on County Road 8. Follow County Road 8 to Buford. Follow the road another 17 miles and turn right (south) on FS Road 205 to the Trappers Lake Lodge. There are several roads here, but they are well marked. Follow the road (FR 209) marked for the Wall Lake Trailhead and Park there.
From Yampa or Oak Creek:
I haven't come in this way, so directions will be brief. Use a map. Briefly put you can reach country road 8 (see above) from either CR 25 from Oak Creek or CR 21 from Yampa. From there, you follow the road all the way over Ripple Creek Pass and down to FR 205. Turn left and follow the directions above.
From Hayden:
I haven't come in this way, so directions will be brief. Use a map. Briefly put you take CR 53 south to CR 29. Turn left (east) and follow CR 29 to CR 55. Turn right (south) and follow the road to the junction with CR 8. Take CR 8 over Ripple Creek Pass and follow the route above.
From Hamilton:
Unless you live in Craig, few Coloradoans will use this route and thus the directions won't be detailed. From Hamilton (13 miles south of Craig and along Highway 13), drive east on Highway 317 to Pagoda. Highway 13 turns into county road 29. Turn right on CR 55 and follow the remaining directions from the route from Hayden.
Routes Overview
Crescent Lake and South Derby Creek
This is the easiest route to climb, but the hardest trailhead to get to because the access road is so rough. One Crescent Lake is reaches, either by driving or walking, the South Derby Trail is followed north to a saddle west of Sheep Mountain. From the saddle, the long and gentle west ridge of Sheep Mountain is followed to the summit. If you can drive to the trailhead, the round trip distance is only six miles or so, but few vehicles can make it to the trailhead.
See the route page for details.
Trappers Lake
If you don't have a high clearance 4wd, and don't want to do a lot of road walking, this may be the best route to climb Sheep Mountain. I haven't done this route and you will need a good map, but from Trappers Lake a series of trails lead to the west ridge of Sheep Mountain. This is at least a two day trip for most climbers and some might even want to take three.
Stillwater Reservoir
This is another route to try if you don't have a high clearance 4wd, and don't want to do a lot of road walking. A series of trails leads from the Stillwater Reservoir to the west ridge of Sheep Mountain. This would be a long and scenic route, with most of the route above timberline. Plan on 2-3 days round trip.
Other Routes
Middle Derby Trail would approach the north side of Sheep Mountain, but I am unfamiliar with the route. Coming in from the south is also possible, but is a very long walk.
Red Tape
No permits are required.
Standard Wilderness Regulations apply within the wilderness boundary.
Directly from the National Forest Service:
Basic Rules
• Entering or being in the area with more than 15 people per group, and a maximum combination of 25 people and pack or saddle animals in any one group is prohibited.
• There is no permit system in place in the Flat Tops Wilderness but we do ask that visitors sign in on provided trailhead registration forms.
• Camping within one hundred feet of any lake, stream or trail, or any "No Camping" or "Wilderness Restoration Site" sign or within ¼ mile of Trappers, Hooper, Keener or Smith Lakes is prohibited.
• Building, maintaining, attending or using a campfire within one hundred feet of any lake, stream, or trail or within ¼ miles of Trappers, Hooper, Keener or Smith Lakes is prohibited.
• Storing equipment or personal property or supplies for longer than 10 days is prohibited.
• Hitching, tethering or hobbling any pack or saddle animal within one hundred feet of any lake, stream or trail is prohibited.
• Possessing any pack or saddle animal within ¼ mile of Trappers Lake except for watering or through travel is prohibited.
• Possessing a dog or other animal that is harassing wildlife or people or damaging property is prohibited. There is no leash law in the Flat Tops, however dogs must be kept under verbal control at all times.
• Possessing or using a wagon, cart or other vehicle including a wheelbarrow or game cart is prohibited.
• Shortcutting a switchback in a trail is prohibited.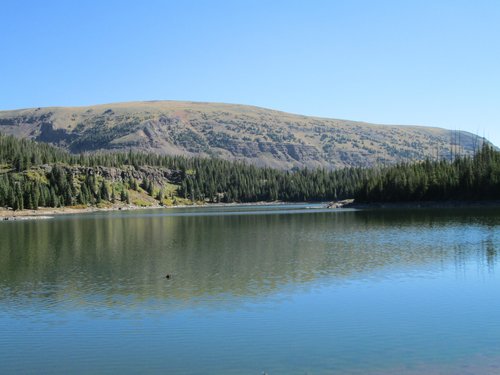 Camping
South Derby Access
There are many excellent campsites along the South Derby Access Road.
Stillwater Reservoir and Trappers Lake Accesses
CLICK HERE
for current campground information for official Routt National Forest campgrounds. The ones in the Yampa River district are in the same general area.
The Cold Springs and Horseshoe campgrounds are located near Stillwater Resevoir. The Bear Lake campground is located near Bear Lake. And the East Marvine campground is located near Trappers Lake.
When to Climb
Sheep Mountain could be climbed year-round by an experienced climbing party, but the roads to the South Derby Trailhead is only open after mid-July or so. The road to the trailhead Stillwater Reservoir is open only from around Memorial Day or early June to sometime in November, so outside this time period, this would be a very long trip.
The Flat Tops (especially the northern and western section) receive much snow, so despite the lower altitude than the 14'ers, the peaks remain buried in snow until mid-July. Snowshoes are recommended in June.
The Flat Tops have many mosquitoes in July, and sometimes into early August.
Mid August to mid September is good because the mosquitoes are gone.
From September and into December is hunting season, so wear blaze orange and use extreme caution. On the plus side, hunter traffic usually keeps the roads open to Stillwater Reservoir until around Thanksgiving weekend. Late November might be the best time to make a "winter conditions" ascent because after the road closed, this would be very, very long trip.
Mountain Conditions
Contact the Yampa Ranger District for up-to-date road, trail, and wildfire conditions:
PO Box 7
300 Roselawn St.
Yampa, Colorado 80483
970-638-4516
CLICK HERE FOR WEATHER FORECAST OF THE AREA
Weather and climate data for Marvine Ranch at 7800 feet elevation is below. *National Weather Service Data 1972-1998. Expect much wetter conditions at higher elevations. The area around Sheep Mountain will average around 10-15 degrees colder in the daytime than Marvine Ranch; nighttime temperatures won't have as big of a difference.


MONTH
AVE HIGH
AVE LOW
REC HIGH
REC LOW
AVE PRECIP (in)
JAN
33
1
59
-38
2.43
FEB
36
3
56
-42
2.30
MAR
42
11
63
-32
2.55
APR
49
18
75
-16
2.20
MAY
61
27
78
5
2.41
JUN
72
33
92
15
1.57
JUL
77
38
89
23
1.94
AUG
75
38
90
21
1.91
SEP
68
31
87
11
2.16
OCT
57
22
76
-10
2.16
NOV
40
11
65
-30
2.26
DEC
33
2
63
-44
2.53