Overview
Colorado Rank:
"N 1" is a soft ranked peak, which basically means there is no confirmed 300-ft variance between its summit and the lowest point of the saddle with its next highest neighbor.
Prominence:
288 feet
USGS Quad:
Snowdon Peak
Planning Map:
Trails Illustrated #140 Weminuche Wilerness
Rank & Prominence: Lists of John
Getting There



Andrews Lake Trailhead 10,800 feet

14 miles south of Silverton; 53 miles north of Durango on U.S. 550 and about 1 mile south of Molas Pass, head south on the access road for Andrews Lake. Trailhead is 2 WD accessible in dry conditions; 4x4 needed in snow.

Molas Pass Trailhead 10,000 feet

13 miles south of Silverton, 54 miles north of Durango on U.S. 550 and about 1 mile north of Molas Pass, turn east into the Molas Lake access road. Plenty of parking is available at the trailhead.
Route
From Andrews Lake
•Roundtrip Distance: 6 miles
•Elevation Gain: 1900 feet
•YDS: 2
•This would be considered the standard / more heavily traveled route
From Molas Pass / Molas Lake
•Roundtrip Distance: 9-11 miles depending on parking
•Elevation Gain: Approximately 3000
•YDS: Unknown
•Involves a crossing of Molas Creek
Red Tape
There are no use or parking fees to access this area and permits are not required for day use. "N 1" resides within the Weminuche Wilderness so motorized and mechanized vehicles are prohibited and dogs must be leashed.
Please practice Leave No Trace principals:
1. Plan Ahead and Prepare
2. Travel and Camp on Durable Surfaces
3. Dispose of Waste Properly
4. Leave What You Find
5. Minimize Campfire Impacts
6. Respect Wildlife
Weather and Seasons

Click for weather forecast


Summer in the San Juans is heavenly, with warm sunny daysand cool, crisp nights. Mid-summerwildflowers will knock your socks off. As with the other mountainous areas of Colorado, the afternoonthunderstorms mean summertime hikers need to leave the summit by noon. The San Juans are well-known for thawing outlater than other parts of Colorado; it is not uncommon for an ice axe to berequired year-round on certain routes.


The town of Silverton and surrounding mountainsreceive massive amounts of snowfall in the winter months. Avalanche chutes abound in the area; in thesummer, the wounds from the previous snow-season's avalanche activity areevident. Exercise prudent snow sense inthese mountains when snow cover is present.


Click for weather forecast

Camping and Lodging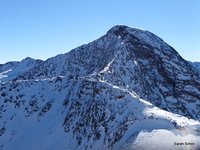 Established National Forest Campgrounds
The
South Mineral Campground
is about 6 miles from Silverton. The campground has 26 sites, available on a first-come, first-served basis. At 9,800 feet elevation, even summer nights will be chilly. To get there, drive two miles west of Silverton to Forest Road 585. Follow FR 585 west along the creek for four miles to the campground entrance. The facilities provide picnic tables, composting vault toilets, fire grates, trash disposal and potable water.
San Juan National Forest campground map
Commercial Campgrounds
Silverton hosts at least three commercial campgrounds offering services such as RV hookup, snacks and showers. These include Silverton Lakes Camper Park, Silver Summit RV Park and Red Mountain RV Park. Additional RV parks can be found by visiting the
Silverton Magazine
online lodging guide.
Cabins, Cottages, Hotels and Bed & Breakfasts
The lodging in and around Silverton could be described as "limited" and "eclectic". Many are family owned and operated and tend toward the friendly and cozy, versus the sophisticated or luxurious. The
Silverton Magazine
provides a good online lodging guide.
External Links
Feel free to notify me of any external trip reports or other useful information pertinent to this peak to add here.