Overview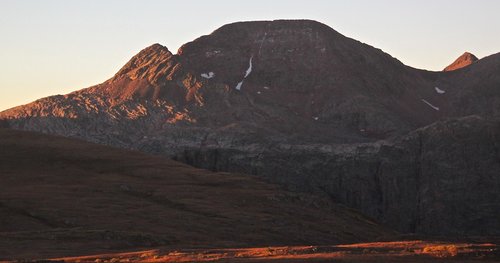 White Dome

is located in the

Weminuche Wilderness

of San Juan Mountains. It is located far from any roads and this long access means that it is not often summited peak. Expect a nice solitude.

Mt. Silex: 2.3 miles Elevation: 13,628 feet

Expect hiking on a well established trail, well marked, well engineered cairns along the trail, incredibly beautiful scenery, and one of the best views into the Grenadier Range. The hike quickly ascends to above 12,000 feet and you continue your approach above the tree line and high elevation (keep this in mind during summer monsoon season). It is roughly 6-7 miles in (I did not measure the distance) to reach the Eldorado Lake below White Dome. Eldorado Lake is a great place to set up your campsite. This is the easiest and quickest backpack option for reaching White Dome.

Descent on the ridge, or below the ridge on its west side towards White Dome - Peak One saddle. Expect some loose rock, ridge is class 3. You can either descent back toward the unnamed lake below NW ridge or continue onto Peak One.

This route is convenient if camping at Eldorado Lake.