Overview
This unique, obscure, and highly prominent summit is often overshadowed by its far more famous and eponymous 14er in the Elks. This Castle Peak is a broad, gentle, and complex dome looming several miles northeast of Eagle, and north of I-70, from which it can be seen in a few spots.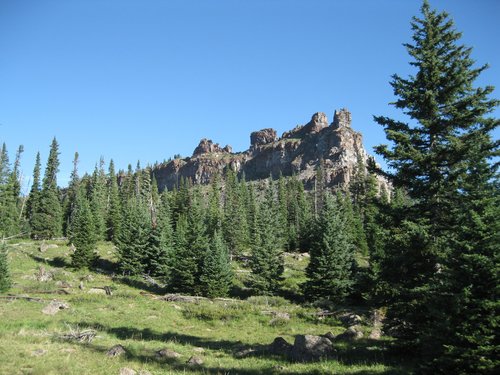 This peak would be scenic, but otherwise fairly uninteresting, were it not for the jagged volcanic dike thrusting its way above the apex of this broad dome, and thus giving Castle its name. Several towers along this ridge are nearly equal in height, with difficulties ranging from 3rd to low-mid 5th class. Hand-leveling from the second major tower from the east seems to indicate it is the highest, but only barely. Many will be content to climb this tower, reachable by moderate 3rd class scrambling by its easiest route, but those with the skills and gear to climb the other towers may wish to do so. It's a lovely place to spend half a day, so the added time will be well worth it!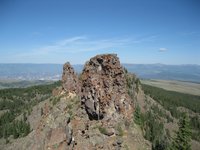 Views from the summit are far-reaching, and understandably so given Castle's 3040' feet of prominence--it's the twentieth most prominent peak in Colorado. You'll have a front-row seat to the rugged Gore Range, Holy Cross Wilderness, Eagle River valley, Flat Tops, and Glenwood Canyon. Innumberable gentler mountains stretch off to the north. The Elk Range 14ers can be seen poking above lower ridges to the south, with Capitol Peak particularly dramatic.
If Castle doesn't sate your appetite for the outdoors, Horse Mountain, a ranked 9er, makes for a fairly easy and quick addition to the trip, and provides a nice, broader view of Castle Peak. Simply return to the main road 3/4 mile from the Castle Peak trailhead, turn left, and continue a short distance to a pass with some room for parking. The bare summit of Horse Mountain is perhaps 15-20 minutes to the east.
Getting There
There are two or three main road approaches to Castle, two from the SE and one from the W. While the western approach would get one exceedingly close to the summit, it lies on private land, and the road is purportedly gated. Another road approach from the SE, leading to some radio towers a few miles southeast of the summit, also appears to cross private land. Therefore, the only legal access to this peak is via Horse Mountain Rd, which along with the hiking route, lies entirely on BLM land. Directions are below--while mileages are approximate, waypoints should be accurate.
Exit I-70 at CO-131 N. Go about 3.6 miles north to a left turn onto Horse Mountain Rd (shown as Milk Creek Rd on many maps), which has a mileage sign at the turnoff. Follow this well-graded road to a right turn to continue on Horse Mountain Rd (39 44.560 N, 106 42.378 W). The road from here on necessitates high clearance, if not 4WD, and there are few places to pull off or turn around. Follow the main track of the road as it dips down into a drainage and re-emerges. The next turn of note is at 39 45.606 N, 106 46.072 W, where the road splits at a Y junction at a sign--go right. Continue to a left turn at 39 46.480 N, 106 46.612, and follow this road ~3/4 mile to its end at a small parking lot and information stand with room for a few cars to park. Total distance from pavement is approximately 9 miles.
Red Tape
As this peak and approach are on BLM land, regulations are relatively few. The "closed area" around Castle Peak, which begins at the fence where the road ends, prohibits bicycles and all motorized vehicles. The approach roads look to be open to vehicular travel year-round, conditions permitting.
Camping
Camping options are numerous, though somewhat limited along the approach road. It is possible to camp at the trailhead, though one runs the risk of having one's sleep interrupted by drunken idiots roaring up the road at 10 at night! Meadows and patches of forest abound on this side of the mountain.
Castle Park on the east side of the peak has a number of streams, but all are mostly just trickles; several small lakes exist, but some may be dry and the remainder may be brackish. Plan to just carry in your own water.
Please observe usual camping etiquette so as not to ruin this area for others.
External Links
BLM information on the Castle Peak Wilderness Study Area can be found
here
, along with a link to a general map of the area
The ListsofJohn
profile for Castle Peak
My hiking partner wrote up an excellent trip report, which can be read
here
.