Overview
Wingle Ridge (Peak),on some maps labeled as Shrine Top is a summit located just to the south of
Shrine Mountain
is the Gore Range. While Shrine Mountain is an unranked summit, Wingle Ridge is and has 717 feet of elevation prominence and is the 1322nd highest mountain in Colorado.
Surprisingly, it seems that Shrine Mountain gets most of the attention, despite it being a lower elevation. Wingle Ridge has better views as well.
The Wingle Ridge forms a relatively flat and scenic north-south trending ridge. Because it acts as a perfect snow fence, cornices are prominent throughout most of the year on the east side and last well into (and often through) summer.
Like Shrine Mountain, Wingle Ridge has an excellent view of Mount of the Holy Cross.
The mountain has easy year round access, which makes it a fairly popular destination. In summer, the mountain is well known for wildflowers and in winter the mountain is well known for skiing. In winter, skiers and snowmobilers ply the east facing bowels, though avalanche danger can be very high.
Near the mountain is also the Shine Mountain Inn, which actually consists of three different cabins, Walters, Chucks, and Jays, which are open year round and are popular with mountain bikers and hikers in the summer and skiers and snowshoers in the winter.
From the summit of Wingle Ridge, you get a great view of Shrine Mountain and the rugged central Gore Range Peaks to the north, and Mount of the Holy Cross to the west. To the east is the Tenmile Range.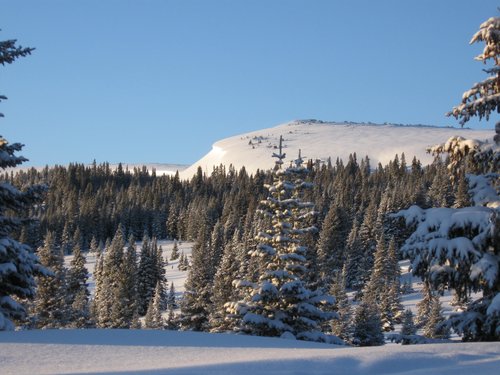 Getting There
Winter-Vail Pass Trailhead
The Vail Pass Trailhead is along I-70 5.4 miles west of Copper Mountain Ski Resort or 14.3 miles east of Vail. Take Exit 190 and park at the indicated overnight parking area.
The Shrine Pass Road and the trail to the Shrine Mountain Inn Cabins (which are on the way to the mountain) leaves from the parking area. It is well signposted.
Make sure to have a winter recreation pass (see the Red Tape section below).
Winter-Red Cliff Trailhead
If driving from the north, the the I-70 exit at Minturn which is 5.4 miles west of Vail. Drive 10.3 miles south along Highway 24 to the Turkey Canyon Bridge.
If driving from the south, drive north from Leadville from the junction of Highway 24 and SH 91 for 22.6 miles.
Once at the Turkey Canyon Bridge, drive east to Red Cliff. Find the Shrine Pass Road, a.k.a. County Road 16 and park along this road or near the marshal's office.
Winter-Pando and Camp Hale Trailheads
If driving from the north, take the Minturn exit from I-70 (Exit 171) onto Highway 24. Drive 15 miles south on Highway 24 and look for a sign reading "Resolution Road". This is the Pando winter trailhead. The two Camp Hale Trailheads are located 1.5 and 2.2 miles south of the Pando Trailhead. The first Camp Hale Trailhead is at mile marker 160. Look for two stone gate post and a plaque.
Summer-Shrine Pass Trailhead
In summer, you can actually drive to Shrine Pass, just north of the mountain. Condsider taking a mountain bike to make the route more challenging.
From the Vail Pass Parking area as described above, take the marked road towards Shrine Pass. The road is typically described as a 4wd road, but sometimes the road is in good enough condition for high clearance 2wd vehicles.
Routes Overview
WINTER
Wingle Ridge Winter Route via Vail Pass
Because I have only climbed Shrine Wingle Ridge in the winter season and from this route, this is the route that will have a route page (both Shrine Mountain and Wingle Ridge will be included on one route page).
This is a straight forward climb in the winter. For Wingle Ridge, the route is about 8-9 miles round trip (depending on variations) with about 1400 feet elevation gain. The climb can be done in one day, but many people stay in the Shrine Mountain Inn cabins for a night.
Wingle Ridge Winter Route via Red Cliff
A much more challenging route to Wingle Ridge in winter is from the Red Cliff Trailhead, which also accesses the mountain from near Shrine Pass. This route is about 21 miles round trip and should be considered a two day climb while spending the night at one of the Shrine Mountain Inn Cabins (see below).
Other Winter/Spring Routes
There are many other routes available in winter. Wingle Ridge is often used as part of a traverse between the Shrine Mountain Huts and Fowler Hillard Huts. In bad weather, the traverse is susceptible to very strong winds.
The east face of the mountain should hold some very fine snowclimbs when conditions are stable. The east face is very prone to avalanches when conditions are unstable, so use caution.
SUMMER
In summer, Wingle Ridge is a fairly short climb from Shrine Pass. A marked trail reaches the summit of Shrine Mountain from the pass, though the views are really good. Click
HERE
for a description of the trail as written by the Forest Service on the Shrine Mountain Trail.
From the saddle north of Shrine Mountain, you can simply follow Wingle Ridge south to the highest point on the ridge.
Red Tape
If you climb the Wingle Ridge between the day before Thanksgiving (late November) through April, you must have a pass for the Vail Pass Winter Recreation Area. If you book a hut at one of the Shrine Mountain Inn huts, this fee will be included in your reservation (and must be displayed on the windshield).
If you didn't book a hut, you must buy a pass separately. The $6.00 per person per day/night, and children 13 and under are free.
Click Here
for more/updated information.
In summer, standard forest Service rules apply and make sure to practice Leave No Trace principles.
When to Climb
Wingle Ridge has easy access year round.
One of the best times to climb the mountain is in winter. In winter, with good route selection and route finding, avalanche danger can usually be avoided (but is certainly present if you don't select a good route!). Spring usually has heavy snow as well.
In summer, the area is well know for wildflowers.
In fall, take extra care during hunting season and wear blaze orange if you head out here at that time of year.
Camping and Huts
In summer, dispersed Camping is allowed along the Shrine Mountain Road.
In winter, most people stay in the Shrine Mountain Inn (Walters, Jays, and Chucks Cabins).
See below for links on the cabins and how to book them through the 10th Mountain Division Hut Association:
10th Mountain Division Hut Association
Shrine Mountain Inn Huts
Mountain Conditions
For current trail and snow conditions, more information, and access issues contact:
White River
National Forest
900 Grand Ave.
Glenwood Springs CO 81601
970-945-2521
CLICK HERE FOR WEATHER FORECAST
Weather and climate data for the Climax Station at 11,360 feet elevation is below. *National Weather Service Data 1949-2005. The Climax Station is just lower than summit of the mountain and will give one a good idea of typical climate conditions in the area, though the area around Vail Pass usually gets more snowfall.
| | | | | | | |
| --- | --- | --- | --- | --- | --- | --- |
| MONTH | AVE HIGH | AVE LOW | REC HIGH | REC LOW | AVE PRECIP (in) | AVE SNOW (in) |
| JAN | 25 | 2 | 50 | -33 | 2.14 | 39.9 |
| FEB | 27 | 3 | 53 | -28 | 1.81 | 35.1 |
| MAR | 32 | 7 | 57 | -24 | 2.26 | 39.9 |
| APR | 38 | 13 | 59 | -20 | 2.48 | 39.6 |
| MAY | 48 | 24 | 71 | 0 | 1.88 | 19.4 |
| JUN | 58 | 33 | 75 | 10 | 1.31 | 4.9 |
| JUL | 65 | 39 | 79 | 12 | 2.24 | 0.1 |
| AUG | 62 | 38 | 76 | 18 | 2.22 | 0.2 |
| SEP | 56 | 31 | 74 | 6 | 1.56 | 5.7 |
| OCT | 46 | 21 | 69 | -9 | 1.37 | 17.8 |
| NOV | 33 | 10 | 60 | -27 | 1.90 | 33.2 |
| DEC | 26 | 3 | 52 | -33 | 1.99 | 37.3 |
style="display:block"
data-ad-format="autorelaxed"
data-ad-client="ca-pub-6523272176520096"
data-ad-slot="7132222476">