Overview
"Where the clouds can go, men can go; but they must be hardy men." -A. Maurer
Mount Hardy is located in the
North Cascades
near Rainy Pass and highway 20. The estimated height range of this peak is 8,080 ft. to 8,120 ft. which is still to be determined. It is the 155th highest mountain in the state of Washington and has 1,480 feet of prominence. Hardy can be very well seen from the highway and has a very impressive north face (5.10). The climb itself is moderate with some class 2 and loose rock in a few places. This peak can be done in half a day in later season. It has an elevation gain of 4,143 feet and a distance of around 4.5 miles round trip. I admit there is not very much information on this peak, so I'll do my best to add as much as possible. Additionally to increase the confusion of this peak, USGS labels the summit in the wrong place at the high point 7,197 ft. Hope this gets fixed some day.
Getting There
View
Google Maps Directions
here. [150 miles | 2 Hours & 58 Minutes]
Getting there from Seattle:
Drive North on I-5 until you get to Arlington which you take a right at exit 208 onto highway 530. The highway briefly takes a left in down town Arlington onto highway 9 which a few seconds later be sure to turn right back onto highway 530 east to Darrington. At Darrington where the road pretty much ends you take a left onto highway 530 which goes north. In about 19 miles the highway ends (at Rockport), take a right onto highway 20 towards Marblemount. It's about 56.2 miles to the trailhead from Rockport. The trailhead is on the right side of the highway which is a pullout known as "Swamp Creek Parking lot". An exact satellite view can be
seen here
. Keep in mind that Marblemount is the last place to get gas and other conveniences.

Getting there from Twisp:
Head east along highway 20 going over Washington and Rainy Pass. After Rainy Pass the trailhead is about 3.7 miles on your left at a decent sized pull out. Distance about 47.6 miles one way.
Standard Route
The standard route starts out hiking for a 150-200 feet or so west along highway 20 (slightly down hill). A little after going over swamp creek you take a right onto a small unofficial trail. You may have difficulties finding this trail which helps guide you away from brushy sections. Whether you find the trail or not it heads north east into the woods gaining elevation rapidly while slowly going away from swamp creek. There is a brushy spot or two in the woods, but very friendly by bushwhacking standards. After you exit the woods it opens up almost completely. The route goes slightly east and mostly north at this point.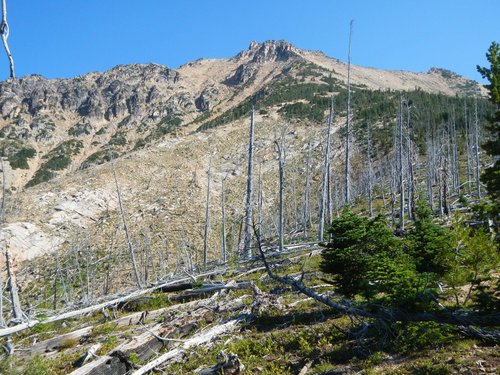 At about 6,200 feet, the route curves onto a some what ridge like formation. The ridge disappears very quickly once you arrive at Hardy's south face. The face is mostly a walk up with some occasional scrambling (class 2) with some loose talus in places. As you near the top go left to the false summit. The final scramble is a gully which will also be on the left side. Navigation on this peak is very straight forward. On the summit you can enjoy views of peaks like
Golden Horn
,
Tower Mountain
,
Black Peak
,
Silver Star
, and other peaks of the North Cascades.
Red Tape and Camping
There is no red tape for camping. I did not see any recreational pass required but it doesn't hurt to bring your northwest forest pass in case you stop at other trailheads near by.
On the mountain itself there were not very many good places to camp if any. However there are camping places near the trailhead.
When to Climb and Conditions
This peak is generally climbed between June and October. June is probably the best month considering that it covers up the talus slopes and adds to the scenery. This mountain is very hard to access during the winter months due to the entire Washington Pass area being closed off due to heavy snowfall. Generally it closes between mid October until April/May. For the road status check in with
WSDOT
(Washington State Department of Transportation).
For current weather information on Mount Hardy view the following
link
.
For Avalanche Conditions, check in with the
Northwest Avalanche Center
. (Limited based on the season)
Topographic Maps
External Links