Overview/Route(s)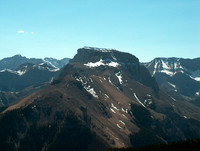 Mount Romulus is part of the horseshoe shaped Fisher Range at the front end of Kananaskis Country in the Elbow-Sheep Wildland Provincial Park.
Kananaskis Country
is a maze of provincial parks which encompasses over 4,000 square kilometers of foothills and mountains bordering Banff National Park to the east and south in the central Canadian Rockies.
Mount Remus
starts one end of the horseshoe and
Mount Fullerton
the other. In between lies
Mount Romulus
and
Fisher Peak
. Mount Romulus was officially named in 1940 along with
Mount Remus
after the legendary twin brothers and founders of Rome.
The only published route on Mount Romulus is the moderate rated scramble up its southern ridge. Alan Kane's Scrambles in the Canadian Rockies is pretty easy to follow on this one.
The crux, as for Mount Remus, is the Little Elbow River crossing, particularly if you are going early season during a rainy day as we did.
I suggest you consider biking in with a pfd and study up on your river crossing skills. I was glad I was with a river rat this day and actually learned a better river crossing method than I have ever employed before. Those of you not used to our local river crossings will also need to brace yourself for the temperature of a snow and glacier fed river.
The easy-moderate-difficult aspect of this scramble is where you access the south ridge from the southern drainage.
We climbed in low visibility. By ascending to the ridge too early, we were forced to climb a short and loose 5th class section to attain the ridge and avoid loosing elevation. If you ascend loose scree further north, this becomes more of an easy-moderate scramble.
There is more evidence of human traffic on Mount Romulus than
Mount Remus
. In fact we were the third ascent in June, 2006. I attribute this to the well equipped Romulus camp ground site at the river crossing.
The views from the summit (if one has visibility) would include
Mount Fullerton
and
Nihahi Ridge
to the north,
Tombstone Mountain
to the south,
Mount Blane
and
Mount Brock
to the west and the eastern group of
Mount Cornwall, Banded Peak , Outlaw Peak and Mount Glasgow
.
The guidebook references covering the 11kms+/- in via the Little Elbow River Trail on a mountain bike in 1 hour and that seems to hold true. It is not the fastest bike terrain. We completed the route roundtrip in 7.5 hours including the bike portion, the book sites 7-9.
Getting There
The Bragg Creek and the Elbow-Sheep Valley area of Kananaskis Country can be accessed from Calgary via a number of roads. The simplest is to take the Trans-Canada exit for Bragg Creek, Highway 22. Travel south through Bragg Creek on Highway 22 until it dead ends into Highway 66. Turn right on Highway 66 and follow it until a dead end into the Little Elbow Campground. Park on the right at the sign for trailhead parking. Watch for cattle and deer on the road as you will be driving through open range land.
Highway 66 is closed from December 1 through May 14.
There are restrooms at this location.
Watch where you park, despite a bad weather mid week day without a soul in the Little Elbow Campground, provincial park enforcement took the time to issue warning tickets to us in regards to parking outside of the campground unless we were camping there.
The warning indicated that such a ticket would be $170.
Red Tape
There are no permit requirements to enter, climb and/or park in
Kananaskis Country.
The Elbow Valley Information Center
is located on your right after you turn right on Highway 66. Any recent notices will be posted on the bulletin board at that location.
This is active grizzly country, therefore, you should always have bear spray on your person.
I found the remains of an elk kill along side the Little Elbow River when ascending Mount Remus in 2005.
I do advise checking with the park website link provided above for possible wildlife trail closures.
When to Climb
As with most climbs in the Canadian Rockies, the driest time is from June through September. I did this scramble in June in very wet conditions. Beware of the river crossing. There are no published backcountry ski routes on Mount Romulus, but it might be conducive to ski up the south drainage and onto the ridge in winter. These would no doubt be avalanche prone slopes however.
Camping
This is actually an excellent scramble for camping due to the Romulus campground at the river crossing.
This is a nicely fitted out campground, firewood was chopped, a porta-pottie was in place, tons of tie outs for horses, picnic tables galore and a nice grassy area to share for R&R. There is also the
Little Elbow Campground
in which you park to start your bike approach. Do not expect much of a backcountry experience however, as many city residents use this campground as a holiday type resort. There are several other backcountry sites further down Little Elbow Trail. You cannot camp outside of the marked specific camping areas in Kananaskis. Refer to the
Kananaskis Provincial Park website
for more information regarding camping and/or lodging.
Mountain Conditions
The
Kananaskis Provincial Park website
is a very thorough park website, including trail conditions or closures, wildlife notices, weather conditions, avalanche conditions, camping permits, whitewater conditions, etc. It is an excellent source if you are going to spend any time here and comparable to any National Park website I have used. Outside of the parks web site,
Canadian Avalanche Association
is also useful, particularly for winter travel.
Canadian Alpine Accident Reports
are also extremely useful.