Overview
The crossing point on the Cog Railroad
Probably the most under-appreciated and surprising facet about Cameron Cone is the sheer physical demand it takes to scale this forested summit. This is a seriously underestimated mountain. Cameron Cone only has 527' of prominence from its neighbor but considering the trailhead (parking lot) is at an elevation of 6,571', one must hike up to 10,707'. That's a gain of 4,135 feet! So despite this only being a class-2 hike, it doesn't come easily.
Cameron Cone out of no intention of its own, simply doesn't see many ascents. Pikes Peak, only five miles further west tends to horde all the attention. Well, that and
the Incline
.
Most information out there is via personal trip reports and because of the private community of Crystal Park to the southwest, the easiest and closest route is blocked. The only viable routes are long approaches from the northeast.
Colorado Peak Rank: #1592
Resident County: El Paso
Quadrangle: Manitou Springs

Getting There/Route Description
Driving Directions
:
Take exit #141 (US 24- Cimarron Avenue) off I-25 in Colorado Springs. Drive west
(toward the mountains)
on US 24 for four miles to Manitou Ave. (Manitou Springs). Go west on Manitou Avenue one & a half miles to Ruxton Ave.
THERE IS A ROUNDABOUT HERE
. Circle the roundabout and turn left (Please notice the Mountain Man Shop which denotes RUXTON AVE.) and drive to the top of Ruxton Avenue about three-quarters of a mile.
Keep to the right and drive pass the Cog Railroad parking areas and building. There is a [small] sign denoting parking for the Incline and Barr Trail. Turn right up the paved but steep causeway to the hidden parking lot. Things are tight and constricted along here. Larger vehicles won't fare well. Pay your daily parking fee and launch out on the Barr Trail.
Route Description
:
The initial half mile or so is confusing. Leave the parking lot following the Barr Trail. After roughly a half mile, give or take, look for a closed gate on the left. Either hike around the gate or clamber over it. The trail past the gate will start to angle downhill into Englemann Canyon. A
At the bottom of the trail, a fence (with no trespassing signs) will be seen. This is parallel with the creek. Continue hiking up the trail/up the canyon paralleling the creek on a rather good social trail. After 20m-25m, look for a MAJOR rockfall/rock bridge across the creek. Cross over here and hike up the short but steep slope to the railroad tracks. There might be past evidence of people here as well.
You'll know when you're in the right spot to cross over if you see the sign in the picture at the very top of this page under the 'Overview' section.
Hike up the dirt & pine needle slope on the other side of the tracks. Again, you might encounter past footprints or slide tracks in the dirt from others' past exploits. Find the footpath a few meters up the slope.
For lack of a better name, I'll call this the "Englemann Trail." For a social trail, it is in remarkable shape. Follow this trail as it switchbacks up the slope gradually gaining the upper ridge up the canyon. The trail will cross over a minor drainage running down into Englemann Creek from the south. There are massive rocks at this crossing to facilitate your crossing. Continue following the trail, now on the other side of the drainage as it courses and switchbacks to the upper ridge where Gog and Magog Rocks are now visible.
This is the lower description.
For the
upper description
, there are already two route descriptions under this page's heading. But to completely avoid private property, I'll lay out our route here.
Continue to walk across the flat, sandy bench (only viable camping area) where you'll eventually take a 4x4 road. This road makes it way east of Cameron Cone. There will be a
National Forest sign
on hikers right. Turn at this sign and walk past it continuing on the trail. The trail will switchback up Cameron Cone's East flanks to the summit.
* There is a social/game trail that roughly, 2/3 the way up will traverse out onto the northern slope. You can also follow this social trail (well developed) as it wraps around Cameron Cones' northern side where it eventually connects with the western ridge. There are small cairns once you reach the west ridge guiding the way up towards the summit.
Gog and Magog Rocks
These bad-boys are pretty interesting. For all the names within and around the area whether it's a mountain, route or climbing line, there aren't any other 'features' with such unique names.
Try as I have to find out why these two rocks were named thus and when, I've only come across one source that "had an idea" as to why. If you flip trough the bible to the book of Revelations, eventually, you'll come across this passage:
Revelation 20
7) When the thousand years are over, Satan will be released from his prison 8) and will go out to deceive the nations in the four corners of the earth--Gog and Magog--to gather them for battle. In number they are like the sand on the seashore. 9 )They marched across the breadth of the earth and surrounded the camp of God's people, the city he loves. But fire came down from heaven and devoured them. 10) And the devil, who deceived them, was thrown into the lake of burning sulfur, where the beast and the false prophet had been thrown. They will be tormented day and night for ever and ever.
(7-10).
I personally think this is a VERY plausible source just for the simple fact of the names themselves being so specific and unique. Perhaps they were named colloquially in the early to mid 1800's while Colorado Springs was in the beginning of being settled and homesteaded. Considering how religious early pioneers were, I think it's a possible & plausible explanation to the taxonomies of these rock formations.
Climbing Gog and Magog...
Be prepared for some
difficult
bouldering problems. I simply don't know where one would set pro. They're basically just massive granite boulders.
Lists of John
has Magog listed as 5.x with 80' of prominence (8,820').
Red Tape
No one like red tape or regulations. Unfortunately, there are some things to note with Cameron Cone:
Even though no permits or fees are required to hike Cameron Cone, there is a $5.00 parking fee at the trailhead (paved). As popular as this trailhead is with the Incline runners and Barr Trail crowd, don't even think about NOT paying; you'll come back to a ticket. In other words, this area is frequently patrolled.
Hiking along the Cog Railway itself is not permitted.
DO NOT park in the Cog Railway parking area below the actual trailhead. To do so without a paid parking permit from the railway will more than likely result not in a ticket but in a towed vehicle. Signs are posted everywhere and I believe the railroad people are diligent about this since parking is so tight and restricted. Don't chance it!
This is an incredibly popular trailhead on summer weekends. Even with the midweek crowd, the folks who run the Incline, get here early to nab a parking spot. I've been up here as late 9:00am on a Saturday only to turn around and go have breakfast down in Manitou Springs.
Crystal Park is private property. Residents do not take to trespassers lightly.
Big Tooth Reservoir is 'technically' private property as well (Colorado Springs Utilities).
Camping
There are two problems with possible camping around Cameron Cone. The first, is that once the trailhead is left behind, There isn't anywhere to attain water. This is a dry trail/summit. So it must be carried in. The second, is that even though camping is allowed in Pike National Forest, good camping spots are hard to find.
There is basically only one area that would be suitable enough for tents; BUT, it is very good. It is large and sandy, well Pikes Peak quartzite pebbles anyway, with moderate to good tree cover. It is within view of the summit. This area is just after you pass Gog and Magog Rocks. You'll know it when you come to it. This wide area is roughly half the distance to the summit.
Weather/Topographic Map
Click for weather forecast
View Larger Map
Robert Alexander Cameron
Originally known as Cameron's Cone, Robert Alexander Cameron (1828-1894) came west from Indiana. Born and raised initially in Brooklyn, New York, he moved to Valparaiso, Indiana with his parents when he was 14 years old. Cameron was a well and widely educated man influential and outspoken in the public realm of society. He attended the public school system then afterwards, entered into medical school graduating from Indiana medical University in 1849
(he was 21 years old)
.
Cameron's next foray was into publishing of which he stayed a fervent newspaper editor and publisher for a few years finding moderate success. Being involved with the local politics (the newspaper certainly helped in this regard) in Valparaiso, he attended the 1860 convention as a Republican delegate...then the Civil War happened.
For roughly five and a half years, Cameron fought alongside his troops on the Union side, steadily rising through the ranks based on both merit/recognition and civilities from more senior officers. By the time Cameron resigned his post of Brevet Major General in June of 1865, his aspirations were already pulling him westward.
Cameron landed in the Colorado Territory and shortly after, the newly created 38th state of Colorado (August, 1876). He is perhaps best known for being an early and influential leader within the northern city of Greeley
(founded in 1869 as Union Colony)
alongside Horace Greeley
(known for "Go west, young man!").
He was elected to the board of trustees in 1870. But eventually, after only 18 short months, Cameron was lured further south to a new upstart colony called Colorado Springs where he was equally influential in the creation of the town charter and government.
After a short stint in San Francisco, California, Cameron returned to Colorado and ultimately settled just outside the town of Cañon City where he served as the Chief Warden of the Colorado State Penitentiary. He died at his home having lived what could only be described as a "Very full life."
Cameron's Cone, now, Cameron Cone is named thus in his memory.
Miscellaneous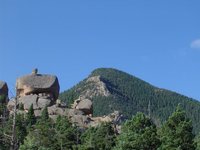 From the Front Range (predominantly Colorado Springs/Garden of the Gods), Cameron Cone can be a bit on the difficult side to pick out from the myriad background peaks. In so saying, the altitude will also be a bit surprising. It simply doesn't look as high as it is. So I feel a few things need to be mentioned no matter how familiar we may or may not be with the following:
Lightning
- As most of us already know, prevention is the best key. When storms are approaching, use common sense and keep a diligent eye on the weather and be prepared to descend quickly. In 2013, 22 people were injured in Colorado (fortunately no casualties). In a typical, average year, three people are killed and ~13 injured. Even though the summit of Cameron Cone lies below treeline, the summit is rounded and protrudes above all else in the vicinity. Just be careful!
Altitude Sickness
- Mostly for out-of-staters, but even at 10,707', mild AMS can strike; actually, anything over 9,000' is suspect. Plenty of fluids and ibuprofen (I carry liquid Advil- tends to work quicker) is always a great idea to have on hand. Watch for symptoms of headache, sluggishness, mild stupor, persistent cough...
Again, I only mention this out of caution. Even for locals, we can sometimes take a lassiez-faire attitude towards AMS since we already live so high.
I've seen people 'sicker than a dog' simply walking around Estes Park (7,435') and I've had a climbing buddy develop HAPE while on Mt. of the Holy Cross. So stay knowledgeable.
Essentials
- As mentioned above, the route on Cameron Cone doesn't have much agreement. Plus the Crystal Park homeowners are 'quite diligent' in regards to trespassers, either by design or accident. The weather can sneak up on you quite unawares and there is a serious lack of water. So in regards to essential gear, I would recommend map and compass for this mountain in addition to the following:
Extra Clothes
Flashlight/torch
Sunglasses/hat/sunscreen
Knife
Extra fluids
Route Description
This is by no means an exhaustive list but keep in mind, even the most innocuous mountains under the wrong circumstances can yield emergency.
External Links
Lists of John
-Cameron Cone
Manitou Springs Quadrangle
Adventures on Cameron Cone
-Matt Payne
Riding the Wind
-Anton Krupica
Trip Report from 14ers.com
The Incline
Pike National Forest