Krasna Massif
Page Type
Area/Range
Location:
Ukraine, Europe
Lat/Lon:
Activities:
Hiking
Season:
Spring, Summer, Fall, Winter
Elevation:
5131 ft / 1564 m
Page By:
LukZem
Last Edited On:
Feb 17, 2018
Overview
Polonyna
Krasna
, literally
Beautiful
(in Polish also
Red, via an unfortunate translation) was the most beautiful mountain pasture of Subcarpathian Ruthenia (nowadays Transcarpathia) during the interwar period. It belongs to the Northeastern Carpathians and its main ridge is about 35 km long. The western boundary of this complicated massif is formed by the Tereblya River, which separates it from Polonyna Borzhava. Its eastern limit is the Teresva River, separating the Krasna from the Svydovets. On the north Polonyna Krasna is bounded by the Mokryanka River and its tributary the Pryslop, separating the Krasna from the Gorgany. The southern limits are not clear-cut because the relatively low mountain landscapes are densely fragmented by the hydrographic net with the Uholka and the Luzhanka being its most significant rivers.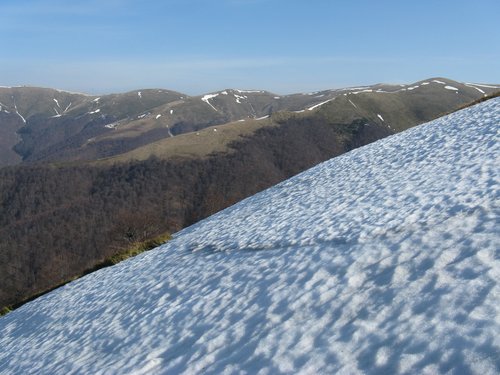 The southern part of the massif is made of the Marmarosh sediments. Karst formations, e.g. caves Druzhba (Friendship) or Molochnyi Kamin (Milk Stone) and Stone Bridge are also associated with this remote area. A peculiar feature of the relief is the presence of rocky strands with cliff formations.

There are 5 important summits in the Krasna Massif:


| | | | |
| --- | --- | --- | --- |
| Mountain | Height(m) | Photo | Location |
| Syhlianskyi | 1 564 | | The highest peak, situated in the central part. |
| Topas | 1 548 | | The second highest summit with a transmitter on its top, in the western part. |
| Menchul | 1 501 | | Rising in the southern spur outside the main ridge, rarely visited. |
| Gropa | 1 495 | | Situated in the central part (3 km SE of Syhlianskyi) |
| Klimova | 1 492 | | Located in the eastern part. |
Uholka-Shyrokyi Luh virgin beech forest
The largest virgin beech forest in Europe with a total area of more than 10 000 ha grows on the slopes of the Krasna massif. This hidden treasure can be deservedly called a pearl of the Carpathians. Protected since 1920, this core of the Carpathian Biosphere Reserve is the most valuable asset of Primeval Beech Forests of the Carpathians - an international UNESCO's World Natural Heritage site. While the virgin forest of Uholka covers the southern and eastern slopes of Menchul, the virgin forest of Shyrokyi Luh, adjacent to Uholka, stretches over the southern and western parts of Krasna. Purely beech woodland, growing in optimal conditions, prevails. It is no accident that the tallest beech specimens in the world, which reach an incredible height of 55 meters, can be found in Uholka. No noise, no pollution here - many tranquil spots instead, including plenty of "first-class wilderness".



A very special feature of Uholka is the presence of numerous limestone cliffs and karst caves. "Druzhba" (Friendship) Cave is the largest in the Ukrainian Carpathians. The milky colouring is what gave its name to "Molochnyi kamin" (Milk Rock) Cave. However, Uholka's main landmark is the Karst Bridge - a natural rock arch created through karst-forming processes.







Getting there
Uholka virgin beech forest is accessible from Mala Uholka and Velyka Uholka villages respectivelly, which can be reached by bus from Tyachiv (approx.departures: 12:00 a.m., 3:00 p.m., 5:00 p.m. - only on workdays). Private buses and taxis depart from Koshuta Street 90, opposite the orthodox church. Tyachiv is accessible by train or by bus from Uzhorod.

Shyrokyi Luh virgin forest is accessible from Shyrokyi Luh village by bus from Tyachiv.

The table shows access to Polonyna Krasna.


Closest Airports
Border-crossing point
Roads
Point of access

Uzhorod

Vyšné Nemecké/Uzhorod

E58, H09, T0728

Ust Chorna

Lviv

Kroscienko/Smolnica

E471, H10, P21, T0720

Kolochava

Budapest

Zahony/Chop

E573, E58, H09, T0720

Kolochava

Cluj-Napoca

Sighetu Marmatiei/Solotvino

H09, T0728

Ust Chorna
Hiking trails
The Mala Uholka hiking circular trail leads through primeval beech forests passing by Druzhba cave and rocky limestone belt called "Hrebin" with Chur lookout on the way up to the Karst Bridge. The trail is about 5 km long with 500 m elevation gain. The best time to visit is from April to October. The trail begins at the office of the Carpathian Biosphere Reserve in Mala Uholka village (Kicherely by the locals).





The Velyka Uholka hiking trail is about 4.5 km long with a 400 m elevation gain. The trail begins at the Carpathian Biosphere Reserve's checkpoint in Uholka, which is situated 5 km north of the Velyka Uholka village. On the highest point of this circular route there is the karst cave "Molochnyi Kamin" (literally Milk Stone). Several hundred meters downhill you will catch a first glimpse of a lonely rockface Velyka Kopytsya (literally Big Haystack) which is 70 m high. The only way to get to the summit is a narrow path on the western slope. It is worth to climb as there is a marvellous view over the whole area covered by the canopy of virgin beech forest.





Shyrokyi Luh virgin forest is accessible via unmarked path leading along the right bank of Luzhanka river.

Polonyna Krasna is accessible via red striped hiking trail connecting Ust Chorna with Kolochava.

Maps & nature guide
Red Tape

Since Uholka-Shyrokyi Luh virgin forest forms the phytocoenotic core of the Carpathian Biosphere Reserve, there are some restrictions. Below is the list of activities, which are forbidden.

leave hiking trails


make fire outside fireplace


damage trees and bushes


touch flowers


eat forest fruits


disturb wildlife


make noise




To visit Uholka's virgin forests you need a ticket (25 UAH), which can be bought at the local CBR office in Kitcherely (Mala Uholka) situated in the upper end of this village. Another option is via CBR office in Velyka Uholka situated in the upper end of this village about 5 km from the bus stop. To visit Shyrokyi Luh virgin forest you have to reach CBR office in Posych situated about 10 km north of Shyrokyi Luh village.





Polonyna Krasna is not included in the Carpathian Biosphere Reserve so it means, there are no limits dealing with camping, fireplace etc...


Accommodation



It is possible to stay overnight at the local Carpathian Biosphere Reserve office in Kitcherely (Mala Uholka). Please contact the CBR headquarters in Rakhiv, before your arrival:

Carpathian Biosphere Reserve

Krasne Pleso Street 77, P.O.Box-8

UA-90600 Rakhiv, Ukraine

Tel.:+38 0313 22 21 93

cbr@rakhiv.net.ua
http://cbr.nature.org.ua

Weather & Rescue Service
Shyrokyi Luh weather forecast
Mountain rescue service
| | | | |
| --- | --- | --- | --- |
| Name of MRS | Address | Telefon/e-mail | Mobile phone |
| Transcarpathian | Uzhorod, Verescahina 18, 88006 | (+38 0312) 671 413 zak.resque@tn.uz.ua | (+38 097) 585 6685 |
| Ust Chorna | Podhorna 5, turbaza "Jalinka", 90520 | (+38 03134) 361 83 | (+38 097) 933 1976 |
Duty officer of Ministry of Emergency - (+38 0321) 660 701, 660 114 or (+38 0442) 473 103
Emergency numbers of rescue services - 101 (only from UA operators)
External links
Animated Snapshots
style="display:block"
data-ad-format="autorelaxed"
data-ad-client="ca-pub-6523272176520096"
data-ad-slot="7132222476">