Overview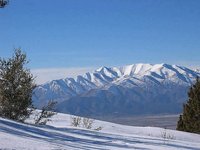 Utah is home to some great mountain scenery. This includes famous National Parks like Bryce Canyon, Zion, Arches, and Canyonlands. In addition it is one of the most mountainous states. This includes 81 peaks with a prominence of 2,000 feet or more. Utah also has 8
Ultra Prominence Peaks
within the continental United States. These peaks provide a wide range of difficulty. Some are also very remote. Also, if you include 3 error range peaks, that gives a total of 84 peaks that have at least 2,000 feet of prominence. Also, twenty of Utah's twenty-nine
county highpoints
are also P2Ks. Though two peaks (
Delano
and
Thurston
Peaks) are County Highpoints for two counties each.
In compiling this list, I found that a staggering 70 out of these 84 peaks already have a SummitPost page.
Nevada
, which has more than twice as many 2,000 ft. Prominence peaks, has about the same number of pages with a SP page. This is in large part due to one particular SP Member's interest in Utah Prominence Peaks since he has moved there a few years back. That person would be
Dean
. Thanks for all your efforts Dean, as well as all the others who have wrote mountain pages on these peaks!
This list was compiled using the "mean prominence" value.
Peaklist
uses its ranking system with this method (81 peaks). However, if you use the "clean prominence" value, then there are also 81 peaks in Utah with 2,000 feet of prominence.
Peakbagger
uses this method. The order of these peaks though is slightly different on Peakbagger. In addition, there are also the 3 peaks that are in the "Error Range" of having 2,000 feet of prominence. All of these peaks were on SummitPost at the time of writing this.
On a side note, it is probably not likely that someone today could climb all 2,000 foot prominence peaks Utah has to offer in his/her lifetime. One lies within the
Dugway Proving Grounds, a large military test area, that is off limits to the public. Granite Peak, number 48 on the list, is the lucky mountain.
Current Total with a SummitPost Page:
79
Newest Mountain Page:
Goose Creek Range HP
Utah's 2,000 ft. Prominence Peaks
| Rank | Image | Summit Name | Elevation (ft) | Prominence (ft) | County | Latitude | Longitude | Map Link |
| --- | --- | --- | --- | --- | --- | --- | --- | --- |
| 1 | | Kings Peak | 13,528 | 6,348 | Duchesne (Highest Point) | 40.776327°N | 110.372933°W | Map |
| 2 | | Mt. Peale | 12,721 | 6,161 | San Juan (Highest Point) | 38.438561°N | 109.229179°W | Map |
| 3 | | Mount Ellen | 11,522 | 5,842 | Garfield (Highest Point) | 38.108934°N | 110.813589°W | Map |
| 4 | | Deseret Peak | 11,531 | 5,811 | Tooele (Highest Point) | 40.459494°N | 112.626393°W | Map |
| 5 | | Mt. Nebo | 11,928 | 5,488 | Utah (Highest Point) | 39.821857°N | 111.760272°W | Map |
| 6 | | Flat Top Mountain | 10,620 | 5,370 | Utah | 40.372437°N | 112.188838°W | Map |
| 7 | | Mt. Timpanogos | 11,750 | 5,269 | Utah | 40.390858°N | 111.646082°W | Map |
| 8 | | Ibapah Peak | 12,087 | 5,229 | Juab (Highest Point) | 40.48780°N | 121.5039°W | Map |
| 9 | | Delano Peak | 12,169 | 4,689 | Beaver/Piute (High Pts) | 38.369237°N | 112.371355°W | Map |
| 10 | | Abajo Peak | 11,360 | 4,550 | San Juan | 37.839579°N | 109.462305°W | Map |
| 11 | | Swasey Peak | 9,669 | 4,509 | Millard | 39.388142°N | 113.316408°W | Map |
| 12 | | Signal Peak | 10,365 | 4,485 | Washington (Highest Point) | 37.319537°N | 113.492205°W | Map |
| 13 | | Navajo Mountain | 10,346 | 4,226 | Utah | 37.034341°N | 110.869739°W | Map |
| 14 | | Fish Lake Hightop | 11,633 | 4,153 | Sevier (Highest Point) | 38.608077°N | 111.739405°W | Map |
| 15 | no SP Page | Monroe Peak | 11,227 | 4,107 | Sevier | 38.536076°N | 112.073409°W | Map |
| 16 | | Frisco Peak | 9,660 | 4,020 | Beaver | 38.520423°N | 113.2875°W | Map |
| 17 | | Mt. Ogden | 9,570 | 3,810 | Weber | 41.199946°N | 111.882078°W | Map |
| 18 | | Brian Head Peak | 11,307 | 3,747 | Iron (Highest Point) | 37.681209°N | 112.831221°W | Map |
| 19 | | Bull Mtn | 9,920 | 3,720 | Box Elder (Highest Point) | 41.90482°N | 113.388868°W | Map |
| 20 | | Fool Creek Peak | 9,717 | 3,712 | Utah | 39.39259°N | 112.207354°W | Map |
| 21 | | Salt Creek Peak | 9,997 | 3,677 | Juab | 39.664909°N | 111.743259°W | Map |
| 22 | | Indian Peak | 9,790 | 3,650 | Beaver | 38.267°N | 113.8754°W | Map |
| 23 | | American Fork Twin Peaks | 11,489 | 3,649 | Salt Lake (Highest Point) | 40.551781°N | 111.656601°W | Map |
| 24 | | West Mountain Peak | 7,680 | 3,640 | Washington | 37.155178°N | 113.883304°W | Map |
| 25 | | George H Hansen Peak | 8,523 | 3,603 | Juab | 39.725284°N | 113.440178°W | Map |
| 26 | | Mount Pennell | 11,408 | 3,560 | Garfield | 37.956468°N | 110.790953°W | Map |
| 27 | | Box Elder Peak | 9,372 | 3,452 | Box Elder | 41.635624°N | 112.014561°W | Map |
| 28 | | Provo Peak | 11,068 | 3,428 | Utah | 40.244235°N | 111.556989°W | Map |
| 29 | | Notch Peak | 9,654 | 3,414 | Millard | 39.143189,°N | 113.409321°W | Map |
| 30 | | Mount Dutton | 11,041 | 3,401 | Garfield | 38.020612°N | 112.217333°W | Map |
| 31 | | South Tent Mountain | 11,285 | 3,365 | Sanpete (Highest Point) | 39.392003°N | 111.357684°W | Map |
| 32 | | Mount Hillers | 10,737 | 3,337 | Garfield | 37.887395°N | 110.69703°W | Map |
| 33 | | Willard Peak | 9,764 | 3,244 | Weber (Highest Point) | 41.382783°N | 111.974424°W | Map |
| 34 | | Naomi Peak | 9,979 | 3,159 | Cache (Highest Point) | 41.911382,°N | 111.675411°W | Map |
| 35 | | Wah Wah Mtns HP | 9,393 | 3,084 | Beaver | 38.354087,°N | 113.586678°W | Map |
| 36 | | Black Crook Peak | 9,274 | 3,074 | Tooele | 39.984506,°N | 112.54044°W | Map |
| 37 | | Graham Peak | 7,563 | 3,043 | Tooele | 40.951669°N | 113.789656°W | Map |
| 38 | | Mine Camp Peak | 10,222 | 3,001 | Millard (Highest Point) | 38.873682°N° | 112.253407°W | Map |
| 39 | | Logan Peak | 9,710 | 2,995 | Cache | 41.713482°N | 111.717745°W | Map |
| 40 | | Granite Peak | 9,582 | 2,982 | Beaver | 38.382839°N | 112.814743°W | Map |
| 41 | | Spanish Fork Peak | 10,192 | 2,952 | Utah | 38.85690°N | 119.9002°W | Map |
| 42 | | Mount Ellsworth | 8,235 | 2,915 | Garfield | 37.746205°N | 110.620093°W | Map |
| 43 | | Bluebell Knoll | 11,320 | 2,900 | Wayne (Highest Point) | 38.159355°N | 111.500402 °W | Map |
| 44 | | Loafer Mountain (2 areas) | 10,687 | 2,887 | Utah | 39.983342ºN | 111.62381ºW | Map |
| 45 | | Cedar Peak | 7,712 | 2,847 | Tooele | 40.542495°N | 112.968636°W | Map |
| 46 | | Desert Peak | 7,005 | 2,785 | Box Elder | 41.186056°N | 113.368294°W | Map |
| 47 | | Lewis Peak | 9,304 | 2,784 | Summit/Morgan | 40.855367ºN | 111.48045ºW | Map |
| 48 | no SP Page | Granite Peak | 7,082 | 2,767 | Tooele | 40.128085ºN | 113.271047ºW | Map |
| 49 | | Lake Mountain Peak | 7,690 | 2,710 | Utah | 40.274895°N | 111.940581°W | Map |
| 50 | | Bruin Point | 10,184 | 2,704 | Carbon | 39.64421ºN | 110.348132ºW | Map |
| 51 | | Thurston Peak | 9,706 | 2,690 | Davis & Morgan HPTs | 41.081956°N | 111.851555°W | Map |
| 52 | | Stookey Peak | 9,020 | 2,500 | Tooele | 40.248614ºN | 112.543552ºW | Map |
| 53 | | Wah Wah North | 8,980 | 2,500 | Beaver | 38.547645ºN | 113.548097ºW | Map |
| 54 | | Messix Peak | 7,372 | 2,452 | Box Elder | 41.490201ºN | 112.508377ºW | Map |
| 55 | | Needle Benchmark | 9,480 | 2,400 | Beaver | 33.363°N | 116.835°W | Map |
| 56 | | Stansbury Island/Castle Rock | 6,620 | 2,400 | Tooele | 40.846833ºN | 40.846833°W | Map |
| 57 | | Frary Peak | 6,596 | 2,396 | Davis | 40.96206ºN | 112.215996ºW | Map |
| 58 | | Tunnel Springs Peak | 8,440 | 2,380 | Millard | 38.759656ºN | 113.762621ºW | Map |
| 59 | | Gunsight Peak | 8,244 | 2,364 | Box Elder | 41.924316ºN | 112.127342ºW | Map |
| 60 | | King Top | 8,350 | 2,350 | Millard | 38.980858ºN | 113.530565ºW | Map |
| 61 | | Thousand Lakes Mountain | 11,306 | 2,346 | Wayne | 38.417069ºN | 111.479339ºW | Map |
| 62 | | Strawberry Peak | 10,335 | 2,338 | Wasatch | 40.047061ºN | 110.984673ºW | Map |
| 63 | | Tangent Peak | 7,047 | 2,307 | Box Elder | 41.481621ºN | 113.174434ºW | Map |
| 64 | | Mount Holmes | 7,998 | 2,278 | Garfield | 37.797579ºN | 110.583155ºW | Map |
| 65 | | Mount Elliott | 7,142 | 2,262 | Emery | 39.182858ºN | 110.300228ºW | Map |
| 66 | | James Peak | 9,421 | 2,261 | Cache/Weber | 41.39136ºN | 111.792951ºW | Map |
| 67 | | Champlin Peak | 7,504 | 2,254 | Juab | 39.616488ºN | 112.220387 ºW | Map |
| 68 | | Keg Mountain | 7,305 | 2,205 | Juab | 39.788982°N | 112.8413°W | Map |
| 69 | | Boulter Peak | 8,308 | 2,188 | Juab/Toole | 40.003416ºN | 112.196964ºW | Map |
| 70 | | Drum Mountain HP | 7,298 | 2,178 | Juab | 39.561363°N | 112.986841°W | Map |
| 71 | | Stevens BM | 8,346 | 2,156 | Sanpete | 39.06025,°N | 111.997588°W | Map |
| 72 | | Indian Peaks | 8,406 | 2,148 | Tooele | 40.00429ºN | 112.723272ºW | Map |
| 73 | | Poorman BM | 8,674 | 2,134 | Iron | 38.079216,ºN | 112.760783ºW | Map |
| 74 | | West Mountain | 6,904 | 2,104 | Utah | 40.055445ºN | 111.82966 ºW | Map |
| 75 | | Hilgard Mountain | 11,533 | 2,093 | Sevier | 38.684123°N | 111.543821°W | Map |
| 76 | | Cricket Mountains HP | 7,231 | 2,071 | Millard | 38.893088ºN | 113.009366ºW | Map |
| 77 | | Scrub Peak | 6,789 | 2,065 | Washington | 37.053203°N | 113.823051°W | Map |
| 78 | no SP Page | Durst Mountain | 9,284 | 2,064 | Morgan | 41.13914ºN | 111.672944ºW | Map |
| 79 | no SP Page | Wagon Road Ridge | 9,503 | 2,031 | Grand | 39.221699ºN | 109.770035ºW | Map |
| 79 | | Lands End | 7,151 | 2,031 | Garfield | 38.10150ºN | 110.1301°W | Map |
| 81 | | Goose Creek Range HP | 8,684 | 2,004 | Box Elder | 41.926544ºN | 113.806221ºW | Map |
Notes
51 also known as Francis Benchmark
52 Onaqui Mountains High Point, Stookey Benchmark
72 Multiple Summits
79 Wagon Road Ridge; 4 mi N of Roan Peaks
Error Range Peaks
| Rank | Image | Summit Name | Elevation (ft) | Prominence (ft) | County | Latitude | Longitude | Map Link |
| --- | --- | --- | --- | --- | --- | --- | --- | --- |
| E1 | | Craner Peak | 6,625 | 1,995 | Tooele | 40.879947ºN | 112.820718ºW | Map |
| E2 | | Split Mountain | 7,660 | 1,980 | Uintah (Highest Point) | 40.476919ºN | 109.240098ºW | Map |
| E3 | | San Rafael Knob | 7,921 | 1,961 | Emery | 38.813068ºN | 110.854547ºW | Map |
Links