Overview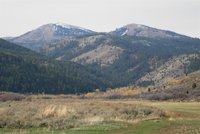 Sherman Peak is the highest summit in the Idaho portion of the Bear River Range at 9682 ft. and is quite easily climbed. Originally called Soda Peak it was later renamed Sherman Peak after the Civil War General William T. Sherman. It is a large rounded, tree covered, mountain with two summits, the Southern one being the highest. The Northern Summit sits at 9366 ft. Sherman peak is an easy hike in the summer and is also popular in the winter for snowmobilers and snowshoers.
Unlike many of the Bear River Peaks in Utah which are more rocky and barren in nature, Sherman is surrounded by vast expanses of pine and fir forest.
Durring the winter months Sherman Peak is one of the most popular areas in all of Southeastern Idaho for snowmobilers as there are hundreds of miles of groomed trails nearby. There is also a trail to the top of the peak as it is a non-technical mountain.
The view from the top is quite extraordinary. The entire Bear Lake Valley is visible and on clear days the Salt River Range and the Tetons in Wyoming are also visible. On exceptionally clear days even the Uintas in Utah are visible to the South!
Sherman Peak is also near the BSA camp, Camp Bartlett so it is a popular desination for Boy Scouts in the summer months.
Sherman peak is a very nice hike, snowshoe, or snowmobile ride and offers a wonderful view.
Getting There
From Salt Lake City, UT
Take I-15 North to Brigham City exit. From Brighan City drive north through Sardine Canyon on Highway 91 to Cache Valley and Logan. Continue through Logan and into Idaho. At the North end of Preston, Id the highway will split. Stay to the right and that will become Highway 36 which will take you over Emmigration summit and into Bear Lake County. When you reach Montpilier turn North on Highway 30 going towards Soda Springs. You will be able to see Sherman Peak from there. Drive North of Montpilier about 10 miles to Nounan Road. If you get to Georgetown you've gone too far. Follow the road west to Nounan. Nounan is behind a ridge and is really only a few houses but you will have a pretty clear view of how to get to the mountain from there. From Nounan go west on Skinner Canyon Road. At some point along the road it will join with the Sherman Peak Road which runs just South of the South Summit. From the road hike about a mile to the top.
From Pocatello, ID
Take I-15 South to McCammon, Id and take the Lava Hot Springs exit on highway 30. Continue on High way 30 through Soda Spring and on South towards Monpilier. You will have a fairly good view of Sherman Peak from Soda Springs. About 7 miles South of Soda turn right on Eightmile Road. This will take you up Eightmile Canyon to the West of Sherman and it is quite a long road. About 2 miles past the Eightmile Campground get onto the Sherman Peak Road and drive to just below the summit. Hike the Half mile to the top.
To the Top
Since Sherman is an easy non-technical climb many, many routes are possible from every direction. All approaches are smooth but some are longer than others.
Red Tape
Be prepared for less than favorable conditions on the roads. I wouldn't advise bringing a car.
Camping
Eightmile Campground is the nearest Forest Service campground and is pretty good. You really can camp just about anywhere you want to though as there are no restrictions, except fire restrictions. Since the top is very broad it is also a nice place to camp.
External Links
See Tom Lopez's
Idaho: a Climbing Guide.