Overview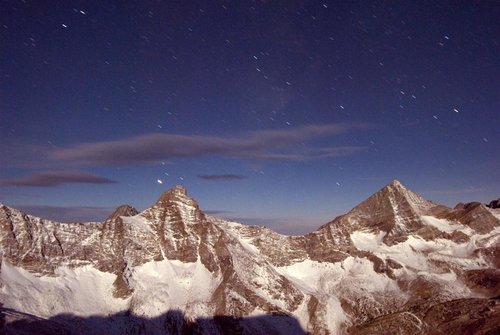 Old Hyndman Peak makes up the second leg of what is commonly referred to as the "Trifecta" or "Triumvirate" of the Pioneer Mountains. Located 1 mile southeast of its big brother
Hyndman Peak
(12,009'), Old Hyndman demands its own respect despite being slightly lower in elevation.
Cobb Peak
completes the group of three mountains that dominate the Pioneer Mountains; a central Idaho mountain range located between Arco and Ketchum, Idaho. Old Hyndman offers a classic class 3 east ridge/east face scramble, a low class 5 northwest ridge climb, and higher class 5 climbing on its huge north face.
Old Hyndman is likely climbed more often than Cobb Peak located 1.25 miles to the south, but not nearly as often as the aforementioned Idaho 12er Hyndman Peak.
Getting There
From Ketchum, Idaho, drive south on Highway 75 for approximately five miles and turn left (east) onto East Fork Road 118. Continue for seven miles to Hyndman Creek Road 203 where you will turn left and drive an additional 5 miles to the signed trailhead.
Red Tape
A Sawtooth National Recreation Area pass is required for this trailhead. A weekend pass is $5.00 and an annual pass costs $15.00. These passes are available at all area Ranger Stations and many local outdoor stores in Hailey, Ketchum, Sun Valley, or Boise.
It seems the SNRA fees have been discontinued and no longer apply, I will find out for sure and post here.....
6/21/05 Called the Ketchum Ranger Station today, and was advised that the parking pass fees have indeed been discontinued!
When To Climb
Of course this is a matter of preference, but generally speaking, July through September is typically the ideal time to attempt this mountain.
Camping
The trailhead will accommodate many tents if you chose to complete this as a day hike and get an early start. For the west ridge route, excellent camping accommodations are available about 3.5 miles up the Hyndman Creek drainage at 8,700' to the southwest of Cobb Peak. If the class 3 east ridge/east face route is more to your liking, camping is available approximately 4.5 miles in near the two unnamed lakes that sit in Big Basin to the east of Cobb Peak at 9,758' and 10,241'.
Mountain Conditions
As stated on the Hyndman Peak page, there are no web cams or up-to-date data for the conditions of this mountain. Check with the local Ranger Station or this
active forum
. This is an excellent resource for all of Idaho's mountains with the Webmaster
bigdan
having an impressive resume of hiking and climbing throughout the state.
External Links