Intro
In Slovenian language č, š and ž are pronounced like ch, sh, and zh. Our mountain is written
Velika Tičarica
, and the name means 'Big Bird Mountain'.
Initially a classification information is needed. It is obvious that Velika Tičarica is not belonging to Bohinj valley but to Trenta valley. But as we did not group mountains of Julian Alps by valleys, the classification says that Bohinj group stretches all the way to Soča river. On the other side of Soča there's the group of Mangart & Jalovec, which is again completely different and Velika Tičarica doesn't belong to it either.
Overview
It is not a very important, nor very popular mountain, this Velika Tičarica. Another pair of Velika (Big) and Mala (Small) Tičarica stands above the hut in the famous Valley of Triglav lakes, where thousands ascend on top of Mala Tičarica. Here, above Trenta valley, both summits see only a few visits. No good path reaches the highest summit, there are no marks in the neighbourhood and also local people less and less time spend on these mountains. And yet is Velika Tičarica the highest summit in the side streak, which runs above the beautiful
Trenta valley
, paralelly to the much higher streak of
Veliko Špičje
. Being almost in the centre of the valley, it means an
unsurpassable panorama
on the giants of Julian Alps. And indeed, among lower summits only Zadnjiški Ozebnik offers a still broader and more complete panorama. Giants like Bavški Grintavec, Jalovec, Prisojnik, Razor, Triglav, Kanjavec and Veliko Špičje are rising one by one around the valley, each of them rising more than 1800 meters, yes, Triglav even 2200 meters above the valley.
The summit of
Mala Tičarica
stands west of
Velika Tičarica
. The ridge between the two is densely overgrown with pine bushes. Towards the east of the highest summit, there are two unimportant bumps in the ridge,
Košutnik
and
Šnita
, then a bit towards the SE the panoramic
Čisti vrh
, 1875m, comes. This one is important and also much more often visited than Velika Tičarica. From the valley Dol pod plazmi a path goes nearby over the saddle
Čez Drt
, 1808m, down towards the NE into Trebiški dol. When shepherds inhabited the neighbouring alpine meadows, there over was quite a traffic of goods. Nowadays the passage is used by hikers. South-east of Čez Drt pass the ridge goes over a few more unimportant summits and then finally attaches to the main streak of Veliko Špičje. The biggest alpine pasture is
Planina V plazeh
, which can be reached by a mountain road. But it is closed for public traffic and is in the upper part hardly passable even for ordinary bikes.
In summer, you can reach Velika Tičarica by tiny paths, if you find them. Otherwise the terrain is rugged high karst, but below in the forrest it is passable, higher, due to dense pine bush very hard. This means the southern slope, where everyone approaches, of course. The northern slope is steep and rocky, falling 1300 meters down to the banks of Soča river. Not for climbing, not for hiking, not for scrambling. I guess that local hunters might have some interests in those places, otherwise nobody goes there. In winter and spring, when enough snow, the southern slope gets covered and Velika Tičarica becomes a desirable, yet remote goal of
tour skiers
. And there's another outdoor activity which attracts people in summer and autumn -
mountain biking
. From the main valley, up to the high meadows below Velika Tičarica, appropriate roads are surpassing more than 1500 meters of altitude. Even if you come as a hiker, it's worth to take a bike - at least to have a faster return.
Summit Panorama
It is unnecessary and also impossible to describe all the summits and interesting points, which are seen from the top of Velika Tičarica. As mentioned above, many of the
main summits of Julian Alps
are rising around Trenta valley, they are beautifully arranged and we can see many of them from a sligtly different perspective. Deep below us, the
valley of Trenta
is seen. The view from Velika Tičarica on the village Na Logu, with the trio of Prisojnik, Razor and Pihavec above it, can be placed among the most beautiful views in Julian Alps. The other beauty is the
northern wall of Lepo Špičje
. Some 700 meters high, white limestone wall is rising out of green larch woods. Nice climbing routes go there, the scenery is most beautiful in a sunset.
Getting There
The majority of visitors ascend Velika Tičarica from
Na Skali village
. The road to there deters from the main road in Trenta valley (reachable from Bovec or over Vršič pass) a good kilometer east of
Soča village
. The asphalt road goes first through the scattered Vrsnik village, then around the valley to Na Skali, where it ends on two parking places on 1000m and 1050m.
The other possibility, but less comfortable and with a higher altitude difference, is to go by a marked path through
Korita valley
till Trebiški dol. This path deters from the main road a good 1 kilometer south-west of Na Logu village.
Routes Overview
1. From Dol pod Plazmi.
The end valley, just before Ravni dol, can be reached from Na Skali village either by the left road, which is winding over the slopes of Mala and Velika Tičarica, or by the right road and the path, which goes below the walls of Travnik and Plaski Vogel. In Dol pod Plazmi an even weaker road deters left up and in two big turns reaches Planina V plazeh, 1548m. Till here we can get with mountain bikes. From this broad alpine pasture a direct unmarked path supposedly goes up on Velika Tičarica. We were searching it, but couldn't find it in 2008. Perhaps it's easier to find it going down from the summit. So, we go by a weak cart-road further towards the east. On a clearing there's a ciarn on a big rock and a white arrow, showing us the unmarked path, which goes left in the forrest. When on it, we can easilly follow it towards the E-NE. First through a larch forrest, then over a few nice clearings and steeper up on Čez Drt pass, and finally from it left on the grassy summit of Čisti vrh. We see Velika Tičarica far behind on the left. Now we can continue in the vicinity of the main ridge (and left below it), through a mainly pathless terrain, until we reach the summit slope. There, close to the main ridge, we shall again hit a tiny path, which will bring us through pine bushes on top. Knowing all that, it is of course much shorter to turn left earlier. After we go from the cart-road and by a good path till the first big clearing (meadow) in the forrest, we turn left and continue by meadows in a northern direction. When we reach below Košutnik, we go over a few side ridges (each some 10 meters up and down) and reach below the summit slope of Velika Tičarica directly. That's also the best descent, of course. The route is not hard at all, it's a hike-up, where some care is needed on a rugged carst terrain and a good sense for orientation helps a lot. In a fog better don't attempt the ascent - Čisti vrh is an equally nice goal, with a similar panorama and a bit easier to find. From Na Skali we have some 3 hours on top.
2. Over Čez Drt pass.
From Na Logu, 600m, we go southwards into Korita valley. The path is marked. In good one hour we reach Planina Lepoč (meadow), there the path starts to ascend steeper towards the SE. In many turns it reaches Planina Trebiščina, 1412m, and further towards the SE Trebišški dol (creek bed). There we go across the usually dry creek bed and start ascending over the opposite slope. The unmarked path goes steeply over gravel fields towards the west and in some 3h 30min we reach Űez Drt pass, 1808m. Then on the right on Űist vrh and if we wish further on the summit of Velika Tičarica. Some 4h 30min from the valley. We descend by the same route.
Red Tape
Na Skali begins the core area of Triglav National Parc.
Other Interesting Points
Below Na Skali village, you can visit waterfalls of Suhi potok (Dry Creek) - V Koritih. Come when there's enough water!

Just before it jumps into Soča river, Vrsnik creek has a nice gorge.

Soča itself forms a beautiful gorge on the point, where the road to Vrsnik deters from the main valley. And as the "most beautiful river of Europe" Soča is worth of a visit anyway.
Mountain Huts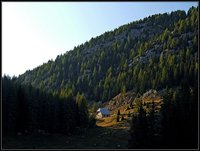 On Planina V plazeh a good hut stands, but I don't have any information how it is opened and if shepherds still spend every summer there. Another hut is on Polog alpine meadow (just by the road). I also have no information if one can sleep on Trebiš&269;ina and Lepoč meadows. In any case none of those huts is arranged for tourist visits.
When To Ascend?

You can ascend Velika Tičarica any time of a season. The worst case would be when there is not much snow, but still enough to make advance hard. And poor visibility can be very unpleasant, because the area is very remote. Anyway you should go up there primarilly to enjoy panorama.
Your Help Needed
Can you describe the path directly from Planina V plazeh on top?

Do you have pictures in times of season, other than autumn? Pictures of skiing, perhaps?

Do you have technical data for mountain bikers?

Were you on Mala Tičarica (route, pictures)?

Do you have any information about the north face?

Do you know if one can sleep in the huts on alpine meadows around?

style="display:block"
data-ad-format="autorelaxed"
data-ad-client="ca-pub-6523272176520096"
data-ad-slot="7132222476">