What's New On This Page?
Feb 9th, 2013: SP V3 design updated.
> Feb 6th, 2006: Link to the new Pasubio - Col Santo GROUP page inserted.
> Jun 12th, 2005: Initial setup of the page.
Overview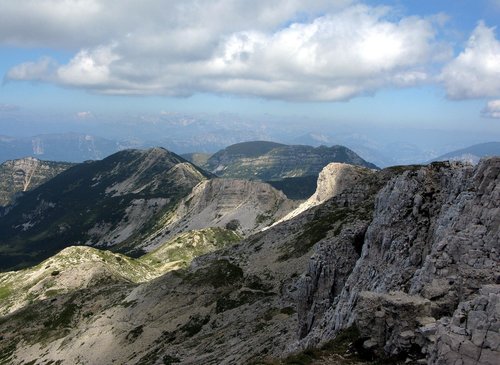 The Broader Area
Monte Pasubio is the highest mountain in Pasubio Group, stretching from Passo Pian delle Fugazze on the south to Astico Valley. Pasubio Group belongs to Prealpi Venete, the German classification refers these mountains also as the Vicenza Alps. Other neighbouring groups are:
- Monti Lessini
(the massif south of Passo Pian delle Fugazze, with
Cima Carega
as the highest summit),
- Sette Comuni
(mountains above the Asiago Plateau - between the Astico and Brenta valley),
- Monte Grappa
(the massif east of Brenta river),
-
Lagorai Chain and Cima d'Asta Massif
Monte Pasubio
Monte Pasubio has its great, but sad reputation from the World War I. Here the two armies positions were very close and heavy fights were fought, taking many casualties. That's why the high plateau and almost the summit can today be reached by military roads. And what roads! Strada delle Gallerie is a true masterpiece, where a narrow road overcomes 800 meters of altitude, going over vertical walls, steep ravines, rock towers and narrow ridges. But it's allowed only for hiking as there were already casualties among bikers (the penalty for biking is €250!). Other nice military roads are very appropriate for mountain biking. When reaching the Porte di Pasubio you can hike up to the main summit, called also Cima Palon, or you can take a round tour, visiting many relics from the World War I. The summit of Monte Pasubio can be reached also by many paths from other directions.
I have no information about hard climbing routes on Monte Pasubio (members, please add info!).
Monte Pasubio also looks possible for tour skiing.
Great biking tour: Ponte Verde, 942 m (on the main road) - Passo Pian delle Fugazze, 1159 m, - Strada degli Eroi - Porte di Pasubio, 1928 m, - Passo di Fontana d'Oro, cca 1700 m - Malga Campiglio, cca 1150 m - Passo di Campiglio, 1216 m - Ponte Verde. Some 6 hours.
Summit Panorama
Besides the neighbouring mountains in a clear day from Monte Pasubio one can see The Adriatic sea with Venice, Dolomites, glaciers of Adamello and Presanella and also a part of the main crest of Alps.
Getting There
For a broader orientation see also the
Pasubio - Col Santo GROUP page
!
From the north, from Central Europe the valley of Adige valley can be reached by the Brenner motorway. South of Monti Lessini the highway Venezia-Milano runs past Verona. From this highway, you can deter and drive north by the highway till Schio/Thiene, where you turn westwards towards Passo Pian delle Fugazze.
Monte Pasubio can be reached from all sides. From the south you can drive till Passo Pian delle Fugazze (between the towns of Schio and Roveretto in Adige valley). There the south approach starts (Strada degli Eroi). On the eastern side of Passo Pian delle Fugazze you can deter right and drive up by a narrow road to Passo Xomo, 1058 m and further up to Passo di Campiglia, 1216 m. There are trailheads of the two eastern routes: Strada delle Gallerie and the Cinque Cime (East ridge) ferrata. From the north a trailhead (European long-distance hike E5) starts on Passo della Borcola, 1206 m. Or you can start down in the valley NW of Posina. From the Adige valley (west) you can reach Passo Pian delle Fugazze from Roveretto.
Map.: Tabacco 1:25000 - Gruppo Pasubio-Carega.
Ascending Monte Pasubio
Also due to the World War I there are so many paths and military roads to the summit plateau and the summit itself, that it is hardly possible to mention all. A good map can help you ascend the summit easily.
The most popular (frequented) ascend routes are
Strada degli Eroi
and
Strada delle Gallerie
, but many hikers ascend the summit also from other directions.
Climbing
Here are two pictures of walls with routes on the southern part of Monte Pasubio: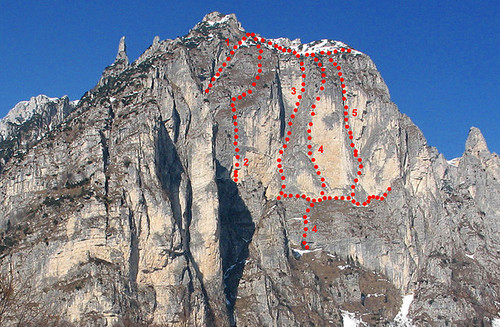 Remembering World War I
For a more detailed description of the WWI on Pasubio see other resources. In severe fightings on this area there were more thar 13.000 casualties. As 'The Peace Trail' crosses also Pasubio, one of the resources to read can be:
Claudio Fabbro : "Sentiero della Pace", Euroedit.1997.
Here I shall post only a few pictures.
Red Tape
No limitations. Military roads on the summit plateau are closed for public traffic.
When To Climb
Monte Pasubio can be climbed any time of the year. Of course different routes have different best seasons.
Camping
For info thanks also to
Claude Mauguier
and
Gabriele Roth
.
SE sector: By the main road, just above Ponte Verde, there is the Rifugio Balasso. Gabriele Roth says it was once the best starting point for climbers (the signature picture illustrates why) ... and food was fantastic.
NE sector : Rifugio Bòrcola, 1182 m. - near Passo Bòrcola, between Val Posina (S) and Val Terragnolo (N). Summer opening, with about room for 10. No service.
NW sector : Rifugio Vincenzo Langa (owner : SAT Rovereto section), 1825 m. Main access from Val Chèserle. Open with full service from june to september, room for 50. + winter shelter for 4, always opened.
Central-S sector :
1- Rifugio Achille Papa, 1928 m., built where WW1 military barracks were settled, on an artificial terrace standing between big rock limestone promontories about 1,5 km SE of Cima Palon. Owner : CAI Schio, room for 40, open from end of june to end of september. Tel. 0445 630233.
2 - Less than 100 meter in distance to the latter, behind and slightly higher, stands Bivouac Marzotto-Sacchi, with room for 10. It opens only in winter ( +++ mind ! avalanche hazard in this particular zone ! +++)
One should check anyway before any outing, ringing at least the official alpine associations (SAT/CAI) and/or local Tourist Offices.