Overview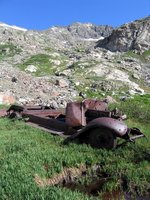 Wheeler Mountain is a high thirteener of the Tenmile / Mosquito Range. The Tenmile / Mosquito is essentially the same range in terms of geology, but separated by the Continental Divide, which runs just south of Wheeler's summit. So, technically, I suppose Wheeler Mountain is part of the Tenmile Range. Wheeler Mountain is ranked in Colorado as
#152
, making it a "Bicentennial" Mountain.
Wheeler Mountain is a seldom-climbed, reclusive peak in the heart of the Tenmile Range. The summit log was placed there in 2001, and barely two pages were filled in the past 4 years. Wheeler does not have any easy routes, and this might explain the lack of summits. Situated above beautiful Wheeler Lake and Platte Gulch, Wheeler Mountain is a beautiful mountain with fantastic surroundings.
This mountain was likely named for
Judge John S. Wheeler
, who established a settlement at the confluence of two ranges, the Tenmile and the Gore in 1880. Remnants of "Wheeler Junction" can still be seen at the base of Copper Mountain's Alpine Lift. Wheeler proclaimed the area as a retreat for horseback riding and trout fishing, and evidently had a vision of what this resort area would become in the next century. (Thanks to
Ryan Kowalski
for this information)
Around Wheeler are several popular peaks.
Quandary Peak
is very close, and Wheeler shares a rocky ridge with
Fletcher Mountain
, and
Drift Peak.
Not far to the south are the popular 14ers
Mount Lincoln
,
Mount Bross
,
Mount Democrat
, and
Cameron Point.
Wheeler is also close to several lesser known Thirteeners, namely
Clinton, McNamee, and Traver Peaks
and
NorthStar Mountain.
If you are looking for a great scramble to a seldom-climbed peak, look no further than Wheeler Mountain.
From the east ridge, (Left to Right) Wheeler Mountain, Drift Peak, Fletcher Mountain, and Quandary Peak
Getting There
Montgomery Reservoir Trailhead
From the South:
Go 10.7 miles north on CO 9 from the CO 9 - US 285 junction in Fairplay.
From the North:
Go 1.1 miles south of the summit of Hoosier Pass on CO 9.
Turn west onto Park County 4. There are two entrances to PC 4 - you want the northernmost one. Use the mileages above to be sure. Proceed down the hill past some homes, keep right at 0.8 miles, keep right again at 1.0 mile and go up the steep hill. You will pass an open gate, and soon see a parking area. Park 2WD cars here.
4WD vehicles can continue around the reservior and park near the Magnolia Mine. There is ample parking here.
Winter Closure is at the 2WD parking area.
The Wheeler Trail(Road)
The Wheeler Trail, which is really a 4x4 road, begins at the Magnolia mine and ends over 3 miles later at Wheeler Lake. This "road" has been adopted by The South Park 4x4 Club.
This road is one of the worst I have seen in this area. I would not take any stock 4x4 vehicle on this road. This is the kind of road that is meant for specially modified vehicles with experienced drivers. There are several very high rock steps (2-3 feet). The first is right before the Magnolia Mine. If that one looks like it is too much for you, then don't even think about going any further. They only get worse. There is evidence all along this road of oil-pan casualties.
Routes
The standard route for Wheeler Mountain begins at the Montgomery Reservoir Trailhead and climbs past Wheeler Lake to the summit.
Click here for this route.
SP member
Ryan Kowalski
has added the
Southern Spur Route.

There may be several other, more difficult possibilities for Wheeler Mountain:
- A climb of the Northeast Face from Blue Lakes. (Snow?)
- A climb of the Northeast Ridge from Blue Lakes.
-
A traverse from Drift Peak.
(Link from CMC website).
-
A traverse from North Star Mountain.
(Link from climber.org)
If any summitpost members have climbed any of these routes, or others, please post them.
Routes Available on Summitpost
BLACK=
Shared Approach to South Ridge and South Spur Routes
RED=
South Ridge via Wheeler Lake
BLUE=
South Spur to East Ridge Route
Red Tape
No red tape on the mountain itself. The parking areas all abut private land and the government owned Montgomery Reservoir. Obey posted land and park in accepted spots.
When To Climb
Winter closure only adds a little distance. Wheeler Mountain would be a difficult winter and spring climb, with avalanche danger and the climb itself offering many challenges.
Camping
Camping is allowed in Platte Gulch. No camping, fires, or overnight parking is allowed near the Magnolia Mine or the Reservoir structures. Obey signed areas.
Mountain Conditions
Click here for a high altitude NOAA forecast.
Visit the
Colorado Avalanche information Center's Website
for current information.
External Links