Overview
Blackwall Mountain is a low ranked 13er located in the San Juan Mountain Range. This peak combines nicely with Wildhorse Peak, in fact you have to bypass Wildhorse on your way to Blackwall. This peak is not often summited since it is not on a centennial or bicentennial lists of Colorado peaks (= highest 100 or highest 200). Its summit has a small cairn and offers great view in all directions, especially of Coxcomb and Redcliff to the north, and Wetterhorn with Uncompahgre to the east.
Colorado Rank: 593.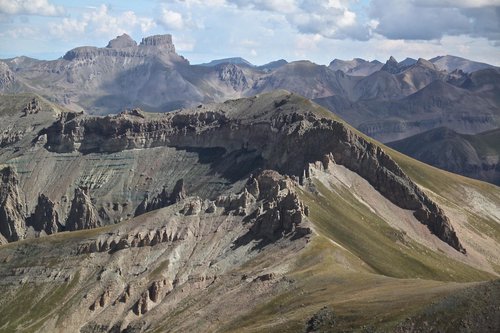 The name was given in 1906 by Board on Geographic Names Decisions. GNIS Detail - Blackwall Mountain

Nearby Peaks: Wildhorse Peak 2.5 km Dolly Varden Mountain 5.5 km Sunshine Mountain 7.6 km
Wetterhorn Peak 7.2 km Matterhorn Peak 8.9 km
Coxcomb 7.8 km Redcliff 8.7 km
Unnamed 13132 ft 4.1 km Darley Mountain 6.8 km Engineer Mountain A 8.4 km
Gravel Mountain 9.8 km Seigal Mountain 9.8 km
Getting There
Access and Hiking via Engineer Pass - American Flats
- the easiest approach is via Engineer Pass and American Flats, which is part of the scenic alpine loop, and drive able seasonally (June through September) with high clearance 4WD vehicle.
From Ouray, the turnoff to Engineer Pass is a little over three miles south of Ouray. Once at Engineer Pass, the road takes you east to American Flats with Wildhorse Peak to the north. The trailhead is on the east side (Lake City side) of the Engineer Pass. There is a marked trailhead for Horsethief Trail, mile marker 17.
From Silverton, follow the road up the Animas River past Howardsville, Eureka, and Animas Forks to reach Engineer Pass.
From Lake City follow the Henson Creek towards Capitol City and Engineer Pass. Trailhead is below the Engineer Pass summit, mile marker 17. There is an Alpine Scenic Loop information sign and a small pull off (=parking lot).
Another great, but long approach on foot (no need for 4WD vehicle and off road driving) would be using Bear Creek Trail approach. You start just 2.3 miles past Ouray, and follow this spectacular historic trail past the Yellow Jacket Mine at 4.3 miles. You will take the left (north) fork well signed for Horsethief trail, and it will bring you to American Flats. One way is about 7.1 miles to American Flats, add 3 more miles to the summit of Wildhorse Peak, so count slightly over 20 mile round trip. Could be a great long trail run, or an overnight backpacking trip.
Detailed description of Bear Creek Trail here.
Route
The peak is a non-technical hike, with a relatively easy access from Engineer Pass area. It is nicely combined with Wildhorse Peak (you have to hike past Wildhorse to reach this peak), and with Peak 12,968 A.K.A. Dragon's Back. It provides excellent views in all directions along its access and from its summit. I particularly enjoyed the section around Dragon's Back - a very scenic peak sitting by a small lake. This spot is ideal for setting up your tent.
The difficulty of the route - South Ridge - does not exceed class 2. Start at the trailhead for upper Horsethief trail - a well marked TH on the east (Lake City) side of Engineer Pass. Follow this trailhead to the base of Wildhorse Peak and then head towards the saddle leading to Peak 12,968 feet (= Dragon's Back). You can see the route from the saddle as seen below. There is no trail, but hiking on the grassy slopes with crossing a little bit of scree is easy. Stop by a little unnamed lake and admire steep west side of Dragon's Back. For scenic pictures of Dragon's Back visit this album.
Red Tape
There are no fees to hike up any of the trail. The driving on alpine scenic roads to access the high approach at American Flats/upper Horsethief Trail is free too, however it does require a high clearance 4WD vehicle.
Expect sheep grassing in the area during the summer, and as
Sarah
mentioned be aware of mean sheep dogs (I did put Duchess on leash this time since 2 of those dogs approached up. No sheep chasing this time).
When to Climb
The 4WD road stays open from June to early October, so this time would be the easiest. Winter time offers a long approach. It looks like a lovely peak to ski, but this would most like require a multi-day trip.
Camping
American Flats is a nice open area of rolling grassy hills. You area is above the tree line, so no protection from winds/storms. You can find many backpacking spots. One of the best is just past Willdhorse Peak at the base of Dragons Back by a small lake. There is a nice flat area in the vicinity of this small green unnamed lake, incredible views, and it is protected from winds. This requires about 4 miles approach in northern direction across the American Flats.
Car camping is better lower down on the road, towards Lake City (east). There are multiple primitive camping spots along Henson Creek for several miles. The elevation is lower here, there are trees around, and campsite although primitive, usually have build up some fire rings from stones.
Developed camping would be a longer drive away: close to nearby towns of Lake City, Silverton, or Ouray.
External Links
Blackwall Mountain on 13ers.com
More information about Alpine Loop National Back Country Byway