Small pyramid sited on the crest watershed between the Walloons Fenêtre and Grauson-Lussert-Doreire, respectively in the Valleys of Saint Marcel and Cogne. Included between the Saddle
3.032m
, immediately Southeast of the two near points of Laval and the "Collar" Tessonet
(3.051m)
on the crest of the homonym point, that subsequently he raises again up to it well more famous pyramid of the Tersiva
(3.515m)
, as well as second greater peak, after the Emilius Mountain
(3.559m)
, of that whole vast inclusive mountainous area among North it Dora Baltea Stream, the Valley of Southwest Cogne, the Valley of Southeast Champorcher and all the other small valleys and "valloni" that go down toward Pont Saint Martin in Valley of Aosta and the Valley of the Ogre and the City of Ivrea in the Region Piedmont, constituent the Southeastern Graian Alps. Devoted to
Gianni or Jean Vert
(we will have to effect a search on this character), it is a little known mountain and still less frequented, despite the facility of slope; they are preferred her the two nearer Points of Laval for the proximity to the Hill of Saint Marcel or Corona (
you see later
) and it seems more mountain reserved to the hunters that not to the mountain climber (on his Northeastern slopes hunting results however forbidden, since belonging to the
Reseve of Hunting of the Marquis Turati, ex Reserve of the Baron of Gressoney Beck Peck(c)oz
. Nevertheless it is him as pleasant trip to consider and surely profitable from the panoramic and landscape point of view as well for all the tops that "they tie" the Point of Leppe
(3.305/6m)
to the Tersiva; the horizon rather results vast and spaces to 360° on the whole Valley of Aosta. Beautiful trip also for the ski-mountaineering, as well as to effect with the snowrackets, holding however well present that in the part "low" of the itinerary, or in the line among the bottleneck of the Ecloseur Pastures
(1.903m)
, after the wooden small bridge, and up to the Alp of Grauson Vecchie or Dèsot (= Old also Lower;
2.273m
, a serious danger of avalanches and snowslides it exists coming from the Buttress that from the Creya Mountain
(3.015m)
it comes down to the Mont-Salet (
2.787m
; * famous ironmines or magnetite (= loadstone) of Cogne, famous in the world and currently closed); besides the crossing at the base of the first one, dominating here from the tall one the Torrent de Lussert/Gru particularly inclosed and hollowed with precipice also of hundred meters, it becomes delicate if effected with the snowshoes in concomitance to the conditions of notable hardened snow and frozen.
Piccola piramide sita sulla cresta spartiacque tra i Valloni Fenêtre e Grauson-Lussert-Doreire, rispettivamente nelle Valli di Saint Marcel e di Cogne. Rappresa tra la Sella
3.032 m
, subito a SE delle due punte viciniore di Laval ed il Colletto Tessonet
(3.051 m)
sulla cresta dell'omonima punta, che in seguito si rialza fino alla ben più famosa piramide della Tersiva
(3.515 m)
, nonché seconda vetta maggiore, dopo il Monte Emilius
(3.559 m)
, di tutta quella vasta area montuosa compresa tra la Dora Baltea a Settentrione, la Valle di Cogne a SO, la Valle di Champorcher a SE e tutte le altri piccole valli e valloni che scendono verso Pont Saint Martin in Valle d'Aosta e la Valle dell'Orco e la Città di Ivrea nella Regione Piemonte, costituenti le Alpi Graie Sudorientali. Dedicata a
Gianni o Jean Vert
(dovremo effettuare una ricerca su questo personaggio), é monte poco conosciuto ed ancor meno frequentato, nonostante la facilità di salita; le si preferiscono le due più vicine Punte di Laval per la vicinanza al Colle di Saint Marcel o Corona (
vedi dopo
) e sembra più montagna riservata ai cacciatori che non agli alpinisti (sulle sue pendici Nordorientali la caccia risulta però proibita, poiché appartenenti alla
Riseva di Caccia del Marchese Turati, ex Riserva del Barone di Gressoney Beck Peck(c)oz
. Ciononostante é da considerarsi come gita piacevole e sicuramente remunerativa dal punto di vista panoramico e paesaggistico, come daltronde per tutte le cime che "legano" la Punta di Leppe
(3.305/6 m)
alla Tersiva; l'orizzonte risulta alquanto vasto e spazia a 360° sull'intera Valle d'Aosta. Bella gita anche per lo sci alpinismo, nonché da effettuare con le racchette da neve, tenendo però ben presente che nella parte "bassa" dell'itinerario, ovvero nel tratto tra la chiusa dell'Ecloseur
(1.903 m)
, dopo il ponticello in legno, e fino all'Alpe di Grauson Vecchie o Dèsot (= Old also Lower;
2.273 m
, esiste un serio pericolo di valanghe e slavine provenienti dal Contrafforte che dal Monte Creya
(3.015 m)
discende al Mont-Salet (
2.787 m
; * famose miniere di ferro o magnetite di Cogne, rinomate nel mondo ed attualmente chiuse); inoltre la traversata alla base del primo, dominando dall'alto il Torrent de Lussert/Gru qui particolarmente inforrato con precipizio anche di un centinaio di metri, diventa delicata se effettuata con le racchette in concomitanza alle codizioni di notevole neve indurita e ghiacciata.
First Ascent
First on the summit: Unknown.

In Winter: Unknown.

Integral traverse from Saint Marcel Pass, Laval Points, Gianni Vert Point, Tessonet "Collar" to Tessonet Point: Osvaldo Cardellina and Giuseppe Lamazzi, Aug 27th, 1994.

SE Ridge through the Quotas 3.116m, 3.127m, 3.066m, 3.074m, 3.063m, 3.074m: Osvaldo Cardellina and Giuseppe Lamazzi, Aug 27th, 1994, in descent.
Getting There
BY CAR:
From Torino, Milano, etc: Motorway A5. Exit in Aosta Ovest. Drive to the near Aymavilles. Follow in the direction of Valle di Cogne.
From Switzerland: through the Grand St. Bernard Tunnel or the homonym Pass). Drive to Aosta, then follow Courmayeur direction on SS.26. Just after Sarre, turn to the left, in the direction of Valle di Cogne.

From France: through Mont Blanc Tunnel or Petit St. Bernard Pass). It isn't necessary to enter in Motorway A5, you can drive through SS.26 Aosta direction. Before arriving at the Village of Sarre, follow the sign and turn right towards Valle di Cogne.
After Aymavilles, the Regional Road n° 47 crosses the Villages of Vieyes, Epinel and Cretaz and after about 25 Km. arrives at Cogne (1.534m). Follow the road signs for Gimillan and Lillaz; arrived at a round-about, recently built in proximity of the St. Anthony Chapel, go left along the scenic route leading to the Village of Gimillan (1.787m), 3 Km. after Cogne. Usually no parking problem.
BY PLANE:
Aeroporto Internazionale "Corrado Gex" Saint Christophe (Aosta).
Approach
To follow departing from the Parking lot
1.744 meters
of Gimillan Village (important Fraction of Cogne), near the homonym torrent (or from the bridge in wood I immediately approach to quota
1.800 meters around
that it brings dirt road "poderale" to the new road for then to rejoin him with the path as soon as before the ruins of Alp Tarabouc; * characteristic little church), the road for the Point Tersiva
(3.515m)
along the Walloon of the Grauson through the path
n° 8/TVC
reaching following, after a brief but steep descent, the small Bridge of the Ecloseur (
1.903m
; = The Weir) on the Torrent Lussert/Grauson, otherwise says Torrent Gru, for the reunification of a whole series of streams and small torrents, and, through a long diagonal in the middle of beautiful lawns after the 2000 flood, the following Pila Pasture with beside a splendid fall
(2.021m)
; leaving 2.003 meters to quota the deviation
non numbered
for this last a little before, to always continue instead toward North dominating from the tall one a series of little falls, creating the same aforesaid. Doubling on the left the following round promontory rocky
2.156 meters
, with the path-muletrack characterized by a series of steps in iron, to mostly address him toward Northwest bringing himself in a little valley that he goes up again with some small and steep hairpins bends and going out on the impending upland. With the signal of the trail, through a long diagonal along the wood and dominating from notable height the fund of the "vallone", to arrive so to the fork for the Alp Crouzet
(2.244m)
"perched" on the edges of the Torrent de Lussert, but not to reach it; to the following alternative
2.296 meters
, entering the beautiful tableland of Grauson Vecchie (= Old), I immediately approach to a cross to leave on the right the path
n° 8C
, that it climbs to the Lake of Money
(2.550m)
, and to reach this alp (
2.273m
; good point of standstill; rising Pré-Vaudan in the lawn as soon as to side of the small gangway for the pasture). From this, returning to the path "mother", through the same to enter a small throat that races at the base of the Southern Slope of the Tête Praz de Ler
(2.526m)
and to entirely cross it reaching a second small bridge, says of Pikaciù; abandoning to the right (East) the prosecution of the path
n° 8/TVC
, that it is addressed to the Alps of Pralognan and Erveilleres also Ervillères in the "Vallone" Doreire, to continue instead toward North with the path
n° 8B
and, with a wide "tornante" (= hairpin), to reach the Log Cabin of the Hunters (
2.479m
; fountain; beautiful frontal views on the Subgroup of the Penne Blanche, on the back Grauson Tower and in distance to East on the Point Tersiva) and, crossing the rump of the following grassy back, to reach to Grauson Dessous or New (
2.540m
; rising), near the old Shelter Tentori by now nonexistent, since gone to fire in June of 2001. From this point, surrendering to North the path that continues toward the four splendid Lakes of Lussert and the Hill of Laures, to continue toward East-southeast with the path
n° 8B/102
crossing a zone, that her out exit the rivulets of the torrent makes marshy; with a wide "tornante" seeds circular to reach a tiny loch, said of the Frogs (
2.641m
; poster in wood) passing it on its Southern shore. Gradually to go up again the impending grassy promontory debris on his thread and to reach with a small deviation, on path
not numbered
, the well greater
Lake Corona
(
2.702m
; T; 2h'15/2h'30; deserving of visit and standstill to photographic purpose, as well as destination of trip for herself).
Frogs tiny Loch & Corona Lake in fall season, end of October 1978 or first week of November
Returning to the path basic of, continuous to decidedly changing direction in East-northeast crossing in zones characterized by "pietraie" (= stony ground), followed from a small walloon-basin; with to last steep line, where the path becomes minuscule climbing on soil subject to landslides, to reach the Hill of Saint Marcel or With of Coronas (
2.913/6m
; E; altogether 3h'00/3h'30;
* * devoted Joseph Corona
to the mountain climber that for first it crossed it with its Companions in winter from Cogne to Saint Marcel, on 1875; the final s is probably to seek him in genitive the Saxon and therefore Pass of Corona as similarly the underlying homonym lake; to the same is dedicated a little point into the Subgroup of the Rosa of the Banchi, precisly between the of Asgelas Point and the Balma Pass, in neighbour Champorcher Valley and on frontier with the Piedmont Region. Near the footstep registrations on stone ollare, to type of stone bluish color very appreciated for his malleability and therefore proper for the typical sculptures of the Aosta Valley
(
* * * Wide exposition in famous and millenarian "Foire de Saint Ours" (= Great Fair of Saint Bear)
into ancient streets and "roads-workers in blind-alley" in Aosta Bourg, on Jan 31 day)
; very beautiful and profitable crossing excursion going down to Saint Marcel stopping by the Alps Great Chaux, Plan Rué and Mulac; from the same one it opens to fan to splendid sight on the Alps Pennine, where it detaches the slender and very renowned pyramid of the Cervino also Matterhorn
).
And at the end of the WINTER ASPECT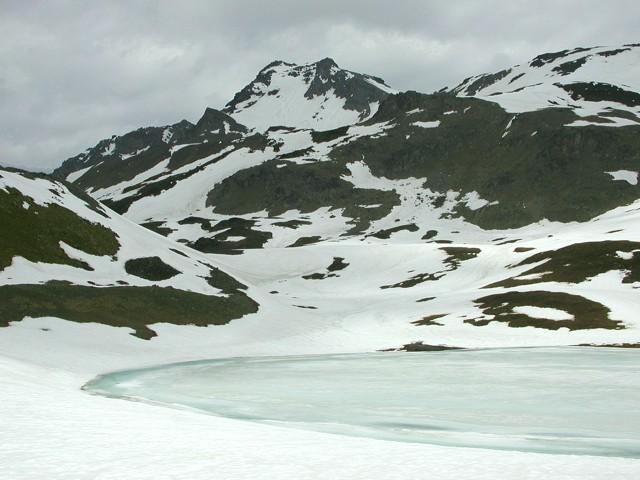 Seguire partendo dal Parcheggio
1.744 m
di Gimillan, presso l'omonimo torrente (oppure dal ponte in legno subito appresso a quota
1.800 metri circa
che porta alla nuova strada poderale per poi ricongiungersi con il sentiero appena prima dell'Alpe di Tarabouc; * chiesetta caratteristica), la strada per la Punta Tersiva
(3.515 m)
lungo il Vallone del Grauson tramite il sentiero
n° 8/TVC
raggiungendo di seguito, dopo una breve ma ripida discesa, il Ponticello dell'Ecloseur (
1.903 m
; = La Chiusa) sul Torrent Lussert/Grauson, altrimenti detto Torrent Gru, per la riunificazione di tutta una serie di torrenti e torrentelli, e, tramite un lungo diagonale in mezzo a bei prati bonificati dopo l'alluvione del 2000, la successiva Alpe di Pila con a fianco una splendida cascata
(2.021 m)
; lasciando poco prima a quota
2.003 metri
la deviazione
non numerata
per quest'ultima, continuare invece sempre verso Settentrione dominando ben dall'alto una serie di cascatelle, originanti dabbasso la predetta. Doppiando sulla sinistra il successivo tondeggiante promontorio roccioso
2.156 metri
, con il sentiero-mulattiera caratterizzato da una serie di gradini-puntoni in ferro, indirizzarsi maggiormente verso NO portandosi in un valloncello che si risale con alcuni piccoli e ripidi tornanti e uscendo fuori sul pianoro soprastante. Dopo il cartello con segnavia, con un lungo diagonale attraverso il bosco e dominando da notevole altezza il fondo del vallone, arrivare così al bivio per l'Alpe Crouzet
(2.244 m)
"appollaiata" sui bordi del Torrent de Lussert, ma non raggiungerla; al successivo bivio
2296 metri
, entrando nel bel pianoro di Grauson Vecchie, subito appresso ad una croce lasciare sulla destra il sentiero
n° 8C
, che sale al Lago di Money
(2.550 m)
, e raggiungere quest'alpeggio (
2.273 m
; ottimo punto di sosta; sorgente Pré-Vaudan nel prato appena a lato della passerella per l'alpe). Da questa, ritornando al sentiero "madre", tramite lo stesso entrare in una goletta che corre alla base del Versante Meridionale della Tête Praz de Ler
(2.526 m)
e percorrerla interamente raggiungendo un secondo piccolo ponte, detto di Pikaciù; abbandonando a destra (E) la prosecuzione del sentiero
n° 8/TVC
, che si indirizza alle Alpi di Pralognan e di Erveilleres nel Vallone Doreire, continuare invece verso N con il sentiero
n° 8°B
e, con un largo tornante, raggiungere la Baita dei Cacciatori (
2.479 m
; fontana; belle vedute frontali sul Sottogruppo del Penne Blanche, sulla retrostante Tour Grauson ed in lontananza ad Oriente sulla Punta Tersiva) e, percorrendo la groppa del dosso erboso successivo, pervenire a Grauson Dessous o Nuove (
2.540 m
; sorgenti), presso il vecchio Rifugio Tentori ormai inesistente, poiché andato a fuoco nel Giugno del 2001.
The trail fom Frogs Lake to Corona Loch/Il tratto intermedio tra il Laghetto delle Rane ed il Lago Corona
Da questo punto, abbandonando a N il sentiero che continua verso i quattro splendidi Laghi di Lussert ed il Col des Laures, proseguire verso E-SE con il sentiero n° 8B/102 attraversando una zona, che la fuor uscita dei rivoletti del torrente rende paludosa; con un largo tornante semi circolare raggiungere un laghetto, detto delle Rane (2.641 m, cartello in legno) passandolo sulla sua riva Meridionale. Gradualmente risalire il soprastante promontorio erboso detritico sul suo filo e raggiungere con una piccola deviazione, su sentiero non numerato, il ben più grande Lago Corona (2.702 m; T; 2h'15/2h'30; meritevole di visita e sosta a scopo fotografico, nonché meta di gita per se stessa). Ritornando al sentiero di base, continuare cambiando decisamente direzione in E-NE attraversando una zona caratterizzata da scoscese pietraie, seguita da un valloncello-conca; con un ultimo tratto più ripido, dove il sentiero diventa minuscolo salendo su terriccio franoso, raggiungere il Colle di Saint Marcel o Col Coronas (2.913/6 m; E; complessivamente 3h'00/3h'30;
* * dedicato all'alpinista Giuseppe Corona che per primo l'attraversò con i suoi compagni in inverno da Cogne a Saint Marcel, nell'anno 1875; la s finale è probabilmente da ricercarsi nel genitivo sassone e quidi Colle di Corona, come daltronde il sottostante omonimo lago; allo stesso é dedicata una puntina nel Sottogruppo della Rosa dei Banchi tra la Punta dell'Asgelas ed il Colle della Balma, nella Valle di Champorcher ed al confine col Piemonte. Nei pressi del passo iscrizioni su pietra ollare, un tipo color bluastro molto apprezzata per la sua malleabilità e quindi adatta alle tipiche sculture della Valle d'Aosta (* * * Vasta esposizione nella famosa e millennaria "Fiera di Sant'Orso" (= Fiera), che si svolge nelle vie e nelle "ruelles cul-de-sac" (viottoli a fondo cieco) dell'antico Borgo di Aosta, l'ultimo giorno di Gennaio d'ogni anno); molto bella e remunerativa traversata escursionistica scendendo a Saint Marcel passando dalle Alpi Grande Chaux, Plan Rué e Mulac; dal medesimo si apre a ventaglio una splendida vista sulle Alpi Pennine, dove spicca la slanciata e famosissima piramide del Cervino).


Route
From the Hill of Saint Marcel (2.913/6m) or otherwise said Corona(s)
to abandon the path, that with the
n° 4
go down in the "Vallone" Fenetre toward the Great Chaux Pastures and Turati Hunting House, and brusquely changing direction toward Southeast before and then East-southeast to go up again the crest watershed and boundary and restrictive the confinements among the Communes of Cogne and Saint Marcel. Doubled a small first rocky prominence on the left (East; or to directly overcome him with some amusing passages of II°-/II°), he easily continues on the thread of ridge, through weak traces alternated to more lines in evidence, in direction of the Northerner Point of Laval or NW Summit
(3.091m)
, characterized by a great little "stoneman"; always without any difficulty the small shoulder, with more brownish rocks, is reached at first
2.976 meters
with signal in stone and, after a brief subsidence to quota
3.076 meters
, the aforesaid peak is reached to (F; 0h'30 from the pass).
SHADOWS on the watershed Ridge from Leppe Point to Point Tersiva, before of Saint Marcel also Corona Hill
From this to quickly reach the Southern Peak or SE, the most elevated
(3.101m)
, always holding himself on the dividing crest, and to continue toward the wide one and debris saddle following
3.032 meters
, precedent the Top; after a turned initial line mostly toward South, the ridge, overcoming some meaningless protuberances, form a great deviation almost to straight angle, with run in false level route first to Southeast and therefore again toward South, addressing itself toward a casting of bluish broken rocks, descending to Grauson/Lussert Walloon, to the beginning of the more part "full-bodied" of the mountain (
you see above photo of Emilius,Zed and Mark 87
). Leaving on the right this casting, to continue on the ridge, that he here takes the form of round back, and, old another line steep debris, goes to melt himself with some small rocky, as soon as underlying bands the Peak. To easily overcome her in direct way (some lines of I°) or throug in zigzag route among the same easily to reach the Point Gianni or Jean Vert (
3.148m
, but in the most recent cartography
3150m
; E; F -; 0h'45/1h'00 from the hill; 4h'30/5h'00 in total). Along the whole run in crest, beautiful views on the Southern appendices of the GROUP of the Emilius (Emilius in distance to Northwest, then toward South Red Points, Point of Laures and Point Garin with his South Buttress, that unties him up to the Point of Arpisson, above the inhabited area of Gimillan), toward the two great crests that go down in parallel toward the central axle of the River Dora Baltea or Leppe Point toward the Chain of the Roises also Rouèses to the left (North) and of the Grand Avert on the opposite side (Northeast), on the dividing crest the Walloons of Grauson/Doreire from the Point Tersiva to the Subgroup Penne Blanche-Mount Creya with the Mountain Chain of the Gran Paradiso to the shoulders, as well as on the pursuance of the same ridge that, formed the "Collar" of the Tessonet, it raises again him to the homonym point
(3.266m)
salt still to the Coast of the Tessonet and, after the minuscule Hill Tersiva, reaches this last
(3.515m)
, the more elevated of the whole this area, with his beautiful Crest N-NW, generally snowy.
NOTE: pay attention in the case of snow: during the crossing from the Punta Laval to the Punta Gianni Vert, stay always under the ridge, avoiding to walk on the snowy great cornices easy, seemingly attractive and safe to all appearances, but lethal in the event of collapse.

Dal Colle di Saint Marcel (2.913/6 m) o altrimenti detto Corona(s) abbandonare il sentiero, che con il n° 4 scende nel Vallone Fenetre verso l'Alpe di Grande Chaux e la Casa di Caccia Turati, e, cambiando bruscamente direzione verso S-SE prima e poi SE, risalire la cresta spartiacque e limitante i confini tra i Comuni di Cogne e di Saint Marcel.

(3.091 m)
, caratterizzata da un grande ometto in pietra; sempre senza nessuna difficoltà si raggiunge dapprima la piccola spalla formata da rocce maggiormente "brunastre"
2.976 metri
con segnale in pietra e, dopo un breve avvallamento a quota
3.076 metri
, si perviene alla vetta predetta (F; 0h'30 dal colle). Da questa raggiungere rapidamente la Vetta Meridionale o SE, la più elevata
(3.101 m)
, sempre tenendosi sulla cresta divisoria, e continuare verso la larga e detritica sella successiva
3.032 metri
, precedente la Cima; dopo un tratto iniziale maggiormente rivolto verso Sud, la cresta, superando alcune protuberanze insignificanti, forma una grande deviazione quasi ad angolo retto, con percorso in falso piano prima a SE e quindi nuovamente verso S, indirizzandosi verso una colata di rocce spezzate bluastre all'inizio della parte più "corposa" della montagna (
vedi sopra foto di Emilius, Zed e Marco 87
). Lasciando sulla destra questa colata indirizzata verso il Vallone del Grauson/Lussert, proseguire sulla cresta, che qui prende la forma di dosso tondeggiante, e, superato un altro tratto detritico più ripido, va a fondersi con alcune piccole fasce rocciose, appena sottostanti la Vetta. Superarle facilmente in modo diretto (alcuni tratti di I°) oppure zigzagando tra le stesse con facilità raggiungere la Punta Gianni o Jean Vert (
3.148 m
, ma nella cartografia più recente
3.150 m
; E; F-; 0h'45/1h'00 dal colle; 4h'30/5h'00 in totale). Lungo l'intero percorso in cresta, belle vedute sulle propaggini Meridionali del Gruppo dell'Emilius (Emilius in lontananza a NO, poi verso Sud Punta Rossa. Punta di Laures e Punta Garin con il suo Contrafforte Sud, che si snoda fino alla Punta di Arpisson sopra l'abitato di Gimillan), verso le due grandi creste che scendono in parallelo verso l'asse centrale del Fiume Dora Baltea ovvero della Punta di Leppe verso la Catena delle Roises o Rouèses a sinistra (N) e del Grand Avert sul lato opposto (NE), sulla cresta divisoria i Valloni di Grauson/Doreire dalla Punta Tersiva al Sottogruppo Penne Blanche-Monte Creya con la Catena del Gran Paradiso alle spalle, nonché sul proseguimento della cresta medesima che, formato il Colletto del Tessonet, si rialza all'omonima punta
(3.266 m)
sale ancora alla Costa del Tessonet e, dopo il minuscolo Colle Tersiva, raggiunge quest'ultima
(3.515 m)
, la più elevata di tutta questa area, con la sua bella Cresta N-NO, in genere innevata.
NOTA: prestar attenzione in caso di abbondante innevamento: durante la traversata dalla Punta di Laval alla Punta Gianni Vert, restare sempre un pò al di sotto del filo di cresta in genere formato da cornicioni ed evitando di "cavalcarli" all'apparenza facili da percorrersi nonché invitanti, onde evitare la possibilità di crollo-collasso dei medesimi.
Difficulty
The route can be considered from EE/F.
L'itineraro è da classificarsi da EE/F.
Essential Gear
Hiking gear.
Da Escursionismo.
Campings
Remember that free camping is forbidden (except for emergency reasons, over
2.500m
, from darkness until dawn).
Webcam
WEBCAM on Aosta Valley:
Webcam
Mountain Conditions
You can get meteo information at the official site of the Regione Valle d'Aosta:
Valle d'Aosta Meteo
Books and Maps
BOOKS:
"Guida delle Alpi Occidentali" di Giovanni Bobba e Luigi Vaccarone C.A.I. Sezione di Torino Volume II (parte II), 25 Maggio 1896.
"Guida dei Monti d'Italia – Emilius Rosa dei Banchi-Parco del Mont Avic" di Giulio Berutto e Lino Fornelli - Club Alpino Italiano/Touring Club Italiano, Marzo 2005.
"Diari Alpinistici" di Osvaldo Cardellina e Indice Generale accompagnato da Schedario Relazioni Ascensioni 1964-2014 (inediti).