During the month of August many people climb Mount Emilius, but not in the other periods, in which there are few people and a great quiet! From the peak it is possible to admire a beautiful view to 360° on entire and complete Valley of Aosta. The Normal Route is quite easy, without technical passages, but it's necessary a few of experience to climb the last part on the ridge, because in some places quite exposed to Southeast, and often covered with fine debris on easy rocks through which the trail passes, (
***watch
the beginning of 2000, unfortunately, we have to record, confirming what was stated two fatal misfortunes, just above the Three Capuchins Pass and another three during the descent of the
"Via Ferrata"
). Do not underestimate. The construction of the Refuge and the constant
"massification"
of the route also involves this. Again, not to trivialize the climb and with regard to the West Ridge (once very rarely traveled) or
"Via Ferrata"
, departing from Federigo Zullo Bivouac at Carrel Hill (
2.907m
; always open) remember to not deal with the bad weather because it is very exposed to lightning. Among the Normals remains the East Crest (most exposed and challenging, with steps up to the II°) starting at the Ménabreaz Shelter
(2.546m)
to Laures. By itself, above the Municipality of Grand Brissogne, you can, passing near Lake Dessus and Ghiacciato (Upper and Frozen), climb to Pass of Three Cappuccini by connecting with the way Pila. Moreover, you can also get from Gimillan ((
1.787m
; above Cogne-Resort) over the Garin Hill
(2.815m)
and also from the Grauson-Lussert Vallon via to the Hills Lussert des Laures
(3.036m)
and Arbolle
(3.154m)
by increasing even more the road, especially in the latter case with crossing on three walloons. In any case the
"Via Classical"
remains that by Pila (now facilitated by the presence of a comfortable refuge), of which we speak just below.
Emilius is situated at South of Aosta, the main city of the region. From this turn to South and reach
"Pila-Resort" (1.850 meters, reachable by car, bus or cable car)
where you can take a telpherage that bring you until
2.300
meters of altitude. You follow the signals to Chamolè Lake
(2.325m)
and then through a mountain pass at
2.641 meters
of altitude you arrive to
Rif. Alpe Arbolle
, at
2.526
meters, very confortable and where it's possible to sleep. The day after, you walk on the left of the Arbolle Lake and on a path you arrive to the feet of the mountain. At the cross-path with Arbolle Hill near a small lake (Lago Gelato
2.956m
) you turn before left (North) and after right (East) and go up on a great moraine (heard the water gurgling beneath large boulders) that leads to the ridge (called
"Crest of Trois Capuchins"
). When you arrive to the ridge, nearby a homonym pass
(3.241m)
, turn left and look the signals (!!) for don't loose the way (6 hours from Pila; 4 hours from Refuge Arbolle neighbor the Alp with the same name).
Durante il mese di Agosto molte persone scalano il Monte Emilius, ma non ugualmente negli altri periodi, in cui ci sono pochi alpinisti ed una grande tranquillità! Dalla vetta si può ammirare il panorama con ottime vedute completamente a 360° sull'intera Valle di Aosta. La via normale è abbastanza facile, senza passaggi tecnici, ma necessita d'un pò d'esperienza per salire l'ultima parte sul crinale, poiché in alcuni tratti abbastanza esposta a Sudest e spesso ricoperta da fine detrito sulle facili rocce interrompenti il sentiero, (
*** attenzione
agli inizi del 2000 purtroppo dobbiamo registrare, a conferma di quanto affermato, due disgrazie mortali, appena al di sopra del Passo dei Tre Cappuccini ed un'altra durante la discesa della
"Via Ferrata"
). Non sottovalutare. La costruzione del Rifugio e la costante
"massificazione"
del percorso comporta anche questo. Ribadisco, non banalizzare la salita e per quanto concerne la Cresta Ovest (una volta molto raramente percorsa) o
"Via Ferrata"
, con partenza dal bivacco Federigo Zullo al Colle Carrel
(2.907 m)
, ricordare di non affrontare la medesima con cattivo tempo perché molto esposta ai fulmini. Tra le vie Normali rimane la Cresta Est (più esposta, nonché impegnativa, con passaggi fino al II°) con partenza dal Rifugio Ménabreaz
(2.546 m)
alle Laures. Dallo stesso, sopra il Comune di Grand Brissogne, si può, passando nelle vicinanze dei Laghi Dessus e Ghiacciato, salire al Passo dei Tre Cappuccini effettuando il collegamento con la via da Pila. Inoltre si può arrivare anche da Gimillan (
(1.787 m
; sopra Cogne) attraverso il Col Garin
(2.815 m)
ed anche dal Vallone di Lussert tramite i Colli des Laures
(3.036 m)
e di Arbolle
(3.154 m)
così allungando ancor più la strada, soprattutto nell'ultimo caso con l'attraversamento di ben tre valloni. In ogni caso la
"Via Classica"
rimane quella da Pila (oggi facilitata dalla presenza d'un confortevole rifugio), della quale parliamo appena sotto.
L'Emilius è situato al Sud di Aosta, la città principale della regione. Da questa indirizzarsi a Mezzogiorno e raggiungere il
"Pila-Resort" (1.850 metri, raggiungibile in auto, bus o funivia)
, dove si può prendere una seggiovia che vi porterà fino a 2.300 metri d'altitudine. Seguite i segnali per il Lago di Chamolè
(2.325 m)
e poi, attraverso l'omonimo colle
(2.641 m)
s'arriva al
Rif. Alpe Arbolle
(2.526 m)
, molto confortevole e ove è possibile pernottarere. Il giorno appresso, si inizia camminando sulla sinistra del Lago Arbolle e su sentiero si perviene ai piedi della montagna. All'incrocio con la via per il Col d'Arbolle, nei pressi d'un piccolo lago (Lago Gelato
2956 m
), si gira dapprima a Nord e poi ad Est salendo su d'una grande morena (senti l'acqua gorgogliare sotto i grandi massi) che conduce sul crinale (chiamato
"Cresta dei Tre Cappuccini"
). Quando lo si raggiunge presso un omonimo passo
(3.241 m)
girare a sinistra e guardare i segnali (!!) per non perder la strada (6 ore da Pila; 4 ore dal Rifugio d'Arbolle nei pressi dell'Alpe con identico nome).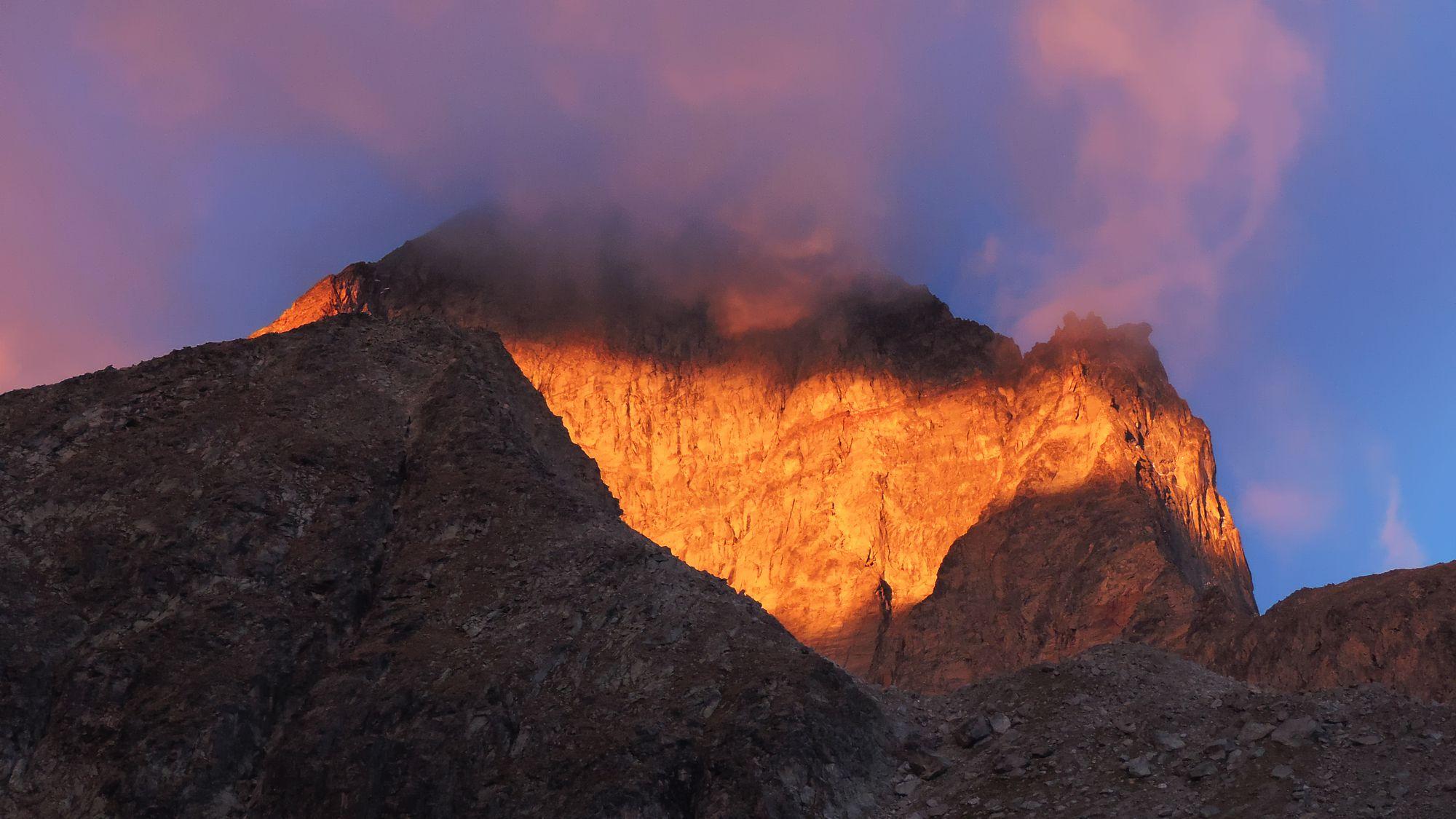 First Ascents
First on the Summit: Giovan Battista Defey, Lorenzo Cerise and a company unmentionable, (Summer 1823), in ascent from Arbolle Walloon.

In winter: Lino Binel, Amedeo Berthod and Leonardo Cossard, (Feb 15th, 1934), in ascent from Arbolle through S-SE Crest.

S-SE Arête ("Three Capuchins" Crest or Normal Route): Giovan Battista Defey, Lorenzo Cerise and a company unmentionable, (Summer 1823).

S Slope (South Little Couloir and W Crest): Osvaldo Cardellina, lone, (Jul 08th, 1984), from Pila and Arbolle Vallon.

W-SW Great Pillar and W Crest ("Direct Line to Grey Jump"): Osvaldo Cardellina and Danilo Garzotto, (Oct 11th, 1986), from Pila, Arbolle, Frozen Loch.

W-SW Slope ("Passaggio Corona"): Giuseppe Corona, Venanzio Defey and Charvensod Guide Grégoire Comé, (Sep 09th, 1875), from Pila and Lago Gelato

W Arête (N Wall Little Emilius): Giovan Battista Devalle, Ercole Daniele, Alessandro Pession and Luigi Bich, Valtournanche Guides, (Aug 30th, 1897), from Arpisson Alp.

N Wall and W Arête (Western Couloir): Osvaldo Cardellina, solo; (Aug 09th, 1998), from Pila and Federigo Zullo Bivouac.

N Wall (Pillar of Right): Renato Quendoz and Pino Trevisan, (Sep 27th, 1970), in ascent from Peckoz Shelter below Carrel Hill.

N Wall and W Arête (Central Couloir): Anselme Falcoz and Massimo Mila; (Summer 1940), from Peckoz Shelter.

N Wall and W Arête (Central Couloir and Left Pillar): Giulio Adolfo Ourlaz and Emanuele Tosana, (Autumn 1942), in ascent from Peckoz Shelter.

N Wall and N Edge (Pillar of Left with diagonal to N Edge): Lino Binel, Renato Chabod and Amilcare Crétier, (Aug 10th, 1926), in ascent from Peckoz Shelter.

N Wall and W Arête: Lino Binel and Amilcare Crétier, (Aug 21th, 1927), in ascent from Peckoz Shelter.






N Wall (Direct Line): Osvaldo Cardellina and Camillo Roberto Ferronato, (Aug 31th, 1980), in day from Pila.

N Wall (Superdirect to Summit): Osvaldo Cardellina, Sandrino Casalegno, Maurizio Castellan and Camillo Roberto Ferronato, (Jul 28th, 1984), in day from Pila.

N Wall and N Edge ("Mammellone" Via): Giulio Adolfo Ourlaz and Emanuele Tosana, (Spring 1942), in ascent from Peckoz Shelter.

N Wall (Black Triangle) and NE Edge: Angelo Bozzetti and Pietro Rosset, Valpelline Mountain Guides, (Sep 11th, 1960), in ascent from Comboé Alp.

N-NE Edge ("Three Curates" Crest): Abbots Georges "Louis" Bonin, Pantaléon Bovet, Joseph Henry and Nino Tofani, (Aug 02th, 1906), from Les Laures.

E Wall (Right Via): Ilario Antonio Garzotto and Renato Quendoz, (Jul 18th, 1969), in ascent from Ménabreaz Refuge.

E Wall (Central Route): Renato Chabod and Giusto Gervasutti, (Jun 26th, 1935), from Les Laures Alp.

E Arête ("Brissogne" Crest): Abbot Joseph Henry and Grégoire Comé, Charvensod Guide; (Sep 16th, 1902), in descent and ascent from Comboé.

SE Wall: Osvaldo Cardellina, lone, (Aug 06th, 1988), from Pila and through Three Capuchins Pass.

*** Note: lists only the major climbs up to the Eighties.
Getting There
BY CAR:
Highway A5 Torino-Aosta (99 km). Exit Aosta Est, then follow the regional road in the direction Pollein-Charvensod-Pila.
From abroad: Via the Great St Bernard tunnel, then on State Highway SS 27 to Aosta or via the Mont Blanc Tunnel, then on State Highway SS 26 to Aosta. From Aosta, follow the signs to Gressan-Pila.
BY TRAIN:
From Turin or Milan to Aosta via Chivasso. The cable car to Pila is joined to the station by a short pedestrian subway.
From Switzerland: through the Grand Saint Bernard Tunnel or the namesake Pass.
From France: through Mont Blanc Tunnel or Petit Saint Bernard Pass. It isn't necessary to take Motorway A5: you can drive on SS.26, in the direction of Aosta.
BY PLANE:
Aeroporto Internazionale "Corrado Gex"; Saint Christophe (Aosta).
Red Tape & Suggestions
You can leave your car in the free parking area near the telpherage in Pila or reaching this village by bus or telpherage from Aosta. No permit is required: these suggestions are good if you want to climb Emilius taking it easiest possible.
As Chamolè telepherique stops at 17,00 or 17,30 in high season (take a look for schedule time at www.pila.it) I think it is good to optimize your two days this way.
First day:
once arrived in Chamolè, walk the steep path to Chamolè Pass e get down to Arbolle plan, 150 meters down to the Southeast.
Light your rucksac at Refuge and climb Emilius. You'll have good chance to arrive at summit and back to the Refuge without rush.
Have a good dinner, Refuge Arbole is one of best gourmet refuge in VdA (this is not essential, but helps!).
Second journey:
next day, walk back to Chamolè Col and, just before arriving on it, turn left for Punta Valletta (
3.090m; yellow panel
). There is a long path traced on the large ridge from Testa Nera (Black Head;
2.820m)
. In 1h and 30 mins you'll get your second edge in two days. You'll have all the time required to arrive at Chamolè telepherique before last run. If you need more infos: beppebusso@libero.it
------
Climbing Emilius in a day and get back to Chamolè for 17'00/17'30 need a great effort and, for sure, no time for the spectacular view on the summit (in the morning the earliest you get in Chamolè is 9:00 ...). If you have only one day and you don't want to hike to Chamolè Col (this means that you surely miss the date with time closure in Chamolè. Teleph.), you can follow path n° 16 very close to Arbole Refuge (100 meters to the Northwest from shelter). Once a very steep descente in a gully has ended, you'll reach Comboè plan. Cross this beautiful plan and walk toward Col de Plan Fenetre.
Once pass the col, there are two possibilities:
1)-
continue half way a path that returns you in Chamolè zone (not just at the arrive of telepherique, but half a way), or
2)-
go down to San Grato, a nice and tiny church. A two kms unpaved road to West bring you back to Chamolé departure. Telephone.
È possibile lasciare l'auto nel parcheggio gratuito nei pressi del piazzale della Cabinovia a Pila oppure si può qui giungere in autobus da Aosta. Non è richiesta autorizzazione.
Questi suggerimenti sono validii se si vuol rendere l'ascensione all'Emilius il più semplice possibile: la Seggiovia per la Stazione di Chamolè chiude, in base al periodo, alle 17'00 o 17'30 in alta stagione (date un'occhiata per tempo al programma a www.pila.it) penso sia bene ottimizzare i due giorni in questo modo.
Primo giorno:
una volta arrivati a Chamolè, percorrere il sentiero abbastanza ripido verso il Colle di Chamolé e scendere verso il Vallone di Arbolle, circa 150 metri verso Sudest.
Preparati il tuo zaino al Rifugio e sali all'Emilius. Avrai buone possibilità d'arrivare in vetta e ritornar al rifugio, senza alcuna fretta.
Si prospetta una buona cena, poiché il Rifugio d'Arbolle è uno dei miglior rifugi per quanto cencerne il "gourmet" in Val d'Aosta (questo non è essenziale, ma certamente aiuta!).
Seconda giornata:
il giorno dopo, tornando indietro al Colle di Chamolè, appena prima di arrivare su di esso, svoltare a sinistra per la Punta della Valletta (
3.090 m; cartello segnaletico giallo
). C'è un lungo percorso tracciato sulla lunga cresta dalla Testa Nera
(2.820 m)
. In 1h'30 otterrete la vostra seconda traversata in cresta in due giorni. Avrete tutto il tempo necessario per arrivare alla seggiovia di Chamolè prima dell'ultima partenza. Se abbisognate di maggiori informazioni: beppebusso@libero.it
------
La salita all'Emilius in giornata con rientro a Chamolè per le ore 17'00/17'30 richiede una bella sfaticata e, di sicuro, non c'è molto tempo per gustarsi le spettacolari veduta dalla vetta (al mattino la prima partenza della seggiovia per Chamolè è intorno alle 9h'00...). Se disponete d'un sol giorno e non si vuol rientrare tramite il Colle di Chamolè (questo significherebbe di mancare quasi certamente l'appuntamento con l'ultima corsa da Chamolè. Telefono.). Si può invece seguire il sentiero n° 16 appena dietro al Rifugio (100 metri a Nordovest dal medesimo). Dopo una discesa piuttosto ripida in una gola si arriva al pianoro di Comboè. Attraversare questo bel vallone risalendo verso il Col Plan Fenetre.
Una volta scavalcato il colle, esistono due possibilità:
1)-
continuare tramite il sentiero con un lungo diagonale dapprima all'Alpe di Chamolè (a circa metà strada del percorso con la Seggiovia) donde a Pila, oppure
2)-
scendere alla bella Chiesetta di San Grato; donde una sterrata di circa due chilometri verso Ovest riconduce al punto di partenza. Telefono.
Mountain Conditions
The best season to climb Mount Emilius is between July and August. In this period it is not necessary to bring with you the alpinism-equipment. But in other periods it's possible to find snow and even ice on the ridge before the peak that would be dangerous for your ascent (necessary crampons).
La stagione migliore per scalare il Monte Emilius è a cavallo tra i mesi di Luglio ed Agosto. In questo periodo non è necessario portare con voi particolare attrezzatura alpinistica. Ma in altri periodi è possibile trovare neve od anche ghiaccio sulla cresta prima della vetta che rende ben più insidiosa la salita (ramponi necessari).
Pila Infoline:
Tel. +39 0165 521148
+39 0165 521045
Fax +39 0165 521437
Mail: info@pila.it
Climbing Mount Emilius, some year ago...
Refuge Alpe Arbole
Telephone: +39-335-6844703 and 0165-34423.
Open from June to September.
In spring-time, for ski-moutaneering, open on demand.
Places when open: 66
Winter hut: 18 places
EXCURSIONS
Lago Gelato
3.019m
Vallone di Comboé
2.100m
Col Garin
2.815m

CROSSINGS
Bivacco Grauson
2.540m
Bivacco Federigo
2.897m
Bivacco Menabreaz
2.546m
ASCENTS
Monte Emilius
3.559m
P.ta Garin
3.448m
P.ta Rossa
3.401m
Books
This area was neglected by the "Gran Paradiso" CAI/TCI guidebook. Nevertheless, two titles might be useful :
For climbers (Emilius area, excluding Tersiva):
Osvaldo Cardellina - "Guida del Monte Emilius"
Ed. O. Cardellina - Aoste - 1978
For hikers (some easy climbs included):
Luca Zavatta - "I monti di Aosta - Cogne, l'Avic e Champorcher "
Ed. Guida dell'Escursionista - 2001
Thanks to Claude for this section!
External Links
More about Emilius
Another description with 40 shots, 6 panoramas and a "handmade" map, about Emilius.

Pila web-site
Pila, the famous winter station, has an active life even in summertime. In this link, you'll able to find time schedule for Chamolè Chair Lift.

I am greatly indebted to my friend Osvaldo for the revision of all texts, detailed description of the routes and translation into Italian.