Situated at the base of the edge it of the Emilius Mountain, separated by this by a small homonym pass, it is also known with the name of the Becca des Boucs. In its basic topographic lines of the next repeating those Becca Seneva
(3.091m)
which is higher, but definitely less
"mass"
. Compressed between the latter and the Black Triangle of Emilius tends to
"disappear"
and then to be little known and popular, unlike the underlying Peckoz Pass
(3.042m)
in the past the subject of numerous visits, especially by the Gamekeepers of the eponymous Baron Beck Peckoz Gressoney, then owner of this vast Hunting Reserve. It has a watershed ridge that extends from South to North towards the Summit; along its sides down to the Western Wall with a steep and great rocky ribs that turn into a side of large blocks in the more Northern. On the opposite side, or the Laures, presents a steep slope grassy-rocky that precipitates on a vertical wall which extends at its base
over 250 meters
long and
up to 150
, which presents a dozen roofs formed from solid rock. A climbing wall is ideal, taking advantage of the proximity of the Refuge Menabreaz and the path to the Col Peckoz, which can act as a prelude to the challenging climb of vertical East Face of Monte Emilius. From the Top, after a large
"rocky balcony"
, the ridge falls to the North Col Peckoz, but not before he had doubled up. A steep East-northeast Edge separates fact the above side by a small Face facing the Northeast that with
about 210/20 meters
(
see photo in Via B
) of height falls in the direction of the path
n° 8
, which dates back to the step coming from the effluent of the Lac des Laures Dessous, neighbor the Ernesto Menabreaz Shelter
(2.546m)
. The short but steep North Crest, which reaches up, divide this area from another much higher (
about 570 meters
) above the falls in the Northwest Walloon Arpisson; the same is
"cut"
in his small triangle summit from the trail by a large shoulder on the West reach the pass. It has never been climbed from the base, but the composition of the rocks now in disrepair definitely discourage any initiative in this sense; moreover in the presence of snow highlights continuous small snowslides. In conclusion in respect of this mountain is better to use only the ways described below, definitely safer, even if there is not to be expected special satisfaction in climbing. However, it remains a hike in a wild and grand, which would constitute a very valuable experience for the young that who want to get outside the usual areas and routes; also the side Arpisson offers various possibilities to make small climbing, just to the side of the Normal Route, with passages that are from I° to II°, depending on the personal choice and its capacities.
Spectacular views of the East and North Walls of Emilius and the front on the Black Triangle and also to the Chain of Roises that stretches in front.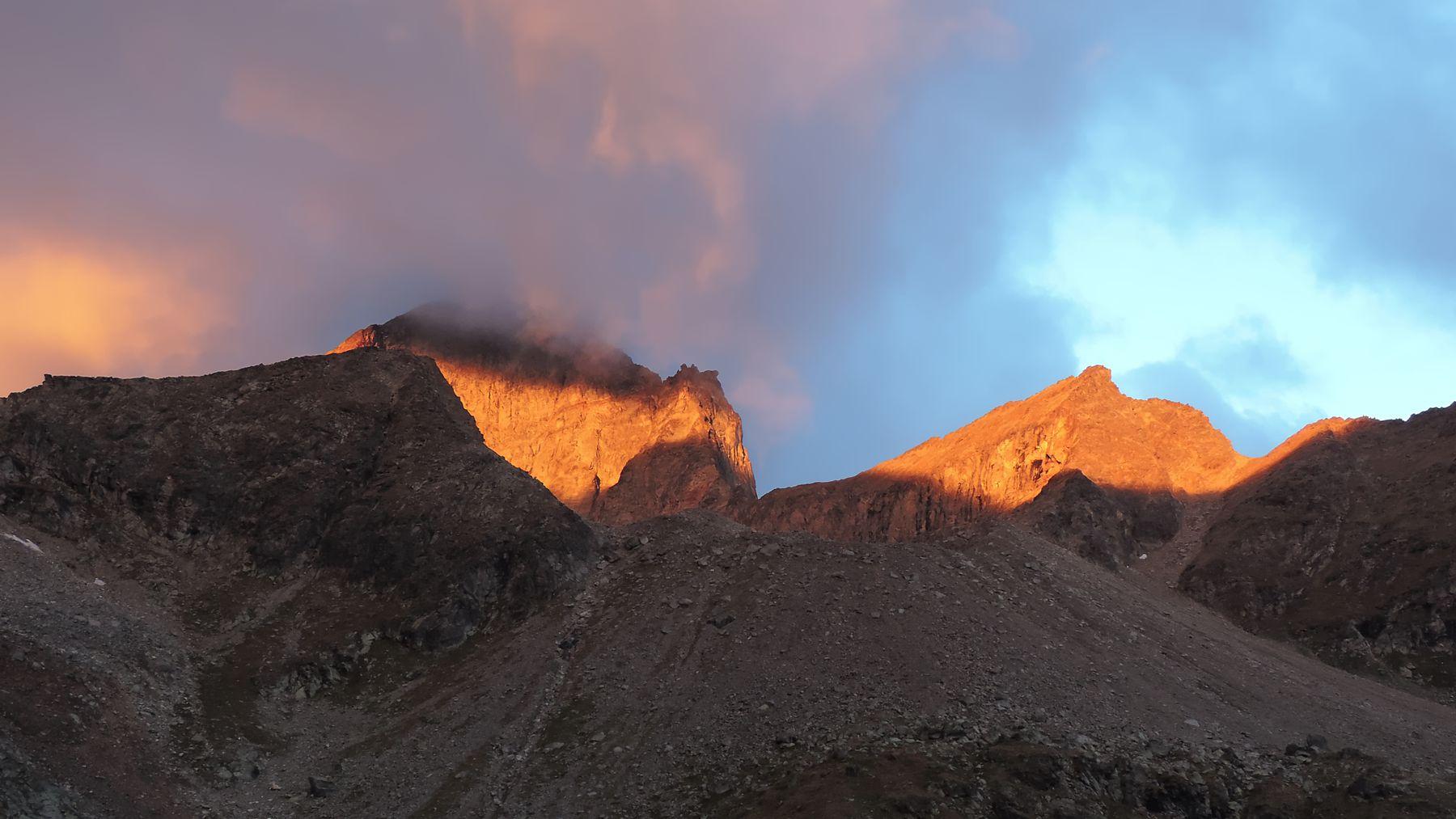 Situata alla base dello spigolo Nordest del Monte Emilius, separata da questo da un piccolo colle omonimo, è conosciuta anche con il nome di Becca des Boucs. Nelle sue linee topografiche essenziali ripete quelle della successiva Becca di Seneva
(3.091 m)
della quale é più elevata, ma sicuramente con minor
"massa"
. Compressa tra quest'ultima ed il Triangolo Nero dello Emilius tende a
"sparire"
e quindi ad essere poco conosciuta nonché frequentata, a differenza del sottostante Colle Peckoz
(3.042 m)
nei tempi passati oggetto di numerose visite, soprattutto da parte dei Guardiacaccia dell'omonimo Barone Beck Peckoz di Gressoney, allora proprietario di questa vasta Riserva di Caccia. Presenta una cresta spartiacque allungantesi da Sud a Nord verso la Sommità; lungo i suoi fianchi scende ad Ovest una parete con ripidi costoloni rocciosi che si trasformano in un versante di grandi blocchi nel settore più Settentrionale. Sul lato opposto, o delle Laures, presenta un ripido versante erboso-roccioso che precipita su di un muro verticale che si distende alla sua base lungo
oltre 250 metri
ed alto
fino a 150
, presentando una decina di tetti formati da roccia compatta. Una palestra di roccia ideale, sfruttando la vicinanza del Rifugio Menabreaz ed il sentiero per il Col Peckoz, che può far da preludio alla impegnativa salita della verticale Parete Est del Monte Emilius. Non ancora esplorato può offrire delle brevi ma alquanto impegnative vie su roccia. Dalla Sommità, dopo un largo
"balcone roccioso"
, la cresta precipita a Nord sul Col Peckoz, non prima però d'essersi sdoppiata. Un ripido Spigolo Est-nordest separa infatti il suddetto versante da una paretina rivolta a Nordest che con
circa 210/20 metri
(
vedi foto in Via B
) d'altezza cade in direzione del sentiero
n° 8
, che risale al passo arrivando dall'emissario del Lac Dessous des Laures nelle vicinanze del Rifugio Ernesto Menabreaz
(2.546 m)
. La corta ma ripida Cresta Nord, che raggiunge il passo, divide questo settore da un altro ben più alto (
circa 570 metri
) che precipita a Nordovest sopra il Vallone di Arpisson; lo stesso viene
"tagliato"
nel suo piccolo triangolo sommitale dal sentiero che da uno spallone ad Ovest raggiunge il passo. Non é stato mai salito dalla base, ma la composizione delle rocce ormai in sfacelo sconsigliano decisamente qualsiasi iniziativa in tal senso; inltre in presenza di neve evidenzia continue piccole slavine. In conclusione nei confronti di questa montagna é meglio utilizzare esclusivamente le vie sottodescritte, sicuramente senz'ombra di dubbio più sicure, anche se non v'é da attendersi particolari soddisfazioni nell'arrampicata. Comunque rimane un'escursione in un ambiente selvaggio e grandioso, tal da costituire una validissima esperienza pei giovani desiderosi d'uscir dalle piste comuni; inoltre il versante Arpisson offre varie possibilità d'effettuare piccole arrampicate, appena a lato della Via Normale, con passaggi che fanno dal I° al II° a seconda della personale scelta e delle relative capacità.
Spettacolare vista sulle Pareti Est e Nord dell'Emilius e frontalmente sul Triangolo Nero ed inoltre sulla Catena delle Roises che si propone dirimpetto.
First ascents
First on the summit: (Often in the nineteenth and in begining twentieth centuries the huntersand the gamekeeper Baron's Beck Peckoz).

In winter: Unknown.

S-SW Arête (from Peckoz Pass): Abbots Louis Bonin, Pantaléon Bovet, Joseph Henry and engineer Nino Tofani (Aug 02th, 1906).

W Wall (left route): Osvaldo Cardellina and Riccardo Botti, (Oct 06th, 1968), in day from Pian Felina.

W Wall (right route, direct): Osvaldo Cardellina, solo, (Sep 14th, 1990), in day from Pila.

N-NE Edge: Marco Champion and company (years '90), in descent.

NE Face: Osvaldo Cardellina, lone, (Jul 10th, 2008), in day from Grand Brissogne, Vieille, Tramouail, Lake Dessous.

E-NE Edge: Osvaldo Cardellina, lone, (Jul 10th, 2008), in descent to Laures and in day from Grand Brissogne.
Getting There
BY CAR:
From Torino, Milano, etc: Motorway A5. Exit at Aosta Est.

From Switzerland: through the Grand Saint Bernard Tunnel or the namesake Pass.

From France: through Mont Blanc Tunnel or Petit Saint Bernard Pass. It isn't necessary to take Motorway A5: you can drive on SS.26, in the direction of Aosta.
BY PLANE:
Aeroporto Internazionale "Corrado Gex"; Saint Christophe (Aosta).
Approaches and Routes
Approach and Route A
From Pila (famous ski resort easy and fastly reachable from Aosta using car, bus or cableway), to reach the Plan Fenêtre Pass and Comboè Walloon through the path
n° 19
, which passes to the Chamolé Pasture
(2.152m)
; also from Chamolé Lake through Replan Hill hrough the upper path and always with
n° 19
starting from the arrival of Chairlift Chamolé. With the next trail
n° 16
, from these up to the alternative of the Gros Scez
(2.526m)
; to leave to the left the path for the Becca di Nona and to go up again to the Federigo Zullo Bivouac (
2.907m
; 4h'00). to Cross toward East the Glacier of Arpisson under the wall North of the Emilius Mountain; a passage under the Black Triangle if in verglass it asks for the use of the crampons. To go up again a shoulder diverting to East to quota
3.000m
~ and for great blocks to easily enough reach the peak (6h'00/6h'30).
Descent:
down along the same route, being careful in crossing the Eastern Glacier where there are still quite deep crevasses, even if hidden.
Avvicinamento e Via A
Da Pila (nota località sciistica, raggiungibile da Aosta in auto, pullman o funivia), raggiungere il Colle Plan Fenêtre e il Vallone di Comboè tramite il sentiero
n ° 19
, che passa per l'Alpe di Chamolé
(2.152 m)
; oppure dal Lago di Chamolé attraverso il Colle Replan per mezzo del sentiero superiore e sempre con
n° 19
partendo dall'arrivo della Seggiovia di Chamolé. Con il sentiero successivo
n ° 16
, da questi fino al bivio del Gros Scez
(2.526 m)
; lasciare a sinistra il sentiero per la Becca di Nona e risalire al Bivacco Federigo Zullo (
2.907 m
; 4h'00). Traversare verso Est il Ghiacciaio di Arpisson sotto la parete Nord del Monte Emilius; un passaggio sotto il Triangolo Nero se in verglass richiede l'uso dei ramponi. Risalire una spalla a Nord deviando a Est a quota
3.000 m
~ e per grandi blocchi raggiungere abbastanza facilmente la vetta (6h'00/6h'30).
Discesa:
lungo l'itinerario di salita, facendo attenzione nello attraversamento del Ghiacciaio Orientale dove esistono ancora degli abbastanza profondi crepacci, pur se nascosti.
Approach and Route B
From the Grand Brissogne
(894m),
go along the private farm road till the Gremonenche Pasture
(1.000m).
From here along the dirt road up to l'Arp
(1.310m)
then, along a path
n° 1
that, bordering the Torrent des Laures), leads to La Vieille
(1.623m)
and to Le Tramail
(1.951m)
(good shelter when weather is bad). Crossing some small bridges up to the altitude of
2.200m
, (starting from this point a steep but faster path
n° 1A
goes, at right or West, toward the slopes of Becca di Seneva). Better go on toward East forwarding the Becca di Salè (zone called
"Black Fountains"
by the inhabitants) and climb the last
400 meters
on wide slopes till the top of the overhanging rocky terraces
(2.600m)
(small chapel dedicated to Charrey brothers and Cino Norat dead in 1929 on the East Wall of Emilius). A short descent to the Southeast leads at Refuge Ernesto Menabreaz (
2.542m
, private), the same has an open free part (with wood-burning stove) usable as winter room (8 places with covers), on the East bank of Lago Inferiore di Laures (3h'30/4h'00). From the Shelter not take the path
n ° 8
, which rises to the West towards the Col Peckoz (as did the first ascent in 1905 to climb the North-northeast Edge of Emilius) because then requires a crossing is not always in good condition and dangerous; dub instead on the left (East) on Lake des Laures Dessous and head towards the Southwest at the base of the large moraine that descends from Glacier Blantsette. Climb along the Northern slope of the same, less steep but still laboriously, bending upward toward the left, where the South-southwest Crest of the Testa Blantsette going to
"break"
against the Black Triangle of Emilius. Here a steep rocky gully with soil salt to a carving said Blantsette Pass
(3.126m)
; face the same reaching the small collar at a characteristic triangular tooth begins where the crest of Emilius. Turning right along the easy ridge to the North, and outlining several small bumps, reach the Summit, located at the end of it (from F+ to F; 2h'00/2h'30).
Downhill:
use down the same route, unless you want to achieve Federigo Zullo Bivouac at Colle Carrel, crossing two Eastern and Western Glaciers Arpisson. In this last case travel the route A above, from this point always feasible, and certainly more secure than via the near Peckoz Pass.
Avvicinamento e Via B
Da Grand Brissogne
(894 m)
, percorrere la strada poderale fino all'Alpe di Gremonenche
(1.000 m)
. Da qui proseguire lungo la strada sterrata fino a l'Arp
(1.310 m)
ove ha termine; poi continuare, tramite il sentiero
n° 1
che in alto si trasforma in mulattiera, al di sopra del Torrente des Laures, portando a La Vieille
(1.623 m)
e Le Tramail (
1.951 m
; buon riparo quando il tempo è cattivo). Attraversando alcuni ponticelli fino alla quota di
2.200 metri circa
, (a partire da qui un sentierino
n° 1A
ripido ma più veloce va, a destra od Ovest, verso le pendici della Becca di Seneva). Meglio procedere verso Est contro la Parete Nordovest della Becca di Salè (luogo soprannominato
"delle Fontane Nere"
) ed affrontare gli ultimi
400 metri
su ampi pendii fino ad una zona di terrazze rocciose soprastanti (
2600 m
; qui esiste una piccola cappella dedicata ai fratelli Charrey ed a Cino Norat morti nel 1929 sulla Est dell'Emilius). Una breve discesa a Sudest porta al Rifugio Menabreaz (
2.542 m
; privato); il rifugio possiede una parte libera aperta (con stufa a legna, in genere presente in loco) utilizzabile come locale invernale (8 posti nei letti a castello ed inoltre coperte e vettovagliamento), sulla sponda Est del Lago Inferiore (3h'30/4h'00).
Dal Rifugio non prendere il sentiero
n° 8
, che sale ad Ovest verso il Col Peckoz (come fecero i primi salitori nel 1905 per salire lo Spigolo Nord-nordest dello Emilius) perché poi richiede una traversata non sempre in buone condizioni e pericolosa; doppiare invece a sinistra (Est) il Lago Dessous des Laures e dirigersi verso Sudovest alla base della grande morena che scende dal Ghiacciaio Blantsette. Salire lungo il bordo Settentrionale della medesima, meno ripido ma pur sempre faticosamente, piegando verso l'alto verso sinistra, dove la Cresta Sud-sudovest della Testa Blantsette va ad
"infrangersi"
contro il Triangolo Nero dell'Emilius. Qui un ripido canalino roccioso con terriccio sale ad un intaglio detto colle Blantsette
(3.126 m)
; affrontare il medesimo raggiungendo il piccolo colletto presso un caratteristico dente triangolare dove inizia la cresta dello Emilius. Deviando a destra percorrere verso Nord la facile cresta e, contornando diverse piccole asperità, raggiungere la Sommità, situata al termine della stessa (da F+ a F; 2h'00/2h'30).
Discesa:
in discesa utilizzare l'identica via, a meno che non si voglia raggiungere il Bivacco Federigo Zullo al Colle Carrel, attraversando i due Ghiacciai Orientale ed Occidentale dell'Arpisson. In questo ultimo caso percorrere lo itinerario A di cui sopra, da questo punto sempre fattibile e certamente più sicuro di quello tramite il viciniore Col Peckoz.
Difficulty
The route can be classified as EE/F+.
L'itinerario è classificato EE/F+.
Equipment
Mountaneering: Ice axe and crampons.
Da alpinismo: Picozza e ramponi.
Huts
Campings
Remember that free camping is forbidden (except for emergency reasons, over
2.500m
, from darkness until dawn).
Mountain Condition
Meteo: you can find all the needed informations at the official site of the Valle d'Aosta Region:
Valle d'Aosta Meteo
Webcam
WEBCAM on Aosta Valley:
Webcam
Books and Maps
BOOKS:
"Guida del Monte Emilius", di Osvaldo Cardellina Editore in collaborazione con il Club Alpino Italiano Sezione di Aosta, Dicembre 1978.
"Guida dei Monti d'Italia – Emilius Rosa dei Banchi Parco del Mont Avic" di Giulio Berutto e Lino Fornelli - Club Alpino Italiano/Touring Club Italiano, Marzo 2005.
"Diari Alpinistici" di Osvaldo Cardellina e Indice Generale accompagnato da Schedario Relazioni Ascensioni 1964-2014 (inediti).
"80 itinerari di Escursionismo Alpinismo e Sci Alpinismo in Valle d'Aosta", di Osvaldo Cardellina, Ed. Musumeci, Giugno 1977 (in Italian); seconda Ed. Luglio 1981; terza Ed. Luglio 1984; (in French), prima Ed. Febbraio 1978; seconda Ed. Marzo 1980.
MAPS:
Kompass "Gran Paradiso Valle d'Aosta Sentieri e Rifugi" Carta turistica 1:50.000.

L'Escursionista "Conca di Aosta-Pila-Monte Emilius" Carta dei sentieri (n°4) 1:25.000.

Hapax "Les Sentiers Comunità Montana Monte Emilius", Luglio 2000 1:25.000.

Enrico Editore Ivrea-Aosta "Gruppo del Gran Paradiso" 1:50.000.

I.G.C. Istituto Geografico Centrale, Torino "Carta delle Passeggiate ed Escursioni in V.D.A. Conca di Pila-Gressan, 1:20.000.
Important Information
FONDAZIONE MONTAGNA SICURA Villa Cameron, località Villard de la Palud 1 Courmayeur (AO) Tel: 39 0165 897602 - Fax: 39 0165 897647.

A.I.NE.VA. (Associazione Interregionale Neve e Valanghe).
Useful numbers
Soccorso Alpino Cogne (SAR) Tel. 3482685406.

Protezione Civile Valdostana località Aeroporto 7/A Saint Christophe (Ao) Tel. 0165-238222.

Bollettino Meteo (weather info) Tel. 0165-44113.

Unità Operativa di Soccorso Sanitario Tel. 118.
Acknowledgements
I am greatly indebted to my friend
Osvaldo Cardellina
for all texts, detailed description of the routes and translation.