Overview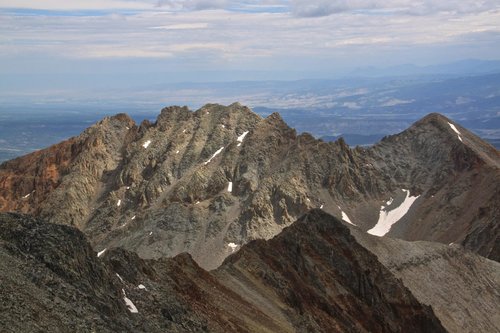 S 6
is an interesting summit located west of Mount Sneffels. While the peaks east of Mount Sneffels are pretty popular (some of these peaks being centennial and bicentennial peaks with a relatively easy approach), the western peaks are rarely climbed - partially due to its tricentennial status (not being high enough for some) and partially for a difficult and long access.
S 6 is nicely seen from Colorado Hwy 62 leading from Ridgway to Telluride. This road gives you an excellent views of Mount Sneffels and its peaks. The peak has several small summits with the highest one being roughly in the middle. It does not connect too well with surrounding peaks. The ridge to Mears Peak is blocked by a vertical loose wall on the western end of S6. The ridge towards S 5 is not easy either. You can connect S 6 with Mears and S 7 for a very long day, but expect to descent down and bypass the technical difficulties of S 6.
Colorado Rank: 292
Parent Lineage
: Line Parent:
"T0"
Proximate Parent: Mears Peak
What's up with the name? There are many summits that have unofficial names that have sprung up because of local usage or traditional agreement in the climbing community. Examples of these are some of the "T", "S", or "V" designation summits in the San Juans.

S 3
- unranked summit between T 0 and S 5
S 4 - ranked peak, on a ridge extending from S 5
S 5 - unranked peak
S 6 - see our description here
S 7
- is really the main summit of Ruffner Mountain
S 8
and S 9 - accessible from Deep Creek drainage.
S 10 - a little complicated since List of John assigned this to
Point 12,311
and Colorado 13ers assigns this name to a 13er west of S 9.
Class: 2-3 (List of John gives it 3, I thought it was more 2+).
Guide to Colorado Mountains with Robert Ormes
(sort of a bible of Colorado mountains) gives a brief description:
"S 6 (13,441') is a peak of several craggy summits offering good bits of climbing on the main divide crest 0.2 miles northwest of S 5, and connecting 0.5 mile north with present day Wolcott".
Nearby Peaks:
Getting There
From State Highway 145 at "Society Junction", 4 miles west of Telluride, drive on 145 just a little east past the junction and turn left (north) onto "Airport Road" = "the Last Dollar Road", # 638.
Follow the road uphill and around a sharp turn at the head of a drainage. The road continues west past the Aldasoro Ranch entrance. Bear right when the Airport Road turns off for the Telluride airport. It becomes a good dirt road here - no need for 4 WD vehicles. Continue NW and in under a mile, park at the on the right in a trailhead parking area with a small corral. The Uncompahgre NR map indicates that this is the beginning for trail # 418. There is a sign for Deep Creek and Whipple Mountain Trails. There is some private property across from the trailhead parking.
Route
From the trailhead, follow trail # 418 marked as Deep Creek/Whipple Mountain Trail for a short distance on an open grassy slope. It then switchbacks briefly to the south and then back north to join an old roadbed beside a diversion ditch in an aspen forest. Follow this ditch for nearly a mile to where it crosses Sheep Creek. Past the creek, the trail turns west, still contouring, and then after about 200 yards, makes a sharp turn to the north. Continue along the ditch, ignoring a trail sign for a trail that heads down. After another half mile or so, the ditch intersects "Whipple Creek". That is the name for the creek that drains the basin on the south flank of Mears and S 7. This name does not show on most maps. Cross over Whipple Creek on a bridge and pick up the trail on the other side. Hike for about 10 min as the trail follows the creek. The trail then makes a sudden turn to the left, goes up a little, then begins to head gently downhill, paralleling the creek. From that sharp left, hike about 10 minutes watching for an old grass-covered roadbed on the right that heads uphill. Follow it north. This becomes "Iron Mountain trail". Hike on up this trail for nearly another 2 miles until it terminates at an old mine site at 10,862 feet. Below the mine tailings, contour on up the valley across rock and grass heading for the next group of trees at 10,800 to 10,900 feet, and a nice grassy area on the south side of the creek.
Route Description
From the trees and grassy areas at 10,800 - 10,900 feet, hike up valley on the south side of the stream through trees utilizing sporadic game trails. The trees will end at about 11,700 feet. Keep following the tundra on the side of the stream course and walk up to a tundra bench level just below 12,000 feet. Stroll on up this bench and then ascend another pitch on mostly tundra to a higher basin at 12,300 feet. This will be your last tundra. Everything above here is mostly lichen-encrusted rock. The summit of S 6 can be seen from here as the highest point you can see on the summit block, NNE from where you stand. I actually stayed closer to Mears Peak and S 6, but this meant hiking across rubble/loose rocks.
Dropping from the summit, there are two, shallow, parallel couloirs. The one on the right is what you can aim for. Both of the couloirs empty into another that slashes diagonally across the south face of the peak, and from your present vantage point, cannot really be seen that well. Aim for a protruding rock rib (slightly white in color) in the center of the south face, that follows a similar diagonal line, ascending from the left to the right.
Head for the left end of this rock rib, ascend behind this rib 200-300 feet of boulder rubble. (In earlier season, there may be snow). Use the walls of the rock rib for a handrail as you try to ample up more precariously perched rubble.
As the gully begins to play out, take the second (higher) of the two couloirs that drop into the present gully from your left. You'll be hiking on more of the same rubble, and the going is steep and slow, but perhaps a little more stable than earlier. Once you reach the head of this couloir, turn right for the true summit. The route finding seemed actually pretty obvious, and the route much easier once going up it. Be cautions with unstable rocks (watch your footing). The summit is pretty tiny and exposed. There is a small summit cairn and a glass sign in register (there were only 2 entries from 2016, mine was the 2nd, and none from 2015).
For descent, return the same way as you came. The west ridge that leads over to Mears has a near vertical drop that appears very technical and loose. If planning to continue onto Mears, drop down and bypass this technical difficulties.
Red Tape
There is no red tape. Hiking, parking at the trailhead, camping in the wilderness are for free.
Mount Sneffels Wilderness rules apply: The following are prohibited: Entering or being in the area with more than 15 people. Camping within 100 feet of any lake, stream, or National Forest System Trail. Building, maintaining or using a fire within 100 feet of any lake, or stream, or National Forest System Trail, above treeline. Storing equipment, personal property, or supplies for longer than seven days.
When to Climb
Summer is the easiest with a nice approach mostly on trails into the basin, higher up hiking is off trails. Winter poses a lot more difficulties with a long approach in a deep snow and travel through an avalanche prone terrain. Always check for
Northern San Juan Avalanche forecast
prior venturing out there.
Camping
Trailhead for Deep Creek and Whipple Creek is slightly off Last Dollar Road. The parking lot is spacious. There are signs for no camping, but I would imagine that sleeping in the car would be pretty comfortable here.
Camping is hard in the close vicinity of Telluride. The closest designated campgrounds are at the "Town Park" on the east end of Telluride and the "Sunshine" campground south of Society Junction on SH 145. Click here for more information on Telluride Camping.
External Links