Overview
Silverheels is a giant mountain that sits to the southeast of Hoosier Pass on Route 9 near the town of Breckenridge. The massif of Mt. Silverheels occupies an area roughly 3 miles in diameter that rises above 12000 ft. Except to the north, where a 12400 ft saddle connects it to Hoosier Ridge, Mt. Silverheels is otherwise completely separated from the nearby mountains.
To the south, the long slopes of Silverheels gradually merge into the 9500 ft high South Park Plateau. To the west, across the valley of South Platte River (where Route 9 runs), you will find three famous fourteeners:
Mt. Bross
,
Mt. Lincoln
and
Quandary Peak
. To the east and northeast, the wide valley of Terryall Creek separates Silverheels from Boreas Mountain (13082 ft).
The summit of Silverheels consists of a 1.6 mile long "broad hump" that runs SW-NE and rises above 13000 ft. This hump can be approached from any direction but due to the relative remoteness of the area, most routes are somewhat lenghty. The standard (and probably the shortest ) route to the summit of Silverheels starts on Route 9 south of Hoosier Pass. You will bushwhack your way 1000 vertical feet up a slope known as Beaver Ridge to reach a Jeep Road (This Jeep Road is said to start somewhere in the town of Fairplay so you may be able to drive it). You will then hike the road for about a mile at a constant elevation to reach the base of Silverheels at 12000 ft where the grassy northwest slopes will lead you to the summit.
Mount Silverheels was named after a dance hall girl who during an epidemic of smallpox, was the only woman who stayed in town and took care of the ailing miners. Because of this altruistic act, you could say that Silverheels is literally and figuratively a very beautiful mountain.
Getting There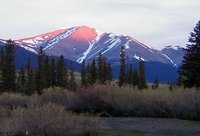 From Breckenridge, drive roughly 9 miles south on Route 9 to Hoosier Pass (11540 ft). Continue 1.7 miles south on Route 9 to the second drainage on the east side of the road (10920 ft). This is your trailhead. There is plenty of room for roadside parking.
At the trailhead, you will see a very obscure Jeep Road. If you hike this road a very short distance, you will reach a "Private Property/ No Trespassing" sign. Don't worry, you do not want to follow the road anyway (see Beaver Ridge Route).
Mountain Conditions
Click to the get the forecast for the nearby ski resort of
Breckenridge
.
When To Climb
Easiest in summer.
Red Tape
Please refer to the "Beaver Ridge" route to see the discussion about the nearby private property if you choose to follow this route, otherwise no permits or fees required for day hikes.
External Links