AlbertoRampini
Male, No Age Specified
Dro, Trentino, Italy
Power = 841 (Vote Weight = 95.61%)
Occupation: Employee
About me : Since the year 1973 i started to climb in the Alps, Dolomites, Prealps, and later in different European countries, then in Cordillera Blanca, Cordillera Real, Kenya, Morocco and Patagonia. In Patagonia i climbed some new routes, on Torre Central del Paine, Mocho, Cerro Nato and Cerro Dos Picos. In the Moroccan Anti-Atlas I have carried out an intense pioneering activity in 2010-2011-2012 and 2013, realizing many new routes.
Affiliations : Member of C.A.A.I. Club Alpino Accademico Italiano Eastern Group, Club4000
R. Daumal "Le Mont Analogue": The height knows the bottom, the bottom doesn't know the height.
Visitors: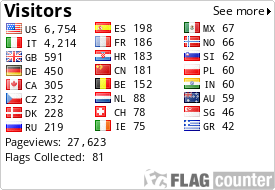 A Few Words:
My Favourite Climbing goals
Send AlbertoRampini a Private Message (PM)
Suggested mountains/routes for AlbertoRampini
People who climb the same things as AlbertoRampini

Member Since Apr 14, 2011, Last Active: Dec 17, 2017
Total Hits: 2210035
My Mountains & Rocks (89)
Climber's Logs I've Signed (169)
Areas & Ranges (8)
Mountains & Rocks (113)
Routes (48)
Messages Posted to My Contributions

Show Messages



Replies to My Messages

Show Replies



Messages I Posted/ Editable Objects
Messages I've Posted

Show Messages



Objects I Can Edit

Show Objects



Reviews I Posted/Reviews Posted to my Gear
Reviews I've Posted

Show Reviews



Reviews Posted to my Gear

Show Reviews



Objects Others Have Attached to My Objects
Show Attached Objects
Photos Others Have Attached to My Objects
Show Attached Photos